I really do like making soups, especially in the winter months when tiredness and lack of energy seemed to be a common occurrence for me. Add to that this nasty bug going around, which I seemed to have caught and soup is like a gift from feel better heaven. There is a special joy in making a big pot of soup and enjoying it for many days to follow. Simply reheat and eat, which I did almost every day last week for lunch.
I had some leftover ground lamb from the Mediterranean Dinner Party I had on Boxing Day so looked through my cookbooks and online until I found what is now a new favorite, ridiculously easy to make soup.
This soup calls for Israeli Couscous (larger pearly couscous), which I also had in my cupboards as I made these awesome Chicken Meatballs with Israeli Couscous for a dinner party a while back and absolutely loved it.
I really should share this recipe as its an amazing dish especially for a group of friends to share. I will do that soon. In the meantime, here is the recipe for the Lamb Meatball Soup.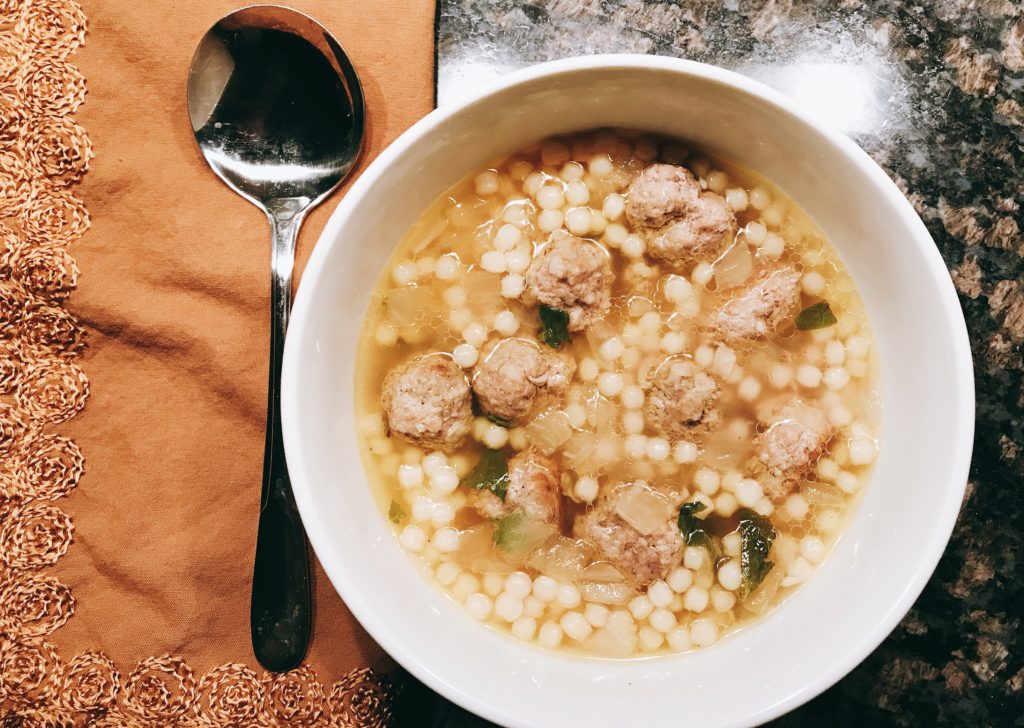 Morrocan Lamb Meatball Soup
2018-01-24 13:11:35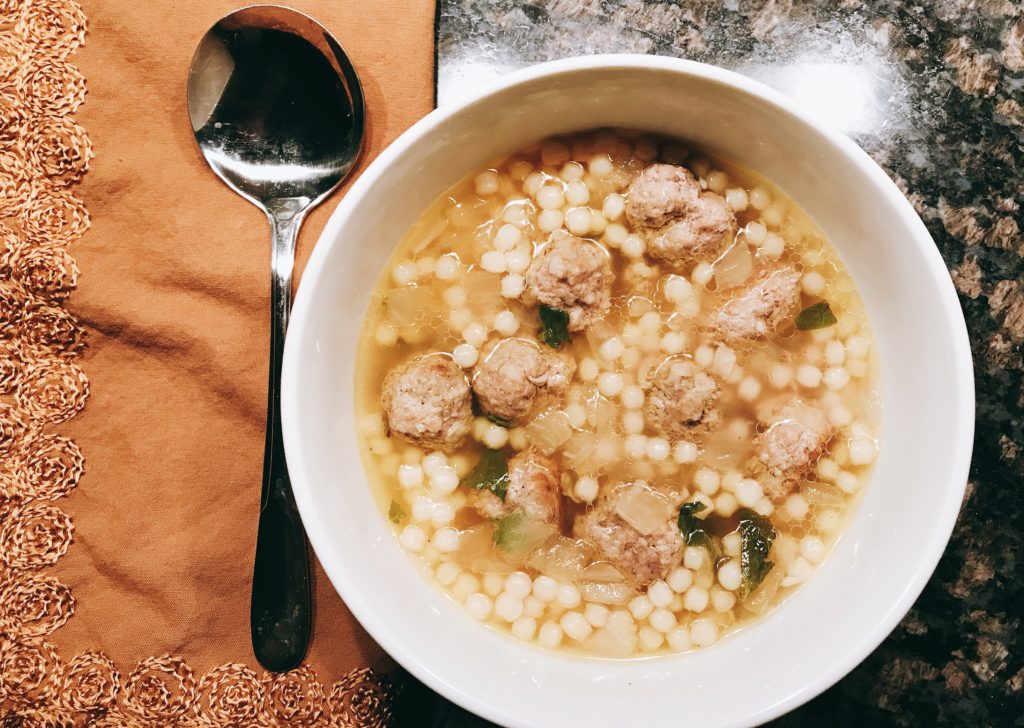 Serves 6
A quick, easy and incredibly tasting soup.
Ingredients
1 tsp. ground coriander
1 tsp. ground cumin
1/4 tsp. curry powder
1/4 tsp. dried oregano
1/4 tsp. dried thyme
1/8 tsp. dry mustard
1/8 tsp. chili powder
1/2 tsp. salt
1 lb. (500 g) ground lamb
2 Tbs. tomato paste
1 1/4 cups (10 fl. oz./310 ml) water
1 cup (6 oz./185 g) Israeli couscous
3 Tbs. olive oil
2 shallots, minced
5 garlic cloves, minced
3 cups (24 fl. oz./750 ml) chicken broth
1 Tbs. chopped fresh mint
Salt and freshly ground pepper, to taste
Instructions
To make the meatballs, preheat an oven to 375°F (190°C). Oil a baking sheet.
In a bowl, combine the coriander, cumin, curry powder, oregano, thyme, mustard, chili powder and salt. Add the ground lamb and tomato paste. Using your hands, mix gently but thoroughly. For each meatball, scoop up 1 tsp. of the mixture, form into a meatball and place on the prepared baking sheet. Bake until the meatballs are cooked through, about 10 minutes.
In a small saucepan over high heat, bring the water to a boil. Add the couscous, reduce the heat to low, cover and cook until all the liquid is absorbed, 8 to 10 minutes.
Meanwhile, in a large, heavy pot over medium-high heat, warm the olive oil. Add the shallots and garlic and cook, stirring constantly, for 1 minute. Add the broth and bring to a boil. Reduce the heat to low, add the meatballs and couscous and simmer for 10 minutes. Remove from the heat. Stir in the mint and season with salt and pepper. Ladle the soup into warmed bowls and serve immediately. Serves 4 to 6.
Notes
This recipe calls for cinnamon but as I am allergic I did not add. Its fabulous without it but if you are a cinnamon fan add it the meatballs.
Adapted from Williams Sonoma
Adapted from Williams Sonoma
Life. Food. Wine. http://lifefoodwine.com/