Happy New Year to everyone!!!
Towards the end of last year I was very remiss on doing any posts and I shutdown almost completely on my blog writing. The great excuse for this is my year-end at work gets out of control but in addition to work, I have been doing a coaching certification course with Columbia Business School in the evenings, which I love. That said, I most definitely bit off more than I could chew as I am now frantically trying to catch up on overdue assignments.
With work and school, I was finding myself being left with even less time to dedicate to LifeFoodWine. I often forget how much I absolutely love writing and sharing my reviews, recipes and thoughts on this little site, which is now in its 8th year! So, I made a new year decision to not lose sight of my blog writing again and will make the time to do it all 😊. Let's see what happens!
Here goes for Blog One of 2018.
I am not ready for the cold and when it arrives like it is right now in a drop of 30 degrees to a frigid low, it can take its toll on everyone everyone's mental state. Not the best way to start a new year. Who on earth wants to leave the house when it is 2 degrees outside with a wind chill of -25! Not me that's for sure. What I can do, which always makes me happy is to make soup and man do I have some good recipes for this year to add to my growing list of super soup recipes.
We are going to start with Million Dollar Stew, a recipe I found in my go to monthly Food & Wine magazine.
My friend Lauren was in town in early December, so we got the Boston gals together for dinner and wine at my house. The soup was to serve eight great friends and hopefully leave them happy and full. Paired with crusty bread and cheese, super wine from my pals at Social Wines and a much needed catch up we all could not have been happier. A review of a highly recommended Terre di Gioia Pinot Grigio will follow soon after this post.
I think of stews as thick and heavy, while I would say this recipe is more of a soup. Either way, it was fabulous.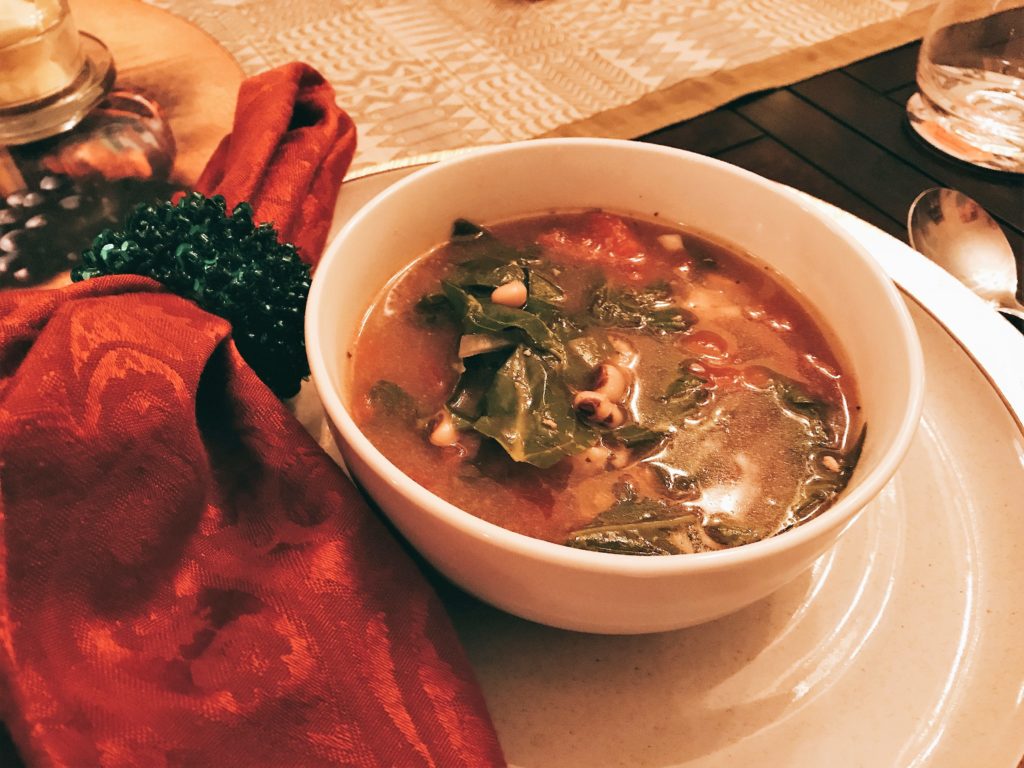 Million Dollar Stew
2018-01-02 13:18:45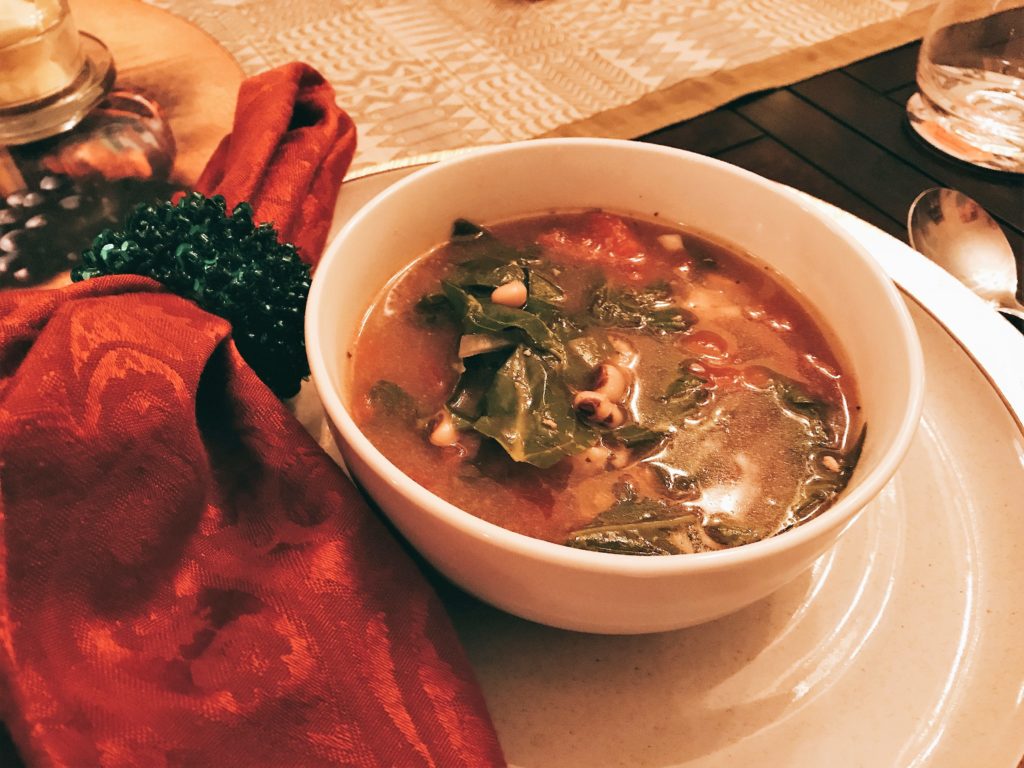 Serves 8
A crowd pleasing, delicious, hearty soup.
Ingredients
3 pounds boneless pork shoulder, cut into 1-inch pieces
Kosher salt Pepper
2 tablespoons canola oil
2 large onions, 1 finely chopped and 1 quartered
6 garlic cloves, 4 finely chopped and 2 whole
One 15-ounce can whole peeled tomatoes, crushed by hand
2 chipotle chiles in adobo sauce, seeded and minced
1 tablespoon chili powder
2 teaspoons ground cumin
1 teaspoon dried oregano
3 quarts chicken stock or low-sodium broth
1/2 pound black-eyed peas, picked over
2 pounds collard greens, stemmed and chopped
Season the pork with salt and pepper
Instructions
In a large enameled cast-iron casserole, heat the oil until shimmering. Add half the pork and cook over moderately high heat, turning occasionally, until browned all over, about 8 minutes. Using a slotted spoon, transfer to a plate. Repeat with the remaining pork.
Add the chopped onion, chopped garlic and a generous pinch of salt to the casserole. Cook over moderate heat, stirring occasionally, until softened and lightly browned, 5 to 7 minutes. Stir in the tomatoes, chipotles, chili powder, cumin and oregano and cook until bubbling. Stir in the stock and bring to a boil over high heat. Stir in the pork, cover and simmer over low heat until tender, about 1 hour.
Meanwhile, in a large saucepan, combine the black-eyed peas with the quartered onion, whole garlic cloves and 12 cups of water. Bring to a boil, then simmer over low heat until the peas are tender, about 45 minutes. Remove from the heat, add 1 tablespoon of salt and let stand for 5 minutes. Drain well and discard the onion and garlic.
Stir the collard greens into the stew in large handfuls, letting each handful wilt slightly before adding more. Cover and simmer over low until the pork is very tender and the collards are just softened, about 20 minutes. Stir in the peas, cover and simmer until hot, about 5 minutes. Ladle into bowls and serve.
Notes
The recipe calls for 16 garlic cloves but that is far too much for me so I dropped 10. It you LOVE garlic, you should definitely add back in for that great garlic flavor.
Make Ahead The stew and black-eyed peas can be refrigerated overnight. Reheat the stew before adding the peas.
Life. Food. Wine. http://lifefoodwine.com/
Tonight I am going to attempt and make Morrocan Lamb Meatball and Couscous Soup. If its good, you will be the first (well the second) to hear about it!