Quinoa has become my go to grain for many dishes. I use it instead of pasta, potato or really anything that calls for carbs. The great thing about quinoa is that you can easily manipulate it to most dishes. Serve it warm for supper or cold as a salad for lunch.
Given last week was for the most part was chilly and rainy in Boston, I decided to stay in on the Sunday night and cook a light, easy meal for friends. Chicken with quinoa was on the menu so all I had to do was come up with the recipe.
While I didn't have any fresh spices, I have a whole cupboard dedicated to them, which helps for those last-minute throws together dishes. This recipe calls for a bunch of spices to make the marinades all of which I have easily on hand.
For the quinoa, I substituted a cup of chicken stock for 1 cup of water, which gives it a ton more flavor.
This easy and super tasty dinner was a hit with my friends.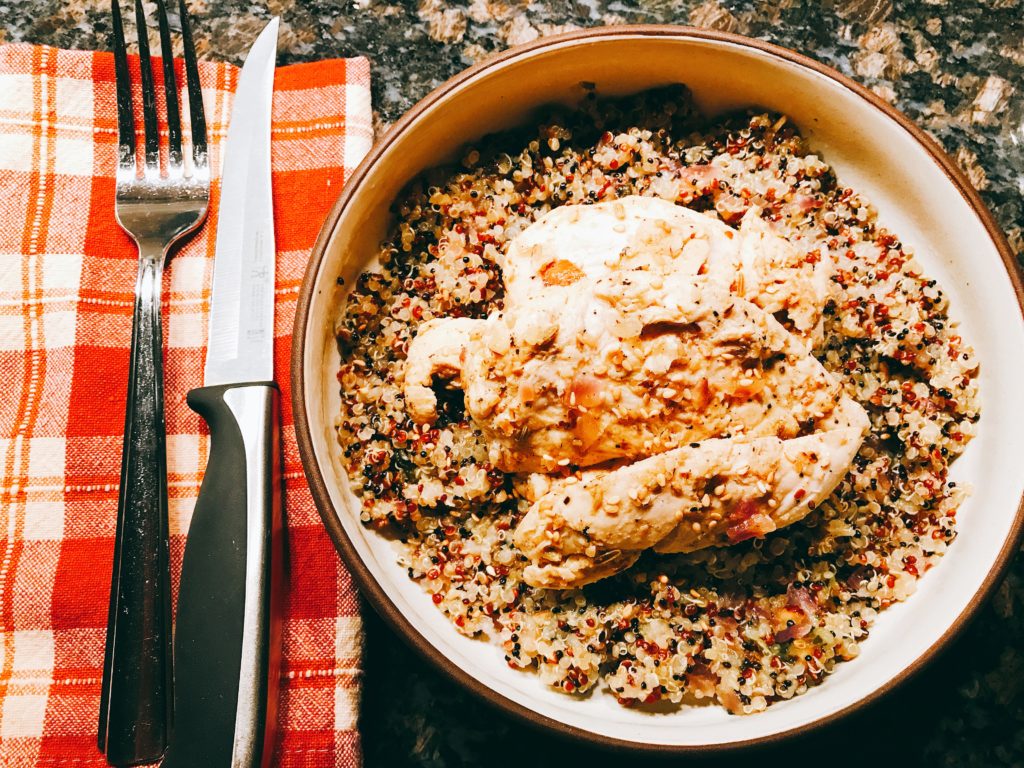 Lemon Chicken with Herby Quinoa
2017-09-04 09:53:49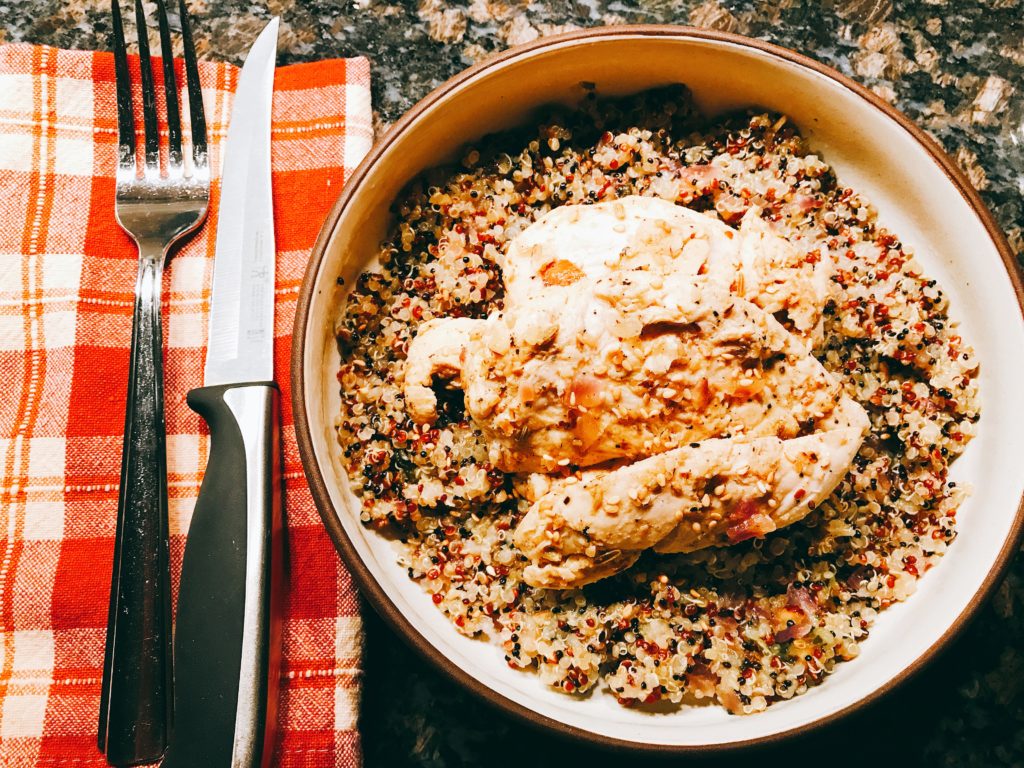 Serves 3
Easy, tasty and great for lunch the next day!
Ingredients
1lb chicken tenders
Juice of 1 lemon
1 cloves garlic, minced
1 teaspoon cumin
1 teaspoon fennel
1 teaspoon sesame seeds
1 teaspoon coriander
1 tablespoon crushed cashews
1 tablespoon extra-virgin olive oil
Salt and cracked black pepper
1 red onion finely chopped
1 cup quinoa
1 cup chicken stock
1 cup of water
1/2 cup flat-leaf parsley leaves, chopped
Instructions
Place all the spices (cumin, fennel, sesame, coriander, and cashew) in a bowl. Add the lemon juice, minced garlic, spice mix, olive oil, salt and pepper in a bowl and mix to combine.
Add the chicken to the bowl. Rub the marinade over the chicken and let sit for 15-20 minutes.
While the chicken is marinating cook the quinoa to directions using 1 cup of chicken stock for more flavor plus 1 cup of water.
In a large skillet cook the onion in a teaspoon of olive oil until soft and set aside.
Drain from the marinade and stir fry the chicken tenders. In the same hot skillet cook until golden and cooked through. Add the marinade at the end of cooking and cook for 2-5 minutes more; make sure you don't burn the spices of the marinade, you just want them slightly caramelized.
Place the cooked quinoa, parsley and onions in a bowl and toss to combine.
Serve the chicken with the herbed quinoa, sprinkle with extra sesame seeds to serve.
Life. Food. Wine. http://lifefoodwine.com/