On Saturday evening I ventured to the renowned steak restaurant, The Capital Grille in Boston with my friend Erika. As I don't eat red meat, it's a rare occasion when I will purposefully book steak restaurants, however, each year the Capital Grille does a can't miss summer wine event called The Generous Pour. The first time I attended this wine event, which runs all summer was in Kansas City, Missouri with my friend, Lauren where they featured Women in Wine and now after three Generous Pours that one is still my favorite.
Last year they featured "Rebels, Rule Breakers & Game Changers" and was so fun, we just had to go back again. This year we got to try The Critics' Darlings – 90+ Point finds and really made a night of it.
We met at the Grille bar which had all of the windows wide open letting in the cooling summer breeze of Boylston Street. The evening started with a strong Manhattan 46 for me for and The Bohemian for Erika with Absolut peach and very cordial topped with champagne.
After cocktails we were escorted to their large dining and seated right in the center. We finished our cocktails while looking at the menu to decide what we would like to pair our upcoming wines with.
The evening started with a special of freshly indulgent burrata over a bed of arugula and surrounded by slivers of pork loin carpaccio. It was the perfect match to our first tasting and one of our favorite wines of the evening, the WillaKenzie Estate, Williamette Valley, 2016 Pinot Gris – 90 points. A beautiful creamy texture matched the burrata perfectly while the tropical fruit notes cut through the bitter arugula.
Our next white was the Matanzas Creek winery, Sonoma 2016 Sauvignon Blanc – 92 Points and our least favorite. To me it was made in the style of a Marlborough Sauvignon Blanc ripe with acidity and slate. Not for me but if you love your Marlborough whites then you will love this one.
Our final white was a Cambria, Clone 5, Santa Marie Valley, 2015 Chardonnay – 91 Points. I actually didn't love this wine paired with food or at least our appetizer, but I always love chardonnays and this one with its sweeter okay overtones and fresh crisp fruit tastes was wonderful just on its own. No food pairing required.
Time for reds. Erika ordered the seared tenderloin with butter poached lobster tails while I picked the double cut lamb rib chops, which was close as I could get to steak. Power entrées, which we hoped were going to be match for what was to come with our red tastings. They were!!
The first tasting and our number one favorite of the evening was the Siduri, Williamette Valley, 2015 Pinot Noir – 90 Points. This amazingly fruit filled wine with a bite of spice both delighted and surprised me as I always struggle with Pinot Noirs. This wine is fantastic! We actually asked for another glass to end our evening with.
Next tasting was the Arrowood "Sonoma Estates", Sonoma County 2014 Cabernet Sauvignon Blanc – 90 Points. An incredibly dry, rich red with tastes of dark berry fruits.
Two more reds to come and the waiter had to extend our table due to it now having 14 glasses on it! The Edmeades, Mendocino 2013 Zinfandel – 91 Points with its curranty, almost syrupy taste had me intrigued as I wasn't sure I liked it. With bites of spicy crusted, juicy lamb chops this wine started to grow on me and I kept gravitating towards it more than the Cabs.
The final tasting was the most expensive wine of the evening to buy at $69~, the Mt. Brave, Mt. Vedeer, Napa Valley 2012 Cabernet Sauvignon – 92. Absolutely my type of red with rich, ripe berries, creamy on the palate and a heady BIG CAB. Loved it.
Even though we were satiated from the great evening of food and wine, we still felt something sweet was warranted so we ordered the insanely ridiculous Coconut Cream Pie, which actually paired really well with our additional (real final) tasting of the Pinot Noir.
If you enjoy being surprised by what you are going to taste The Generous Pour is a great way to spend an evening exploring your wine palate. At $28 a person, I also think it's a great deal for the amount of wines you are enjoying.
The Generous Pour runs until September 4 but will hopefully be back again next year if you don't get the chance to make it this week.
The Generous Pour 2017 – The Critics' Darlings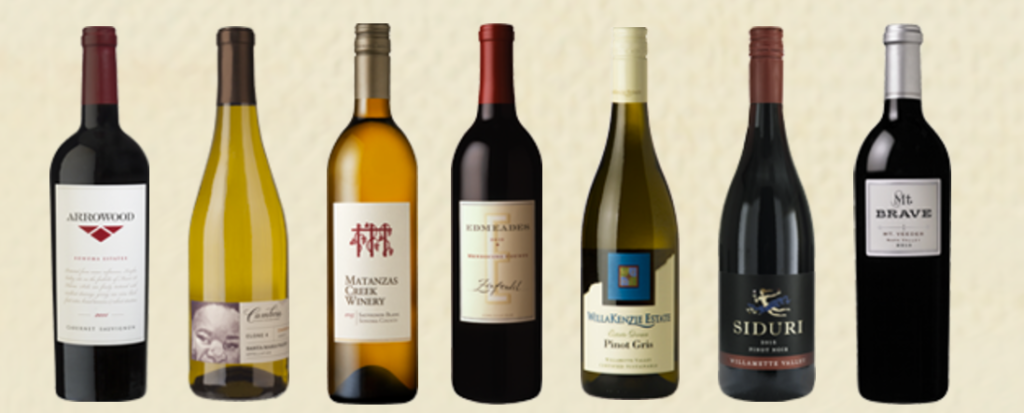 WillaKenzie Estate, Willamette Valley, 2016 – Pinot Gris | 90 points.. Named for Oregon's Willamette and McKenzie rivers to honor the mineral-rich sediment in which their vines are grown, it is understandable that WillaKenzie's motto is "dirt matters."
Matanzas Creek Winery, Sonoma, 2016 – Sauvignon Blanc | 92 points. A balanced and savory "old world style" of Sauvignon Blanc from the Bennett Valley in Sonoma that delivers fresh brightness of fruit and lively acidity on the finish.
Cambria, Clone 4, Santa Maria Valley, 2015 – Chardonnay | 91 points. Long, sunny days and a cooler climate moderated by the Pacific Ocean of the Santa Maria Valley define this ripe but refreshing Chardonnay.
Siduri, Willamette Valley, 2016 – Pinot Noir | 91 points. A magnificent blend of Pinot Noir grown in three different Oregon appellations gives this 2016 vintage a broad range of flavors, for a wine that is simultaneously rich and zippy.
Arrowood "Sonoma Estates," Sonoma County, 2014 – Cabernet Sauvignon | 90 points. A bright, juicy blend of Bordeaux varietals from the valleys of Sonoma, Knights and Alexander, the historic Arrowood winery has set the bar for Sonoma County Cabernet.
Edmeades, Mendocino, 2013 – Zinfandel | 91 points. From a pioneering winery with a sole focus on Zinfandel in the Mendocino Valley with vines planted over 60 years ago, this is the wine that helped put Mendocino, California on the map.
Mt. Brave, Mt. Veeder, Napa Valley, 2012 – Cabernet Sauvignon | 92 points. At 1,800 feet atop Mt. Veeder in Napa Valley—where the sun is intense, the climate is cool, and the berries are small and flavorful—comes a big Cab consistently rated 90 and above from critics such as the famed Robert Parker.
My rating: