When I have a long day of work I used to always take the easy way out with carb heavy dinners of pasta quickly thrown pot of boiling water with no regard to how much I was eating. That was then. I honestly now can't remember the last time I did that and try very hard to eat healthier and more balanced, especially Monday to Friday. The weekends are still a free for all where food is concerned.
I love to cook with Quinoa as you can manipulate it by adding ingredients to change the flavor and there is honestly nothing it doesn't go with from fish to chicken and other meats. I particularly like to cook the quinoa with chicken broth, which gives it a lovely natural salty flavor. This skillet salmon dish combines quinoa with strong feta and bitter arugula to be the perfect combination. Even better it takes less than 20 minutes to make and tastes just as good the next day as a cold salad for lunch.
To make this dish even better I paired it with a fabulously sharp and grapefruit citrusy Albariño. This refreshing wine with tastes of melon, peach and honeysuckle is a perfect companion to the strong flavor of salmon and salty quinoa side.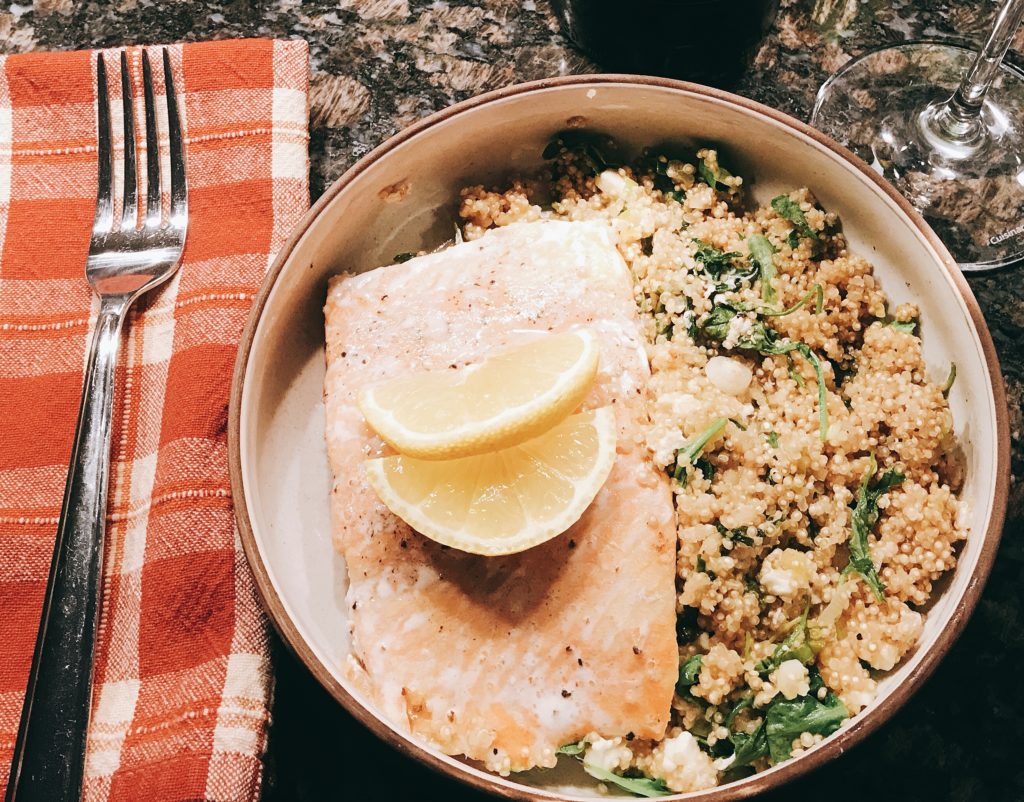 Skillet Salmon with Quinoa, Feta & Arugula
2017-08-21 17:27:57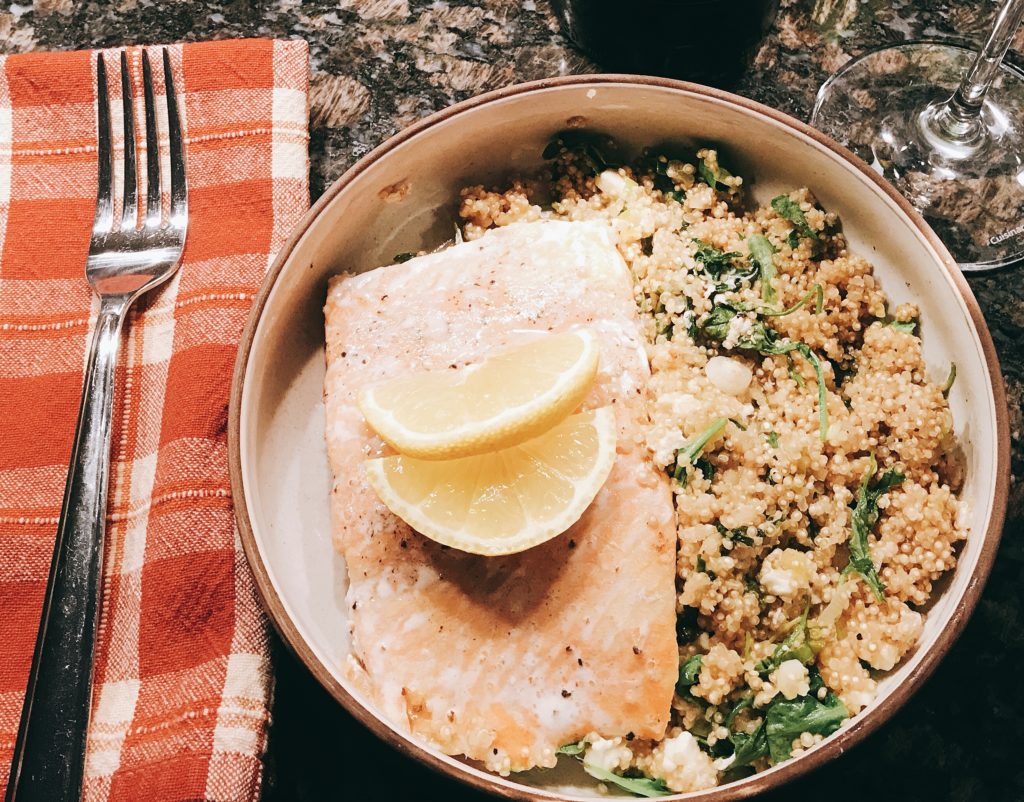 Serves 4
A healthy and easy to make dinner for the busy week night.
Ingredients
4 (6-oz) skin-on salmon filets
Kosher salt and freshly ground black pepper
1 ½ tablespoons canola, vegetable, or light olive oil
2 cups chicken stock
1 cup pre-washed or rinsed quinoa
1 ½ cups baby arugula
2 scallions, white and light green parts, thinly sliced
½ cup crumbled feta cheese (about 4 ounces)
2 tablespoons fresh squeezed juice from 1 lemon
1 to 2 tablespoons extra-virgin olive oil
Instructions
Season the salmon with salt and pepper. Heat the canola oil in a 12-inch skillet over medium-high heat until hot. Add the salmon skin-side down and cook without moving until skin is crisp, 2-3 minutes. Carefully remove salmon with a thin metal fish spatula and set on a large plate skin-side-up.
In the same skillet, bring 2 cups of chicken stock to an active boil, add quinoa and cook for 10-11 minutes or until quinoa has softened.
Lower the heat to medium-low, stir in the arugula, scallion, feta and place the salmon back on top, skin-side up, cover and cook until the salmon is barely cooked through, 2 to 3 minutes longer. Portion out the quinoa and salmon and drizzle with fresh lemon juice and extra-virgin olive oil. Serve immediately.
Notes
Pairs amazingly well with the mild flavors of an Albarino white wine.
Adapted from seriouseats.com
Adapted from seriouseats.com
Life. Food. Wine. http://lifefoodwine.com/