Whenever I am entertaining dinner guests whether it be one or 10 people, I spend time, sometimes weeks pouring over my recipe books, magazines and the web. My goal is always to please my friends with good food but also to be able to be part of joining them at the table when dinner is served. I think this is why I prepare dinners that serve family style rather than individually served dishes.
Food & Wine is the only actual magazine I still subscribe to and I love it for the recipes it provides, which are never overcomplicated with ingredients you can only find in a store in a remote part of Ohio. Of course, I love it for the wine write ups as well.
This dish which combines the great flavor of bone-in chicken with a tang of vinegar, buttery leaks and sweet peas certainly met my high bar of being a crowd pleaser. There was literally not even a pea left in the huge serving bowl.
While I made this particular dish to serve 10 people, I have since made it multiple times for just two. It never disappoints.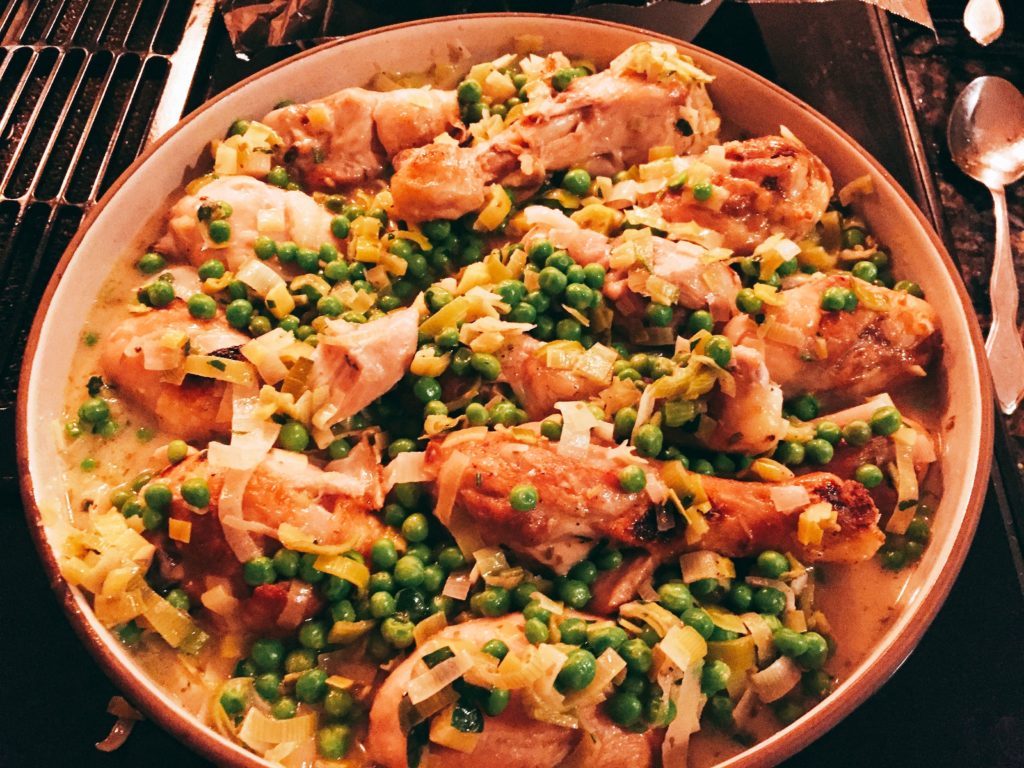 Braised Chicken with Leeks & Peas
2017-03-04 09:25:23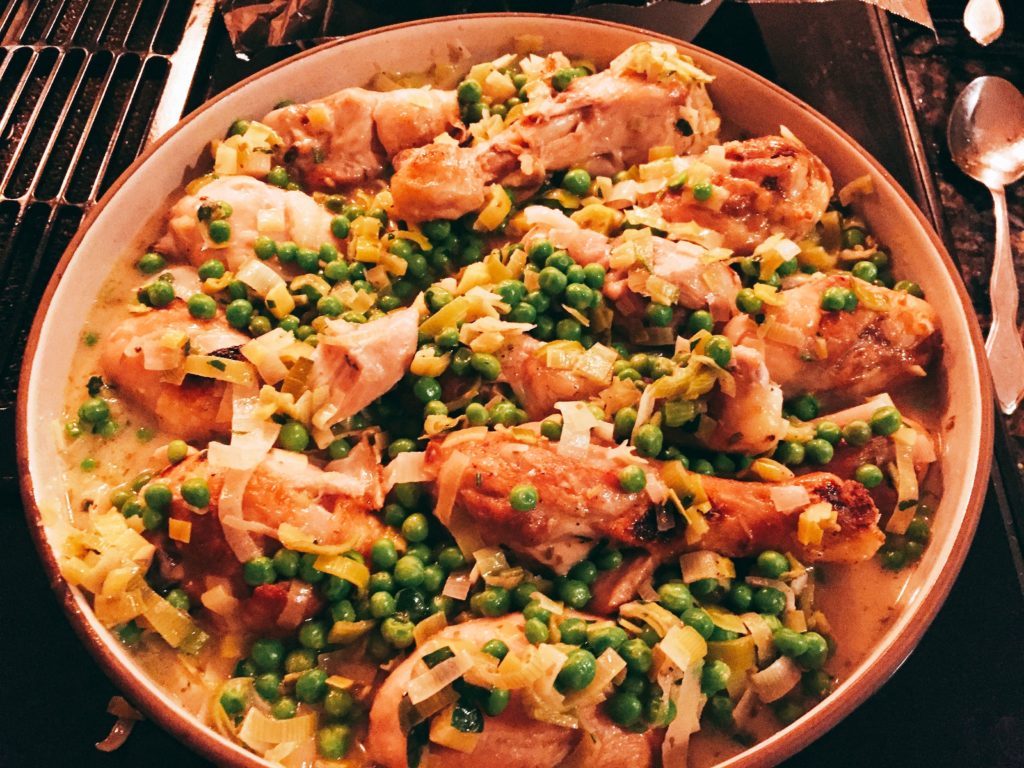 Serves 8
Ingredients
8 whole chicken legs. I used drumsticks
Salt Freshly ground pepper
3 tablespoons unsalted butter
3 tablespoons extra-virgin olive oil
3 large leeks, halved lengthwise and cut into 1- inch pieces
1 cup low-sodium chicken broth
1/4 cup white balsamic vinegar
One 10-ounce package frozen baby peas, thawed
2 tablespoons chopped tarragon
2 tablespoons chopped parsley
1/2 cup crème fraîche
Instructions
Preheat the oven to 425° and position a rack in the upper third. Turn the chicken legs skin side down on a work surface and cut halfway through the joint. Season the chicken generously with salt and pepper.
In each of 2 large nonstick skillets, heat half of the butter and oil. Add the chicken, skin side up, and cook over high heat until browned, 5 minutes. Turn and cook the chicken for 1 minute. Pile all of the chicken into one skillet.
In the other skillet, cook the leeks over high heat until just beginning to soften, about 2 minutes. Add the broth and vinegar and bring to a boil. Season with salt and pepper. Pour the mixture into a medium roasting pan.
Set the chicken on the leeks, skin side up; roast for about 25 minutes, until it is cooked through. Turn on the broiler and broil for about 2 minutes, until the skin is golden and crisp. Transfer the chicken to a platter.
Place the roasting pan over a burner and boil over high heat until the liquid is reduced by half, about 5 minutes. Add the peas, herbs and crème fraîche and simmer until the sauce is hot and slightly thickened, about 2 minutes.
Season with salt and pepper.
Pour the sauce over the chicken and serve.
Notes
This recipe is easily adjustable depending on the number of dinner guests you want to serve.
Adapted from Food & Drink
Adapted from Food & Drink
Life. Food. Wine. http://lifefoodwine.com/