Do you have a favorite Panera soup? Mine is Broccoli Cheddar or Tomato especially with a half toasted grilled cheese. My friend, Lauren's is the Chicken & Wild Rice. In fact, she loves it so much she has been scouring recipe sites in order replicate this favorite soup at home.
I was recently in Kansas City for a few days to bring in the New Year. During this trip Lauren decided it was time to give this soup a go. She found a recipe called Chicken & Wild Rice Soup Panera Copycat on a foodie blog and made a few changes to it to add her own flair.
Here's what I can tell you. Lauren's soup may actually be better than Panera's – sorry Panera but It was just that good.
While we were out doing a little shopping as only Lauren and I know how to do, her husband was prepping the chicken. He brined 1lb of chicken thighs for 30 min first (that's overkill according to Lauren) and then pan sautéed them in olive oil and finished them off in an oven for 15 minutes before shredding the chicken to be added to the soup. Credit was demanded by him for the soup being so good :). Credit where credit is due, it was good chicken!! Side note, rotisserie chicken would be great, and easy.
I actually had two bowls of the soup with some cheesy bread the night Lauren made it and then had another bowl, the next day for lunch, which by then was so thick and creamy it was like having a two-course meal.
It was amazing!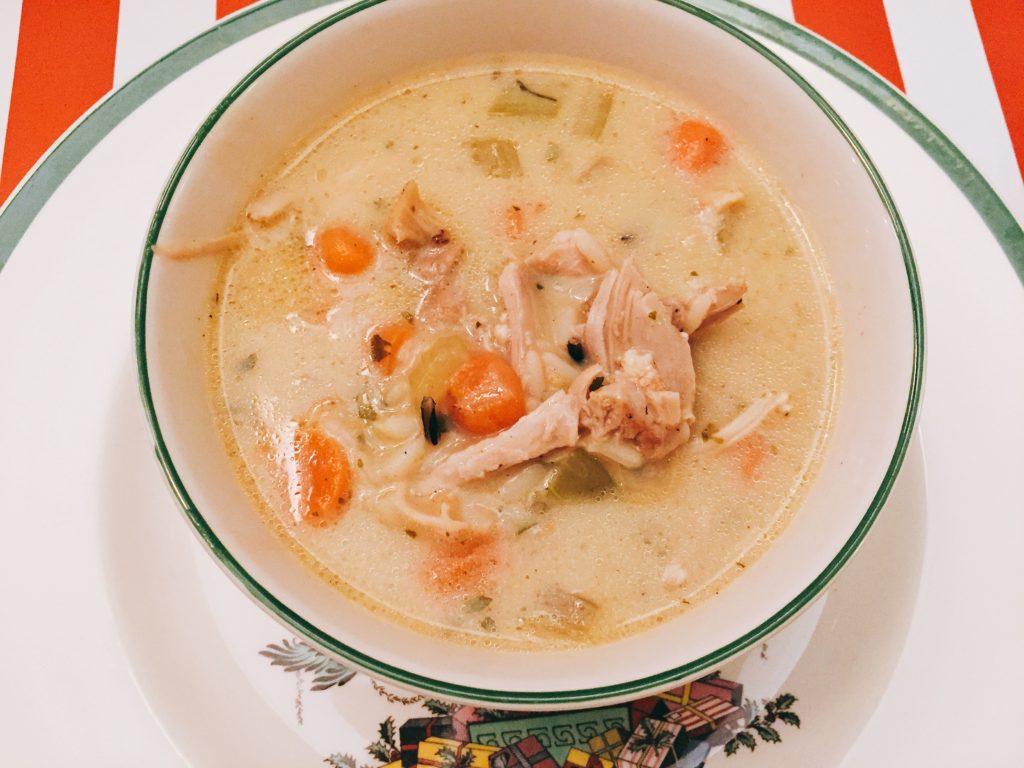 Chicken & Wild Rice Soup
2017-01-10 05:54:39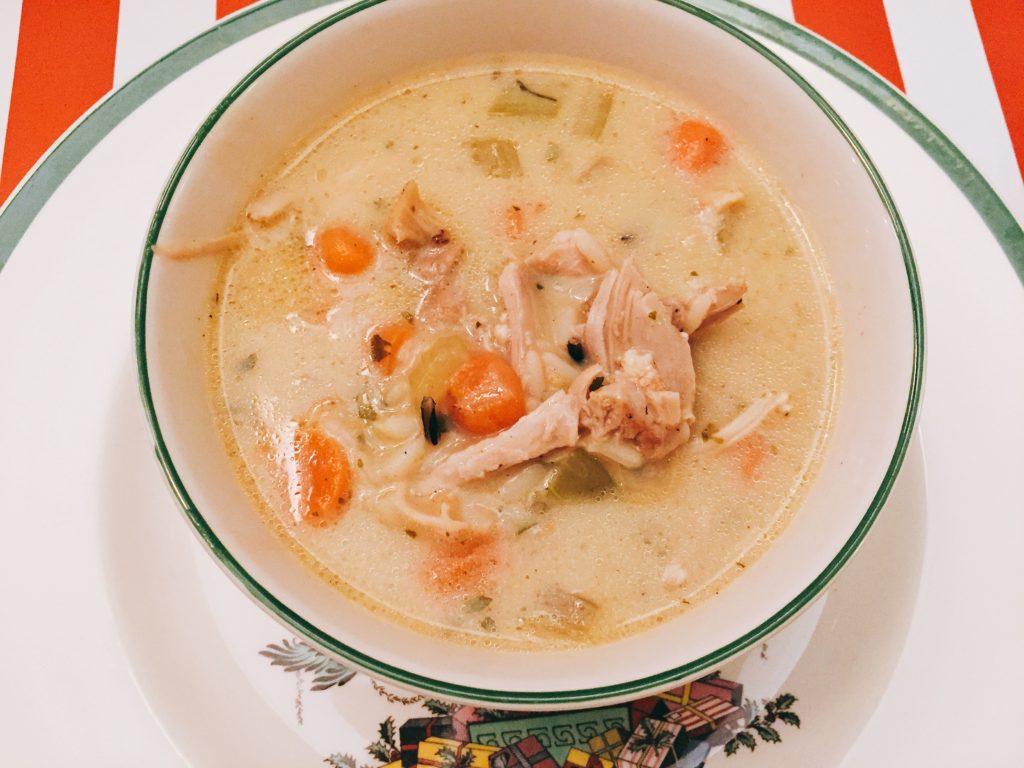 Serves 6
Better than Panera's Chicken & Wild Rice Soup
Ingredients
1 teaspoon olive oil
1/2 cup onion, diced
1 cup carrots, diced
1 cup celery, diced
1 teaspoon dried marjoram
2 tablespoons flour
1 package wild rice
1 carton chicken stock
1 can of low fat cream of chicken soup
1/2 cup half & half
1/2 low fat milk
2 cups cooked and shredded chicken
Salt & Pepper to taste
Instructions
Melt olive oil in a large pan over medium heat. Add onion, carrots celery and cook until softened. Add dried marjoram, flour, and seasoning packet from the rice; stir to combine.
Add rice, chicken stock and chicken soup; bring to a boil. Cover, lower to a simmer, and let cook for 15 minutes.
Heat the cream and milk in a small saucepan over low heat. Stir into the soup. Stir in the shredded chicken.
Cook about 30 minutes or until the rice is cooked. Season with salt and pepper to taste.
Notes
Can be reheated and actually tastes better on day 2!
Life. Food. Wine. http://lifefoodwine.com/