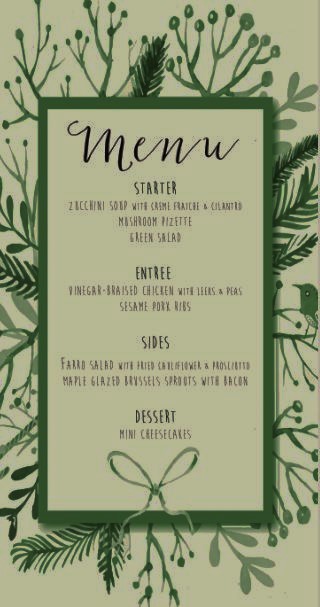 When everyone else is planning their Christmas or other Holiday get togethers I am planning my favorite cooking day of the year – Boxing Day.
The true meaning of Boxing Day is vague but the story I grew up on (and the most consistent) was that back in the day the wealthy families of England gave their servants the day after Christmas Day off (December 26th) and they spent that day opening up their boxes.
Growing up in England, Boxing Day was the day you got to spend with your friends with little to no pressure of making things perfect. I decided to bring this tradition with me to the USA, where I have now been hosting a Boxing Day Dinner Party for many years and while there is a lot of pressure, usually created by me, it is a tradition I absolutely love. We also do a little box unwrapping in the form of a Yankee Swap, which over the years has declined into hilarity.
This year, I once again scoured my Food & Wine magazines, cook books and googled the heck out of dinner party menus until I found something I liked for a 10-person sit down four course dinner.
Over the next few weeks I will be sharing some of the recipes but thought I would start with a surprising hit of the evening, which was the soup. I say surprising because I usually do a run through of my recipes first but didn't have time for the soup so I got to taste it with my guests for the first time. It was an absolute smashing success and a soup I will absolutely be making again.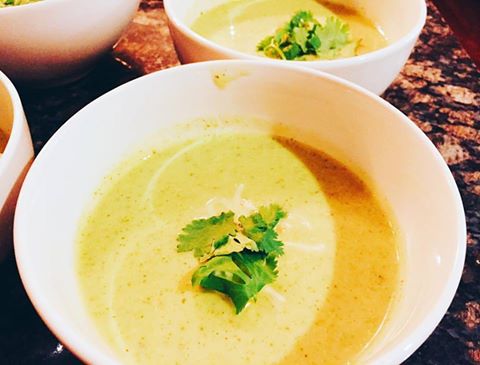 Zucchini Soup with Crème Fraiche & Cilantro
2016-12-28 11:07:41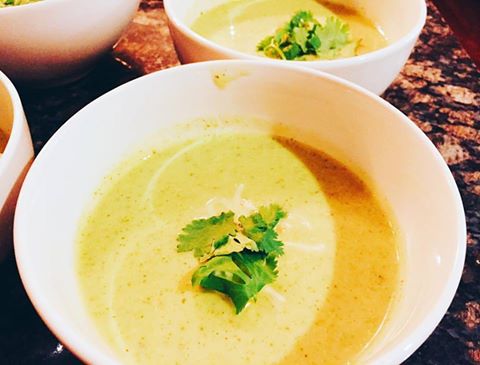 Serves 8
A delicious way to start any dinner menu
Ingredients
1/4 cup extra-virgin olive oil
1 large leek, white and tender green parts only, thinly sliced
1 large poblano—cored, seeded and thinly sliced
5 medium zucchini (2 1/4 pounds), cut into 1-inch rounds
2 large garlic cloves, thinly sliced
Kosher salt
Freshly ground pepper
1 quart low-sodium chicken broth
1 small Parmesan cheese rind (optional)
One 6-ounce bunch cilantro, stemmed and coarsely chopped, plus whole leaves for garnish
1 cup crème fraiche
½ cup of grated parmesan cheese for garnish
Instructions
In a large pot, heat the olive oil until shimmering. Add the leek and poblano and cook over moderate heat, stirring, until softened, about 8 minutes. Add the zucchini and garlic, season with salt and pepper and cook, stirring occasionally, until crisp-tender, 5 to 6 minutes. Add the chicken broth and Parmesan rind and bring to a boil. Simmer over moderate heat until the zucchini is very tender and no longer bright green, about 15 minutes. Discard the Parmesan rind and add the chopped cilantro.
Working in batches, puree the soup in a blender or food processor until very smooth. Return the soup to the pot, whisk in the crème fraiche and reheat gently if necessary. Season the soup with salt and pepper and ladle into bowls. Garnish the soup with grated parmesan and cilantro leaves and serve.
Notes
The soup can be refrigerated overnight. Reheat gently or serve cold.
Adapted from Food & Wine
Adapted from Food & Wine
Life. Food. Wine. http://lifefoodwine.com/