I have been cooking a lot with Blue Apron lately and have to say as much as I consider myself a decent cook, Blue Apron has helped me take it to a whole new level of combining never before used ingredients and creating something wow worthy. I have not posted many of the recipes on my blog but I have been sharing a #whatscooking series on my Instagram page. All of the recipes can be found on Blue Apron's site and if I posted the photo the recipe is worthy of checking out.
While I do manage to cook almost every recipe from the box, which I get about once a month, there are some recipes I just cant get to due to my work and social life and ingredients unfortunately go bad. One of the items left over, which I could put in the freezer for a later time was some great center cut pork chops. I have a super easy recipe for Parmesan Crusted Pork Chops courtesy of Giada's Every Day Italian, which I have made many times over the years with both pork and chicken.
For this recipe the parmesan is the pressed first onto the pork chop, followed by the egg and then the breadcrumbs, which seems to work really well. Made with the perfect pork chop this recipe is quick, juicy and honestly just awesome.
I paired the chops with a sautéed vegetable medley of zucchini, green beans and cherry tomatoes. This is the perfect supper after a busy day at work when you have little time or inclination to throw an elaborate meal together.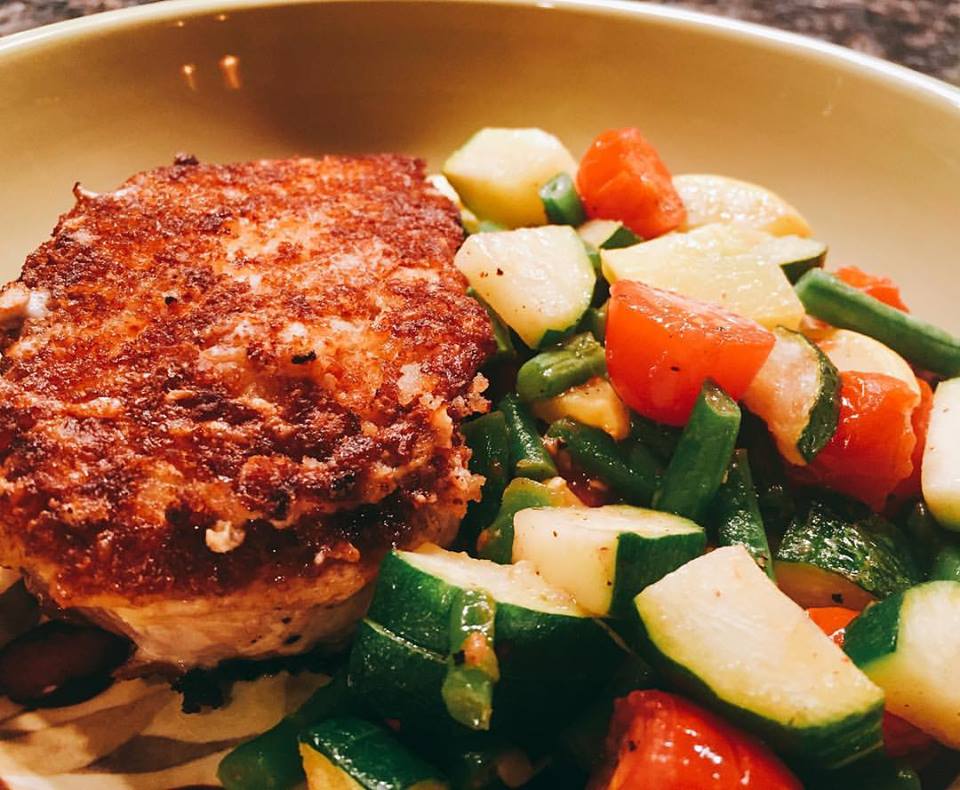 Parmesan Crusted Pork Chops
2016-11-20 11:40:25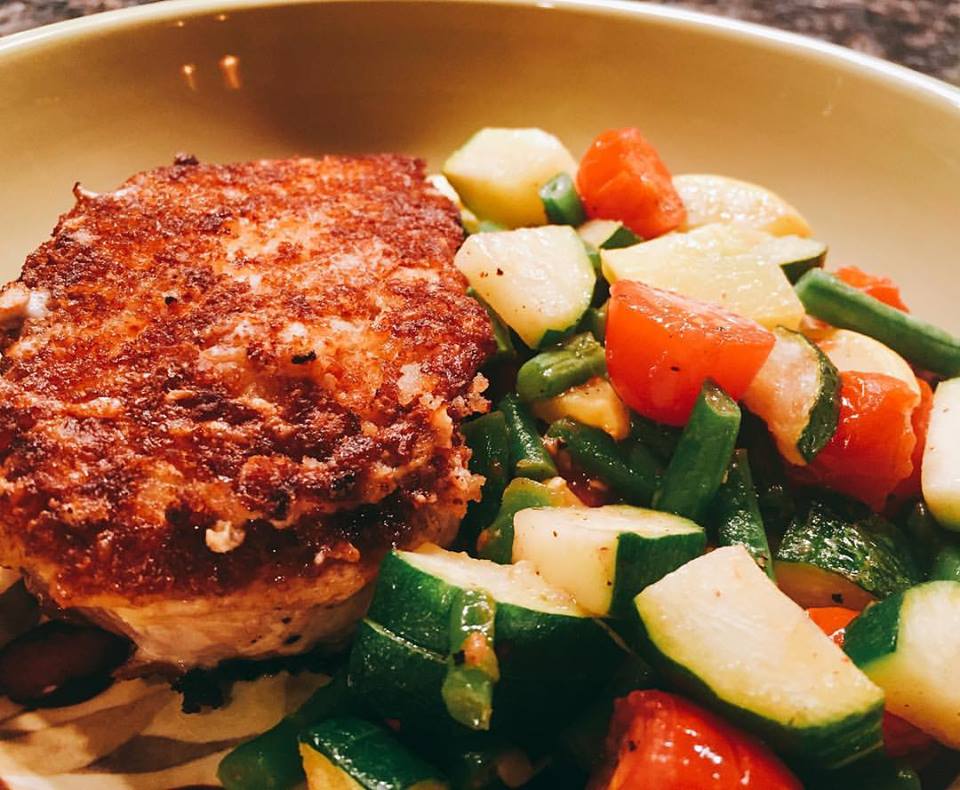 Serves 4
An easy and really tasty evening meal.
Ingredients
2 large eggs
1 cup dried Italian-style bread crumbs
3/4 cups freshly grated Parmesan
4 (1/2 to 3/4-inch thick) center-cut pork loin chops (each about 10 to 12 ounces)
Salt and freshly ground black pepper
6 tablespoons olive oil
Lemon wedges, for serving
Instructions
Whisk the eggs in a pie plate to blend. Place the bread crumbs in another pie plate. Place the cheese in a third pie plate. Sprinkle the pork chops generously with salt and pepper. Coat the chops completely with the cheese, patting to adhere. Dip the chops into the eggs, then coat completely with the bread crumbs, patting to adhere.
Heat 3 tablespoons of oil in a very large skillet over medium heat. Add pork chops, in batches if necessary, and cook until golden brown and the center reaches 150 degrees, about 6 minutes per side. Transfer the chops to plates and serve with lemon wedges.
Notes
Serve a colorful vegetable medley.
Adapted from Giada de Laurentiis
Adapted from Giada de Laurentiis
Life. Food. Wine. http://lifefoodwine.com/