We have certainly been having a bit of a miserable start to May. I really don't want to complain too much as we had a very mild winter, but I will complain just a little as its been unseasonably cold and a little too rainy for my lovely spring/summer shoes and light jackets! What it also makes me want to do is shop and eat comfort food, which is probably not the best way to spend my evenings – eating and online shopping!! I really should be at the gym or running around Castle Island and not thinking of ways to indulge in high carb fabulousness and on sale handbags. Oh well, that is exactly what I did this past Saturday. The high carb part, not the shopping part. This part I may do today :).
I had so many errands to run that it took up my whole day. By the time I got home I knew I was in for the night and there was nothing short of Tony DiNozzo calling me up for a night on the town that could get me out of my condo. As Tony is a fictional character from NCIS, comfort food it was to be.
My kitchen always has carb essentials such as rice and pasta and many different options of them. I started out with thinking about a simple chicken and mushroom pasta dish but glimpsed Arborio Rice in my cabinet and immediately new I was going the risotto route.
As Food & Wine never lets me down with recipes I referred back to one I had made before. I love this creamy, rich dish and this recipe is absolutely fantastic and truly restaurant taste worthy. I was in heaven, especially paired with a Hill Family Albarino.
Risotto takes a little patience but trust me it's easy and absolutely worth it.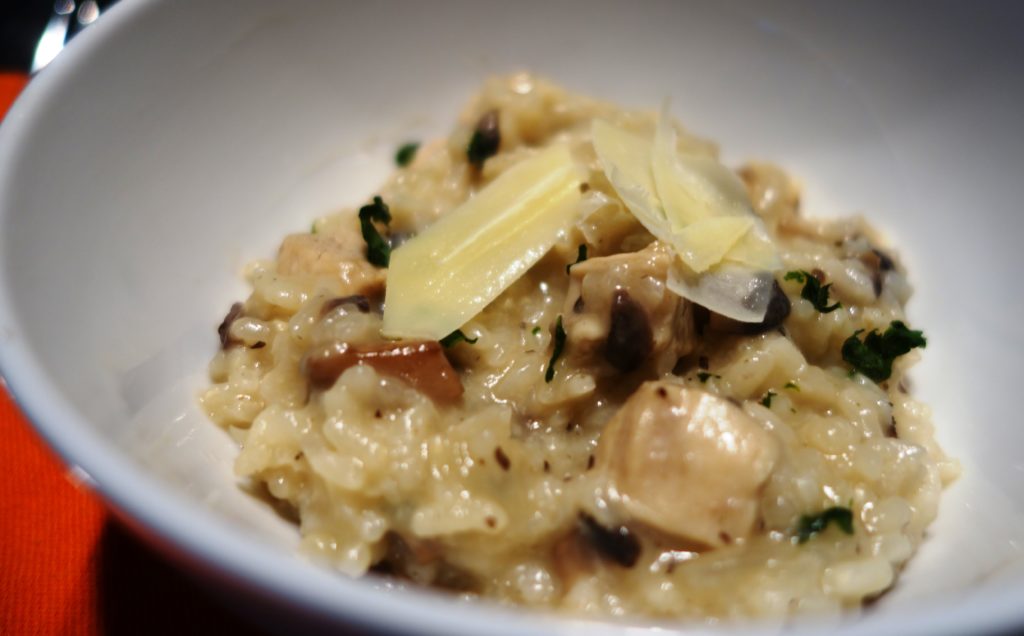 Chicken & Mushroom Risotto
2016-05-08 09:07:58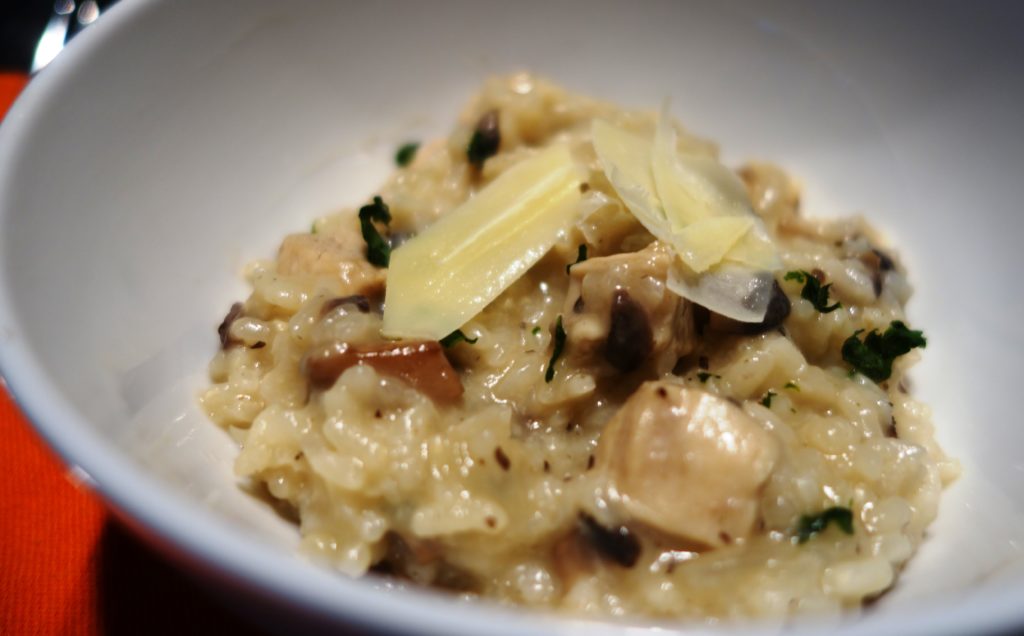 Serves 4
A true comfort food dish with its milk Arborio rice and salty broth reduction and rich parmesan.
Ingredients
2 tablespoons butter
1/2 pound mushrooms, cut into thin slices
2/3 pound boneless, skinless chicken breasts (about 2), cut into 1/2-inch pieces
1 teaspoon salt
1/4 teaspoon fresh-ground black pepper
5 1/2 cups canned low-sodium chicken broth or homemade stock, more if needed
1 tablespoon cooking oil
1/2 cup chopped onion
1 1/2 cups Arborio rice
1/2 cup dry white wine
1/2 cup grated Parmesan cheese, plus more for serving
2 tablespoons chopped fresh parsley
Instructions
In a large pot, heat the butter over moderate heat. Add the mushrooms. Cook, stirring frequently, until the mushrooms are browned, about 5 minutes. Add the chicken, 1/4 teaspoon of the salt, and the pepper. Cook until the chicken is just done, 3 to 4 minutes. Remove the mixture from the pan. In a medium saucepan, bring the broth to a simmer.
In the large pot, heat the oil over moderately low heat. Add the onion and cook, stirring occasionally, until translucent, about 5 minutes. Add the rice and stir until it begins to turn opaque, about 2 minutes.
Add the wine and the remaining 3/4 teaspoon salt to the rice. Cook, stirring frequently, until all of the wine has been absorbed. Add about 1/2 cup of the simmering broth and cook, stirring frequently, until it has been absorbed. The rice and broth should bubble gently; adjust the heat as needed. Continue cooking the rice, adding broth 1/2 cup at a time and allowing the rice to absorb it before adding the next 1/2 cup. Cook the rice in this way until tender, 25 to 30 minutes in all. The broth that hasn't been absorbed should be thickened by the starch from the rice. You may not need to use all the liquid, or you may need more broth or some water.
Stir in the chicken and mushrooms, the Parmesan, and the parsley and heat through. Serve the risotto with additional Parmesan.
Life. Food. Wine. http://lifefoodwine.com/