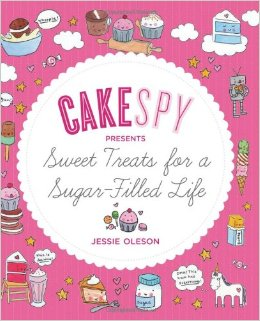 A few weeks ago I went to the launch of a new book called "Sweet Treats for a Sugar-Filled Life" by Jessie Oleson.
Jessie writes for the very popular site called Cakespy, a dessert detective agency. I bought the book and spent a week perusing the fun photos and awe inspiring desserts but also thinking "that just looks crazy, I couldn't possibly make it." There was one dessert however that I thought, "not only does that look good, I bet it tastes amazing." It was a recipe for cakes grilled in orange casings. Who doesn't love chocolate and orange?
Although, I didn't follow the recipe, it gave me a wonderful idea to try something out. I decided to make my go to Chocolate Chip Cupcakes, which I adapted from a recipe I found on one of my favorite sites, My Baking Addiction. I thought I would make 4 of them in the orange shells for my friends who were staying with me for a few days and the rest as normal cupcakes – just in case they didn't turn out as planned. This was going to be interesting.
Chocolate Chip Cupcakes
2016-03-09 16:52:01
Ingredients
3/4 cup cocoa powder
3/4 cup all-purpose flour
1/2 tsp baking powder
1/4 tsp salt
1 1/2 sticks unsalted butter, room temperature
1 cup sugar
3 large eggs
1 teaspoon vanilla extract
1/2 cup sour cream
3/4 cup semi sweet chocolate chips
Instructions
Preheat oven to 350 degrees. Line 12-cup standard muffin tin with paper liners.
In a medium bowl, sift together cocoa, flour, baking powder, and salt; set aside.
In a large mixing bowl, cream butter and sugar until light and fluffy. Add eggs, one at a time, beating well after each, then beat in vanilla.
With mixer on low speed, add flour mixture in two batches, alternating with sour cream and beginning and ending with flour. Gently fold in chocolate chips.
Pour batter into cups, filling each 3/4 full. Bake for 20 to 25 minutes.
Cool in pan 5 minutes; transfer to a wire rack to cool completely.
Life. Food. Wine. http://lifefoodwine.com/
Dessert was served to my dinner party of 4. We all looked at each other, forks in hand and hesitantly dug into the oranges. A sly look, a little smile and then a collective "oh my goodness, these are so good!"
Rich moist chocolate cake with a hint of tangy orange and sweet, creamy sugar frosting. Definitely going into my make again collection and I am making all 12!
They were amazing!