The holiday break seems to be a lifetime ago now :(. Almost 2 weeks back at work and I feel well into 2016 and dreading the expected snow and bitter cold we are inevitably going to get. I honestly cannot bear the thought of digging my car out of snow again. It's still far too fresh in my mind.
Okay, I am putting it out of my mind and I am going to talk about one of my favorite things, food!
I was looking for a fun appetizer for a French menu dinner party, which I put together for some friends. I made Madeleine's for dessert for the first time, which were very successful and I also made these awesome goat cheese cakes, which is a recipe from one of my favorite cookbooks, The Wine Lover's Cookbook. This book is about 15 years old and I can honestly say I use it more than any other book in the library of cookbooks I own. It also talks through wine pairings in case you are ever stuck. Everything I have made from this book has turned out to be very successful. These cakes were no exception and paired fabulously well with the signature drink of the evening, the French 75.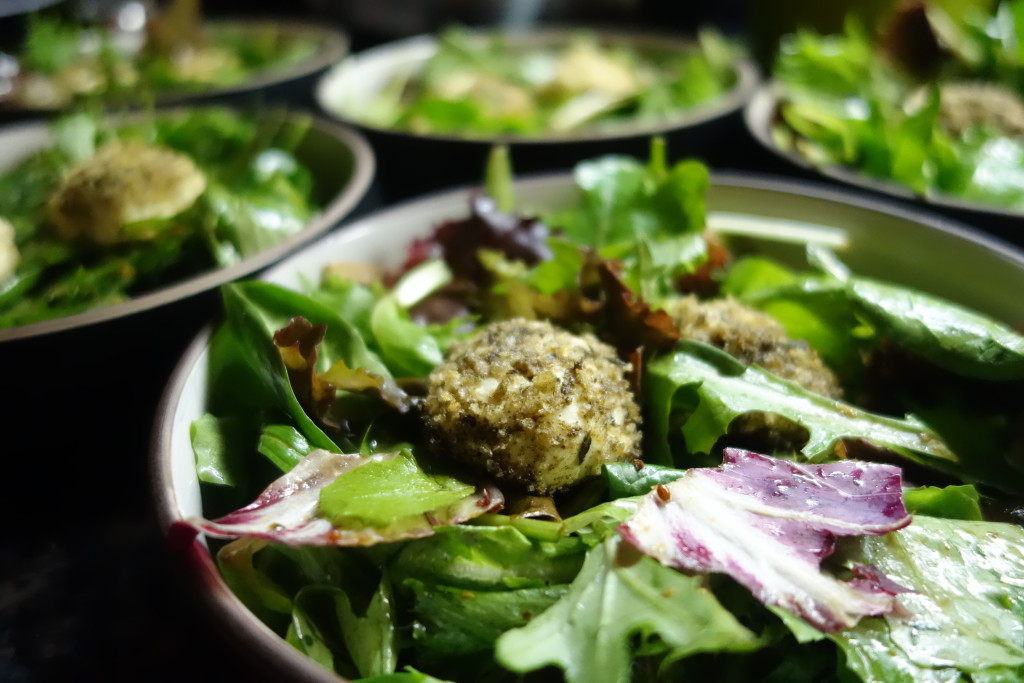 Mixed Greens with Thyme-Scented Goat Cheese Cakes
2016-01-14 05:42:47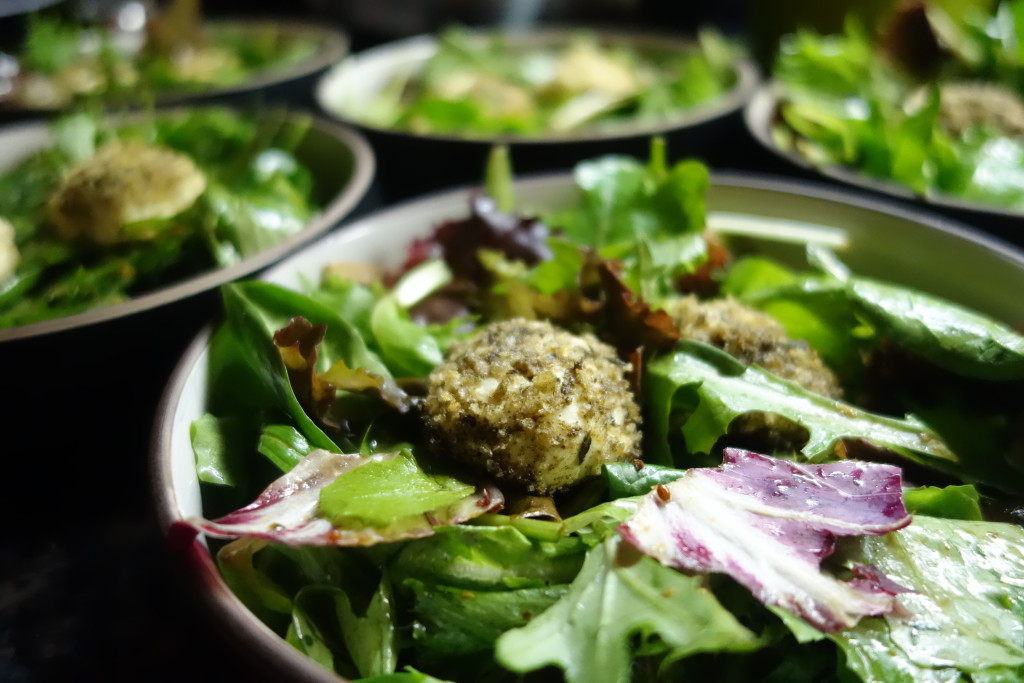 Serves 6
A wonderful distinctive appetizer sure to please your guests.
Goat Cheese Cakes
8 oz fresh goat cheese
2 tablespoons olive oil
3 teaspoons chopped fresh thyme
1/4 cup plain bread crumbs (I used panko for an extra crunch)
1 teaspoon dried thyme
1/4 teaspoon crushed black pepper
1/4 teaspoon kosher salt
Dressing
1/4 cup balsamic vinegar
1 teaspoon Dijon mustard
1/2 cup olive oil
12 oz. mixed greens
Instructions
Form 12 small rounds of goat cheese and put in a small low-rimmed glass dish. Top with olive oil and chopped thyme. Let sit, refrigerated, for 1 hour.
In a small mixing bowl, combine bread crumbs, dried thyme, black pepper and salt. Coat goat cheese rounds on all sides.
Preheat oven to 350 F. Place goat cheese rounds on a baking sheet and bake for 15 minutes, until golden brown. Remove with a spatula.
In a small bowl, whisk together vinegar, mustard, and oil. Salt and pepper to taste. Combine dressing and salad greens. Top with goat cheese cakes.
Life. Food. Wine. http://lifefoodwine.com/