There are not many reasons I cherish the advent of cold weather, especially after our historical Boston weather last winter and for some reason I am always far busier in the winter with work. However, there is one thing I do love and cherish and that is soup, especially when it is cold out and I have no time to make dinner in the evenings. I love to make a big old pan of it and reheat and enjoy it every evening when I get home from a long day of work. It warms the cockles of my little British heart.
I am once again trying to be healthier with my eating. This is not always easy when you write about food for fun and quite honestly when you just simply love food, which I do! I am dining out a lot and when I am not going to a restaurant after work, I tend to work late and then when I get home I am so hungry I make food that while is absolutely fine, I do eat too much of it, which can be a big problem when it is a big honking bowl of pasta.
This week I wanted to start Monday out right. Rather than going to Wholefoods where I end up spending a ridiculous amount of money on eye catching fancy foods, I almost never eat, I shopped at Stop & Shop with a strict list of items for the week. Apart from buying more fun fruit than I normally I do, I did really well with sticking to the list.
I do also feel a little more righteous today as I also went to the gym the last two nights. Let's see if I can build a momentum up here 🙂
I bought items to make an easy and healthy Italian Turkey Bean Soup, which I enjoyed Sunday, Monday and Tuesday night and there is still quite a bit left over for a few more nights this week. This soup get's tastier each day.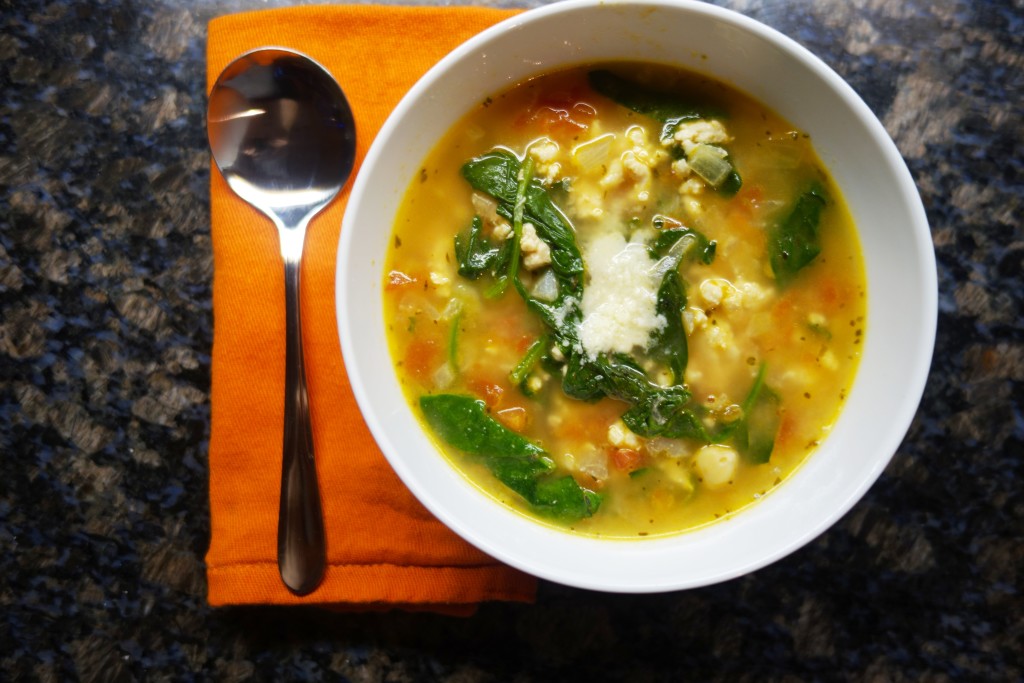 Italian Turkey Bean Soup
2015-10-19 14:28:59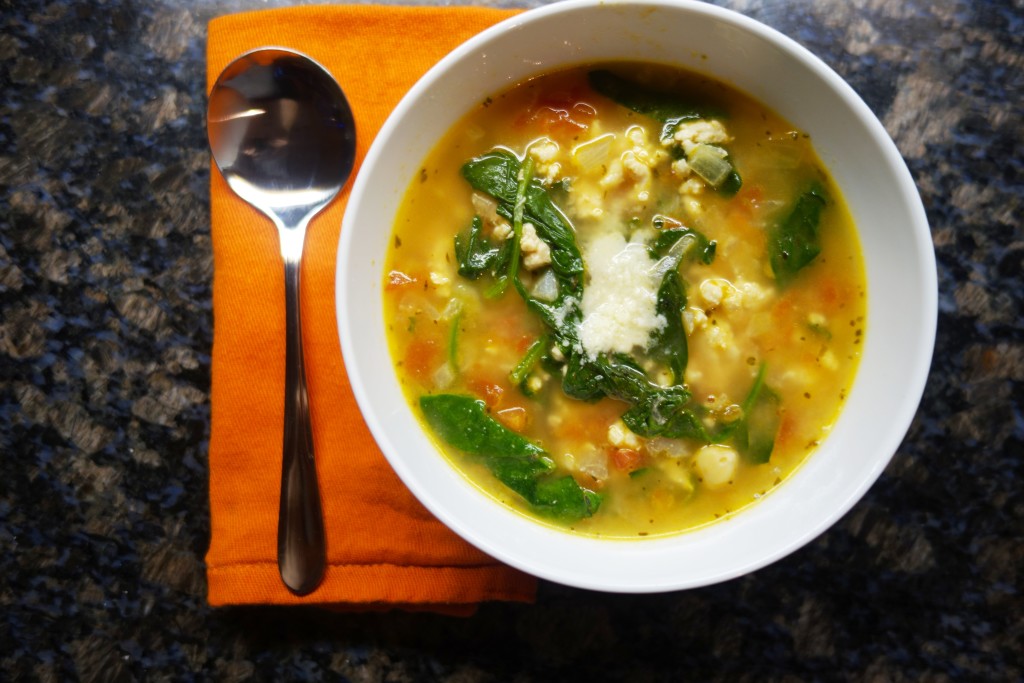 Serves 4
A healthy and delicious soup, which you can make a head of time and reheat.
Ingredients
2 tablespoons extra virgin olive oil
1 pound extra lean ground turkey
1 medium yellow onion, diced
1 clove garlic, minced
Pinch of red pepper flakes
1/4 teaspoon black pepper
1 teaspoon dried oregano
1/2 teaspoon dried basil
1 (14.5 ounce) can Diced Tomatoes
1 (15.8 ounce) can great northern beans, drained and rinsed. I used cannellini beans instead
8 ounces baby spinach
3 cups low-sodium chicken broth
1/2 cup grated parmesan cheese, plus extra for garnish
Instructions
Heat the oil in a large pot over medium-high heat. Brown the turkey with the onions, garlic, red pepper flake ,and pepper until the turkey is cooked through and then onions are translucent (about 7 minutes).
Add the oregano, basil, tomatoes (with liquid), and beans. Stir to combine.
Reduce heat to medium-low, add spinach and cover for about 2 minutes or until spinach is wilted. Stir to combine.
Add broth, stir, and increase heat to medium. Continue to cook until heated through - about 5 minutes.
Remove from heat, stir in parmesan cheese, and serve.
Life. Food. Wine. http://lifefoodwine.com/