A few weeks ago my friend Lauren was in town from Kansas City. With sadly not enough time to hang out at one of our "it" new Boston restaurants, I offered to make dinner for a group of friends so we could all catch up together and not worry about getting around town.
Of late I have been a little obsessed with my Food & Wine magazine and have been finding many recipes, which have turned out to be somewhat easy to make and huge crowd pleasers. It is also proving to be a sure fire way to convince my friends that I am quite a superb rather than just okay cook 🙂
Flicking through it for ideas on what to make for the girls, a picture jumped out at me of Rosemary Chicken with Corn and Sausage Fricassee. The photo in the magazine is so unbelievably tempting for a big group to enjoy, I just had to make it. While my dish wasn't as esthetically pleasing as the gorgeously staged magazine photo, I have to say it was good, really good.
I changed out the recipe a little bit with frying the drumsticks rather than grilling and adding frozen corn rather than fresh. I also used sweet Italian sausage instead of hot, given one of my friends is adverse to hot/spicy food.
I also made my favorite mustard roasted potatoes and a large arugula salad and made everything family style.
We paired the dinner with a number of wines but I have to say my favorite was the Morgan Chardonnay, with its buttery creaminess making it a super accompaniment to the sweet sausage.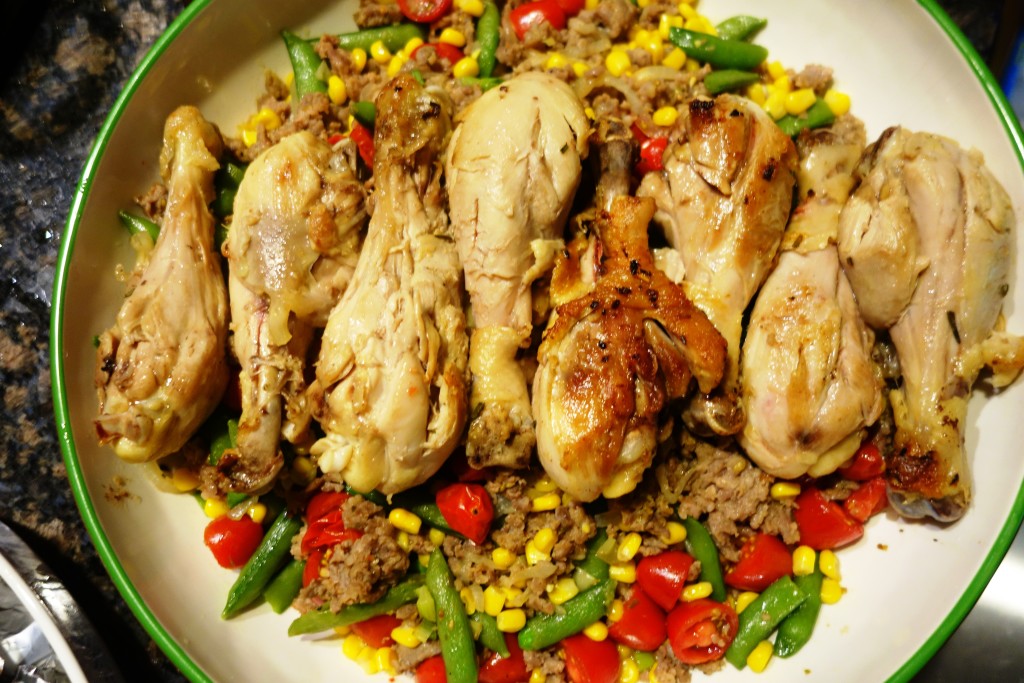 Rosemary Chicken with Corn and Sausage Fricassee
2015-10-11 15:42:42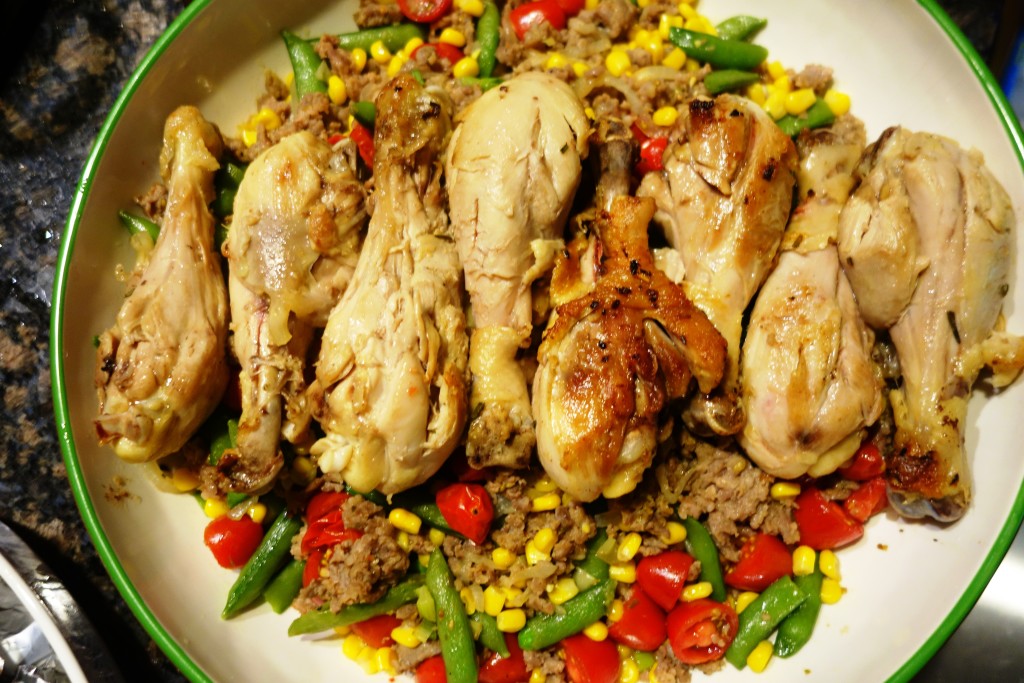 Serves 6
A fantastic, impressively simple meal for a large group.
Ingredients
1/2 cup kosher salt
12 chicken drumsticks
1/2 cup extra-virgin olive oil
4 large garlic clove, chopped
2 tablespoon finely chopped rosemary
1 tablespoon finely grated lemon zest
1 teaspoon crushed red pepper
6 scallion
3 tablespoons extra-virgin olive oil
1 medium sweet onion, halved and thinly sliced lengthwise
4 ounces sweet Italian sausage, casing removed
3 cup corn kernels
2 cup cherry tomatoes (10 ounce), halved
1/4 pound sugar snap peas, halved lengthwise
1/2 cup torn basil leaves
Instructions
Make the chicken in a large bowl. Whisk the salt with 6 cups of cold water until dissolved. Add the chicken and refrigerate for 45 minute.
Remove the chicken and pat dry with paper towel. Wipe out the bowl. In the same bowl, whisk the olive oil with the garlic, rosemary, lemon zest and crushed red pepper. Add the chicken and turn to coat, rubbing some of the marinade under the skin. Marinate the chicken at room temperature for 45 minute.
In a large skillet heat the olive oil. Fry the chicken over moderate heat, turning occasionally, until lightly charred and an instant-read thermometer inserted in the thicket part of each leg register 165°, about 25 minute.
Meanwhile, make the fricassee in another large skillet, cook the scallion over high heat until charred on the bottom, about 3 minute. Transfer to a work surface and cut into 1-inch length. In the same skillet, heat the olive oil. Add the onion and a generous pinch of salt and cook over moderate/high heat, stirring occasionally, until softened and lightly browned, about 6 minute. Add the sausage and cook, breaking up the meat with a wooden spoon, until nearly cooked through, 6 to 8 minute. Add the corn and tomatoes and cook, stirring occasionally, until the corn is crisp-tender and the tomatoes are softened, about 5 minute. Stir in the snap peas and cook until crisp-tender, about 2 minute longer. Stir in the basil and scallion and season with salt. Transfer the fricassee to a platter, top with the chicken and serve.
Notes
I do think this is the type of recipe you can add and take away many ingredients depending on the season. To be honest, just the sausage fricassee alone would be a great supper dish.
Adapted from Food & Wine Magazine
Adapted from Food & Wine Magazine
Life. Food. Wine. http://lifefoodwine.com/
With great friends, good food, wine, some "healthy" conversation and as long as we didn't think about the next day being a Tuesday, how could we not have amazing Monday evening?