When we were kids dinner or Tea Time as we called it in Manchester, England consisted of meat and potatoes almost every night. It rarely moved away from these two ingredients whether it was with added stewed within an inch of their lives vegetables, in a pie or made into bubble and squeak. This is what my crazy Irish mother always made us. While she wasn't a good cook, which I now know, she did make fantastic potatoes. Her roasted potatoes were particularly superb, which she made with the meat fat.
A few weeks ago I was having a group of new friends over for dinner and really wanted to make Paella. I make a good one (I think) and wanted to show off my talents a little. My work day gotten absolutely crazy and I had no time to go and buy fresh seafood after work. I really wanted to impress these women who I had met through career networking and seriously started to panic about what I was going to make. What could I put together with no rush or fuss and still impress? I finally settled on Chicken Milanese, which I make quite often and Arugula Salad. Simple, easy and always a crowd pleaser.
The menu still needed something else though and that is when my mum and her potatoes popped into my head. I never make potatoes as I always think of them as too fattening, which is ridiculous I know but perhaps it was because they were always soaked in meat fat – so good though!
I immediately went to my recipe savior, the Barefoot Contessa and found a recipe for Mustard Roasted Potatoes. I quickly ran out to my local Stop & Shop and bought some small red potatoes. Everything else I had on hand.
These potatoes are truly delightful with a crispy skin and fluffy inside. How could I have forgotten how good potatoes are? This dish was actually the biggest hit of the night, which was an even bigger surprise.
I had them the next few days for lunch cold and they were just as good. Potatoes are making a comeback in my house!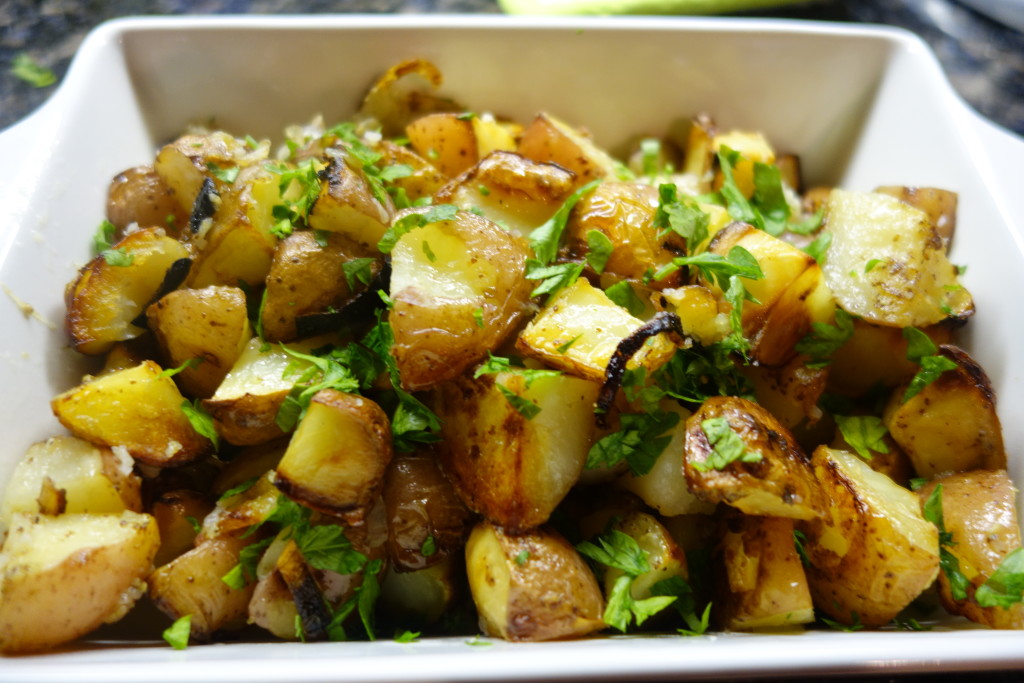 Mustard Roasted Potatoes
2015-09-07 18:38:46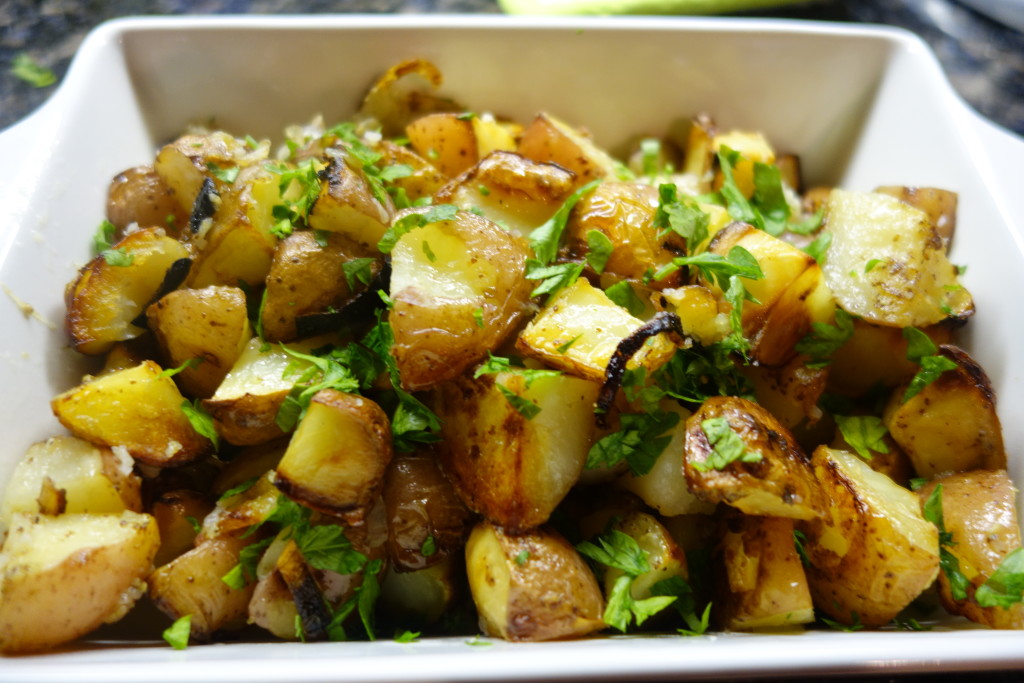 Serves 6
A super side dish to any meal.
Ingredients
2 1/2 pounds small red potatoes
2 yellow onions
3 tablespoons good olive oil
2 tablespoons whole-grain mustard
Kosher salt
1 teaspoon freshly ground black pepper
1/4 cup chopped fresh flat-leaf parsley
Instructions
Preheat the oven to 425 degrees.
Cut the potatoes in halves or quarters, depending on their size, and place them on a sheet pan. Remove the ends of the onions, peel them, and cut them in half. Slice them crosswise in 1/4-inch-thick slices to make half-rounds. Toss the onions and potatoes together on the sheet pan. Add the olive oil, mustard, 2 teaspoons salt, and the pepper and toss them together. Bake for 50 minutes to 1 hour, until the potatoes are lightly browned on the outside and tender on the inside. Toss the potatoes from time to time with a metal spatula so they brown evenly.
Serve hot sprinkled with chopped parsley and a little extra salt.
Notes
Also tastes great served cold.
Adapted from The Barefoot Contessa
Adapted from The Barefoot Contessa
Life. Food. Wine. http://lifefoodwine.com/