I love getting my monthly magazine of Food & Wine. It's one of the only magazines I still get in print form. I usually save it for a Sunday morning and then devour it page by page. I start with the recipes, bookmarking them, sometimes tearing them out and then move on to the wines.
I always find one or two recipes I can make with ingredients I have readily on hand or buy regularly, however, my September issue gave me so many more that I can't wait to make and to taste. There will be lots of recipes for me to make this month.
The first recipe I attempted (successfully) is the Arborio Rice Salad, which was contributed by blogger, Katie Parla. Apparently cold rice dishes are a very common dish in Rome during the summer months. After making and tasting this dish myself, it is now going to be a common dish in South Boston.
I honestly love this dish and have taken it to work every day this week for a lunch rice bowl as I made enough to feed a very large family. It is just bursting with an abundance of flavors and textures. I particularly like the sharpness of the olives and crunch of celery.
I did adapt the original recipe a little. I used shredded mozzarella instead of fresh and I omitted the sausage as I really didn't like the idea of meat and fish together in a bowl. I also couldn't believe I actually had a jar of artichoke hearts on hand. I have no idea why but I am glad I did.
I paired this dish an outstanding Noria Chardonnay from Napa Valley.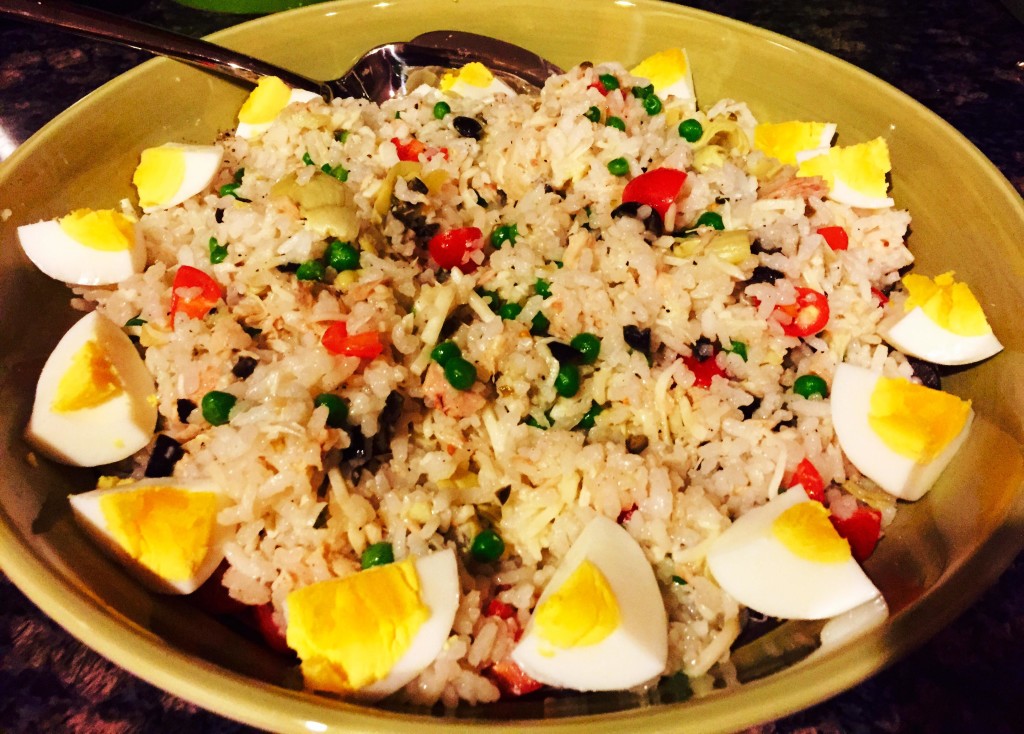 Arborio Rice Salad
2015-09-03 17:16:56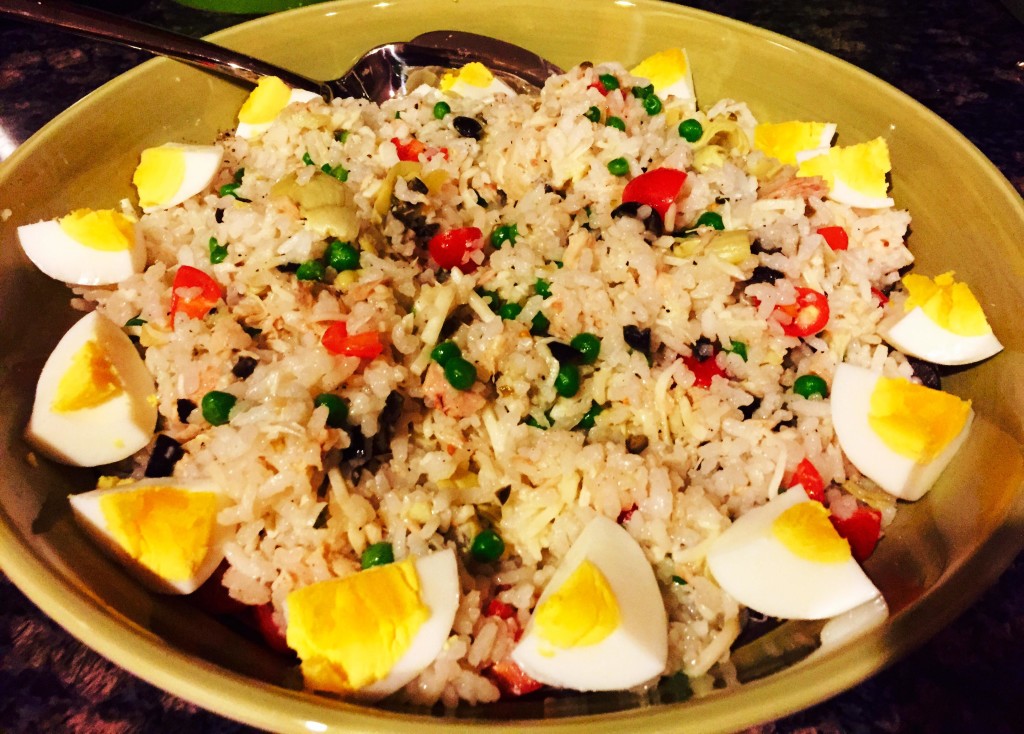 Serves 6
A great dish to make at the beginning of the week for your daily lunch at work.
Ingredients
1 1/2 cups Arborio rice, rinsed and drained
1 cup fresh or thawed frozen peas (5 ounces)
3 large eggs
1 cup shredded mozzarella
4 ounces cherry tomatoes, quartered (3/4 cup)
1 tablespoon chopped capers
One 5-ounce can good-quality oil-packed tuna, drained and flaked
4 drained canned or thawed frozen artichoke hearts, thinly sliced lengthwise
1/2 cup chopped pitted kalamata olives (4 ounces)
1/3 cup chopped celery leaves
1/3 cup chopped basil
6 tablespoons extra-virgin olive oil
1/4 cup fresh lemon juice
Kosher salt
Pepper
Instructions
Cook the rice in a large saucepan of salted boiling water until al dente, about 18 minutes. Add the peas and cook for 1 minute, then drain. Rinse the rice and peas under cold water to stop the cooking. Drain very well and transfer to a large bowl.
Meanwhile, in a small saucepan, cover the eggs with water and bring to a boil. Remove from the heat, cover and let stand for 10 minutes. Drain, then cool the eggs under running water. Peel and quarter the eggs.
Add all of the remaining ingredients, except the eggs, to the rice in the bowl and mix well. Garnish the salad with the eggs, season with salt and pepper and serve.
Notes
This is a really adaptable dish for substitutes. Add different vegetables, meats and fish.
Adapted from From a recipe in Food and Drink
Adapted from From a recipe in Food and Drink
Life. Food. Wine. http://lifefoodwine.com/