Oftentimes, quick meals can mean unhealthy processed meals. There was a time when I would get in from a long day of work and go straight to my freezer for the pre-packaged, just heat meals. While for portion control these can be super, they are not so super for added ingredients. One day of my friend started to pull them out of the freezer and read out the side of the box to me, which was full of ingredients half of the time we couldn't even pronounce. I was a bit embarrassed and defensive, especially as my friend had time on her hands and I really didn't considering the hours I was working. I made up the excuse that I just didn't have time to make meals, but to be honest I just didn't want to as I was usually exhausted and this was the easy way out. However, she was totally right, why would I put ingredients into my body if I couldn't even pronounce them?
I would like to say my freezer has no premade foods in there anymore but that is not true. There are things like my favorite turkey meatballs from Trader Joe's but definitely not full boxed meals. I think that's okay right?
These days I always make sure I have food to hand that are easy to put together and can be made almost as quickly as throwing a frozen dinner into the microwave. The great thing is I tend to make a lot so I have leftovers for day 2 and 3.
Getting in from work the other night, I was exhausted but had to eat. I am not going to lie, I contemplated takeout but that would have taken about 45 minutes just to get to me and I know I would have snacked on something while I waited and then eat far too much once it arrived.
I had bought some chicken and sage sausage from Wholefoods that weekend so went about putting together what turned out to be a ridiculously tasty dinner and I made it in 20 minutes total. My wearily long day ended even better with a treat glass of Cakebread Charonnday 2012, which I had opened from my friends who had popped over the night before. I just couldn't leave it there open could I?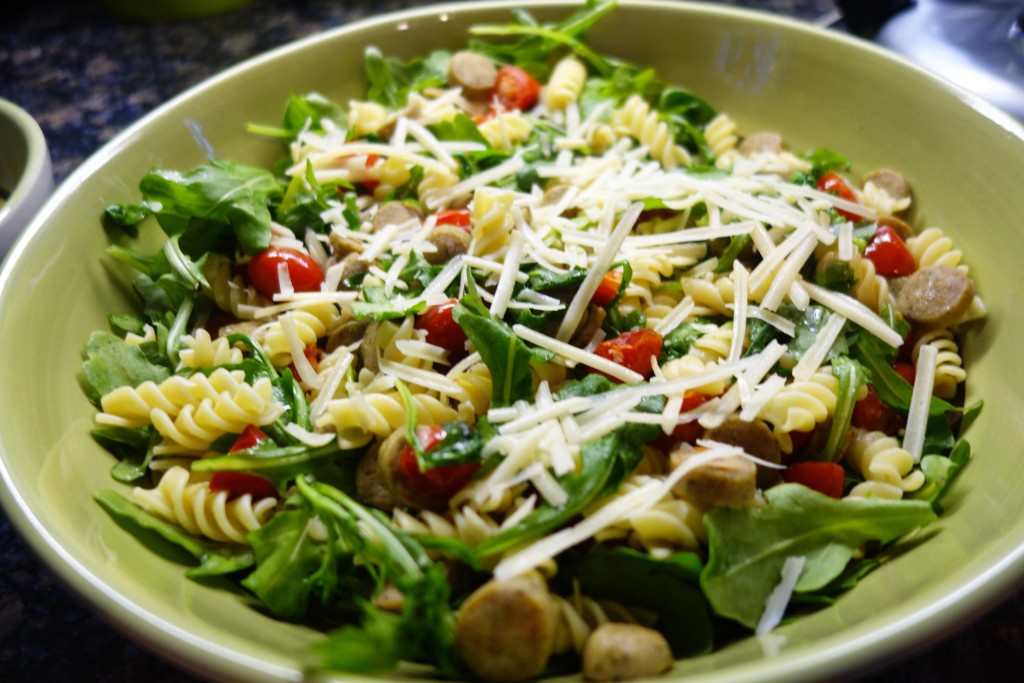 Chicken Sausage, Tomato & Arugula Pasta
2015-07-25 08:37:16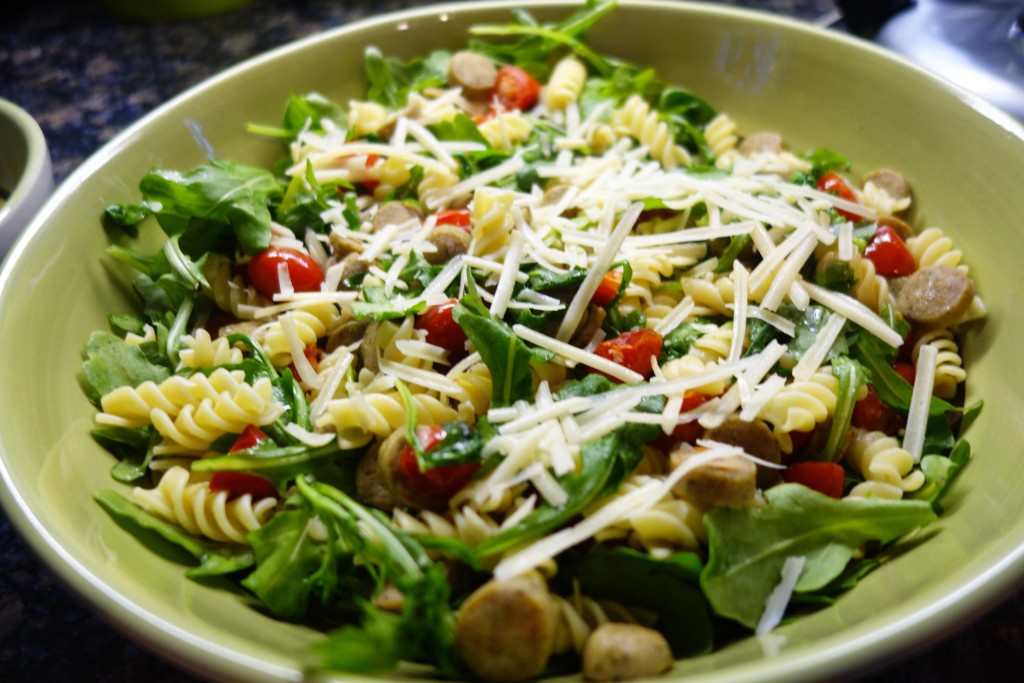 Serves 4
Quick, easy, delicious!
Ingredients
3 cups of rotini whole wheat pasta
1 tablespoon olive oil
6 chicken sausages – sliced
½ teaspoon minced garlic
½ cup chicken stock
¼ cup white wine
1 pint cherry tomatoes - halved
1/4 teaspoon freshly ground black pepper
3 cups baby arugula leaves
Romano or Parmesan cheese
Instructions
Cook pasta according to package directions. . Drain in a colander over a bowl, reserving 1/3 cup cooking liquid.
pasta cooks heat oil in a large skillet over medium-high heat and had the sliced sausages; cook 4 minutes or until browned, stirring frequently. Add garlic; cook 30 seconds, stirring constantly. Add chicken stock and wine. Reduce heat stirring occasionally for about 3-4 minutes. Sauce will start to thicken. Add tomatoes and pepper; cover and cook 5 on low heat. Remove skillet from heat.
Add pasta, reserved 1/3 cup cooking liquid, and arugula; toss well.
Sprinkle with cheese.
Notes
This recipe is easy to change up with any kind of pasta or sausage.
Life. Food. Wine. http://lifefoodwine.com/