Over the years I have been in the habit of being seduced by the colors of the fresh food aisles in supermarkets, especially more pricey supermarkets like Wholefoods. I buy far more than I need leading to me to throw food away, which always makes me feel terribly guilty.
These past few months I have been trying to buy food on an as needed basis. I am not always good at it as I can on occasion (more often than not) end up going out for dinner after work rather than coming home to make dinner.
I am getting better though and having a small amount of good fresh food in my fridge is forcing me to create more fun dishes at home.
I had some really good asparagus the other night reminding me how much I love this veggie, which sent me on a googling search to find a recipe involving it. I came across a great blog called Simple, Sweet & Savory and found a recipe for a Pork & Asparagus Noodle Bowls. I had most of the ingredients so I went about adapting it just a little to what I had in my fridge and cupboards and created this crave-worthy awesome noodle bowl. This dish is fantastic. I will seriously be making it again and again!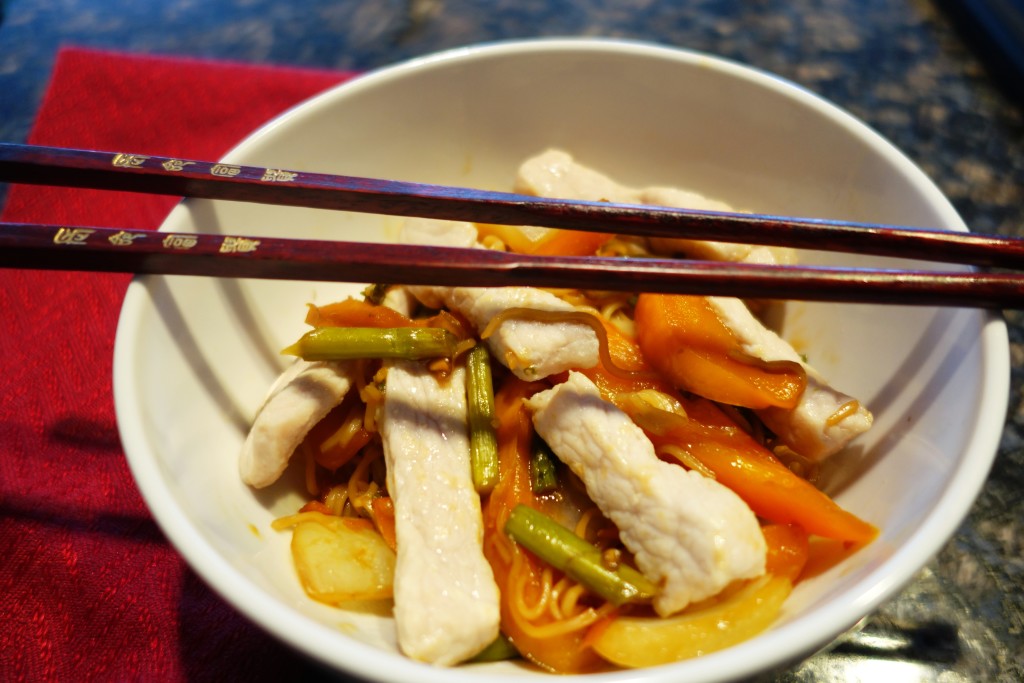 Pork & Asparagus Noodle Bowls
2015-07-04 13:23:09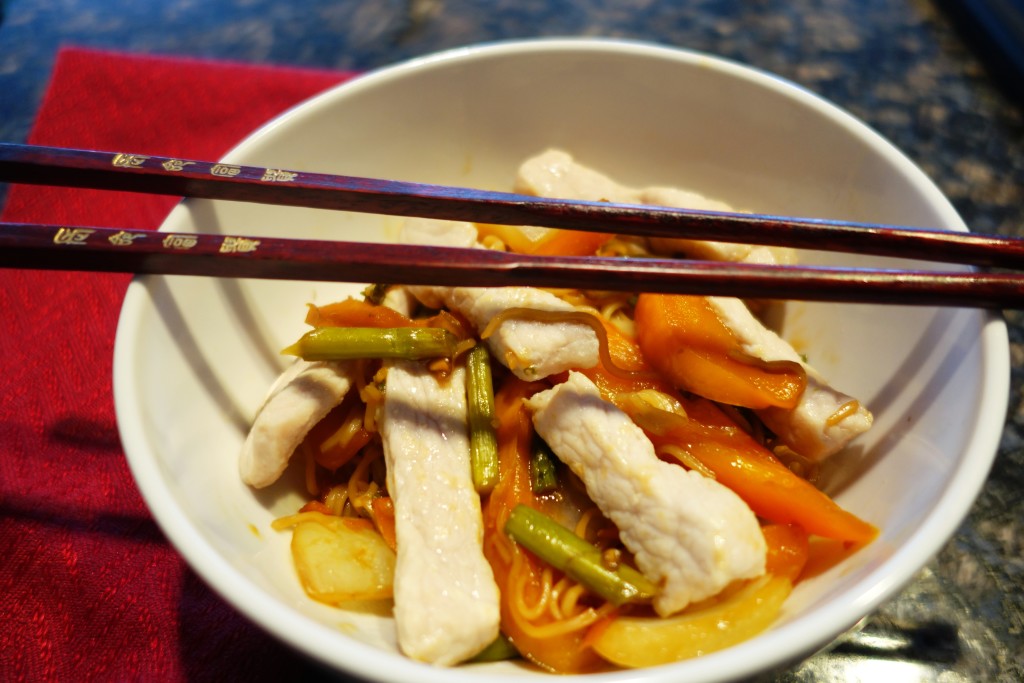 Serves 5
A seriously tasty noodle bowl
Ingredients
¼ cup soy sauce
2 Tbsp rice vinegar
2 tsp honey
2 tsp minced garlic
1 tsp ground ginger
2 tsp cornstarch
2 Tbsp water
2 Tbsp canola oil, divided
1 lb. boneless pork chops, cut into strips
1 onion, cut into wedges
3 cups asparagus (about 20 stalks), cut into 1-inch pieces
1 red bell pepper, chopped
½ cup shredded carrots
1 (8oz) pkg Chinese noodles
Instructions
In a medium bowl, combine the soy sauce, rice vinegar, honey, garlic, and ginger until smooth.
In a small bowl, combine cornstarch and water until the cornstarch is dissolved.
In a medium saucepan, cook noodles according to package directions. Drain.
Meanwhile, place asparagus in a large skillet with just enough water to cover the bottom. Bring to a boil over medium-high heat. Then cover and lower heat to medium. Cook until crisp-tender, about 5 minutes. Remove from heat and drain.
In same skillet over medium-high heat, add 1 Tbsp oil. Sauté pork until browned on all sides. Remove and keep warm.
Add remaining oil to skillet and sauté onion and peppers about 2 minutes. Add asparagus and carrots. Sauté to heat through.
Add sauce and cornstarch mixture and bring to a boil, stirring constantly until thickened slightly.
Add noodles and toss to combine and heat through.
Notes
This dish is also delicious served cold.
Adapted from Simple, Sweet & Savory Blog
Adapted from Simple, Sweet & Savory Blog
Life. Food. Wine. http://lifefoodwine.com/