It's been a crazy, stressful few weeks with working on a team putting a conference together, working the actual conference, getting up at 5am and going to bed at 1am. I got home on Friday evening to my condo, which I hadn't seen in four days and made beeline for my bed face down. I am not even sure I took my shoes off. In fact, I didn't as I woke up with one still on in the middle of the night. I didn't sleep fitfully but that was okay as the most important thing that needed to recover was my feet, which didn't even feel like they were part of my body anymore. It's Sunday and I still can't wear my high shoes, which given I am five feet tall is a whole different type of stress for me :).
I stayed in all day and all night on Saturday and barely moved from my sofa and TV for 12 solid hours except to make some dinner. I knew I had to have something somewhat healthy and honestly I really just needed something other than conference food every hour on the hour. We had soooo much food, it was ridiculous.
I googled my favorite easy to make dishes from Ina Garten and found a recipe for Roasted Panko Crusted Salmon. I had some great salmon fillets from Wholefoods and went about making this fantastically tasty dish, which I paired with some stir fry vegetables and a sneaky glass of Del Dotto Ca'nnani Chardonnay 2012. I felt one glass of wine after lying on my sofa for 12 hours was okay – right?
I have to say the taste of citrusy lemon and sharp Dijon mustard is ridiculously good. I also made more than I could eat so I am hoping it lasts so I can enjoy it with salad this week for work.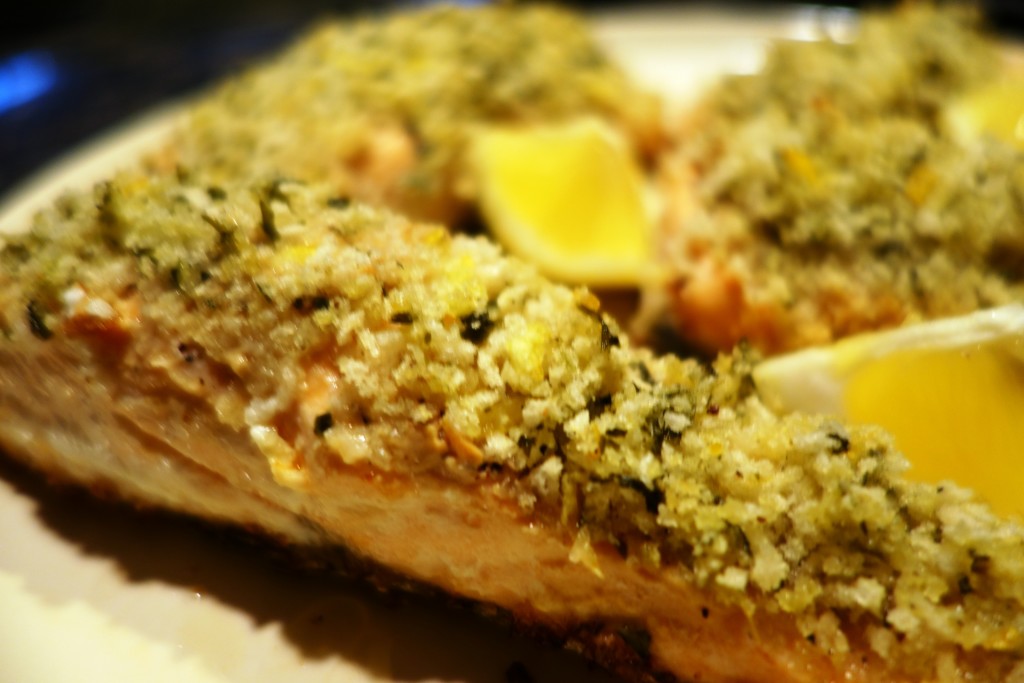 Roasted Panko Crusted Salmon
2015-06-21 11:51:45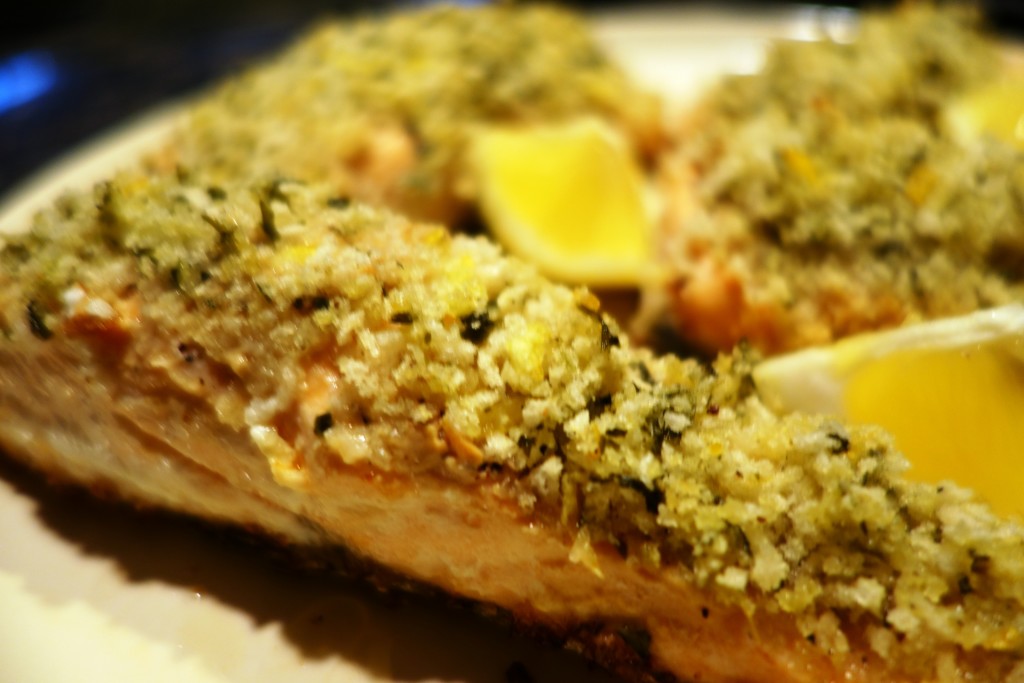 Serves 4
A simple and easy to make tasty salmon dish
Ingredients
2/3 cup panko (Japanese dried bread flakes)
2 tablespoons minced fresh parsley
1 teaspoon grated lemon zest
Kosher salt and freshly ground black pepper
2 tablespoons good olive oil
4 (6- to 8-ounce) salmon fillets, skin on
2 tablespoons Dijon mustard
2 tablespoons vegetable oil
Lemon wedges, for serving
Instructions
In a small bowl, mix together the panko, parsley, lemon zest, 1/2 teaspoon salt, and 1/2 teaspoon pepper. Drizzle with the olive oil and stir until the crumbs are evenly coated. Set aside.
Place the salmon fillets, skin side down, on a board. Generously brush the top of the fillets with mustard and then sprinkle generously with salt and pepper. Press the panko mixture thickly on top of the mustard on each salmon fillet. The mustard will help the panko adhere.
Heat the vegetable oil over medium-high heat in a 12-inch cast-iron skillet or large heavy, ovenproof pan. When the oil is very hot, add the salmon fillets, skin side down, and sear for 3 to 4 minutes, without turning, to brown the skin.
Transfer the pan to the hot oven for 5 to 7 minutes until the salmon is almost cooked and the panko is browned. Remove from the oven, cover with aluminum foil, and allow to rest for 5 to 10 minutes. Serve the salmon hot or at room temperature with lemon wedges.
Notes
Pairs great with Chardonnay.
Life. Food. Wine. http://lifefoodwine.com/