I woke up with a craving for Wonton Soup. I have absolutely no idea why but I knew I wanted it. If I was close to my office I would just head over to PF Chang's for a quick bowl as I have done many many times over the years. Little did I know that I could have gone to the Changer five times in the amount of time it took me to buy all of the ingredients for this little bowl of wonder.
It is really all my fault. Having never made this soup before, I had no idea what I was looking for with regards to wonton wrappers – I really should have googled it first. I tried a few of the local grocery stores, including the big Shaw's, but to no avail. I knew I had to go to an Asian market.
To be honest they have always intimidated me as I walk in and have absolutely no idea what am doing. Finally, after walking around the huge store like an idiot and asking many people for wonton wrappers, someone finally understood my request and walked me over to the freezer aisle, which is exactly where I would never have looked. By the way, the Asian market over in South Bay is awesome and fantastically inexpensive. I will definitely be going back there.
Three hours later, I was finally home ready to make what I hoped would be as good as the Changers' Wonton Soup.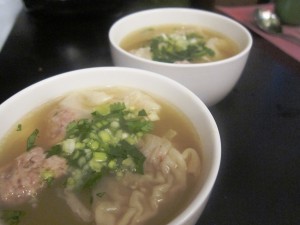 Wonton Soup
2015-02-12 08:41:19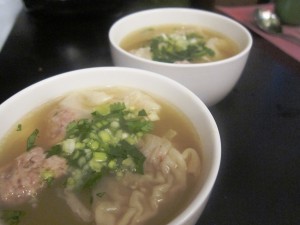 Serves 8
A wonton soup almost as good as PF Chang's, in my humble opinon
Ingredients
½~ pound mined pork loin
1 teaspoon finely chopped green onion
1 teaspoon brown sugar
1 tablespoon Chinese rice wine
1 tablespoon light soy sauce
½ teaspoon dry ginger
30 (3.5 inch square) wonton wrappers
6 cups chicken stock
1/8 cup finely chopped green onion
Instructions
In a large bowl, combine pork, sugar, wine, soy sauce, 1 teaspoon chopped green onion and ginger. Blend well, and let stand for 25 to 30 minutes.
Place about one teaspoon of the filling at the center of each wonton skin. Moisten all 4 edges of wonton wrapper with water, then pull the top corner down to the bottom, folding the wrapper over the filling to make a triangle. Press edges firmly to make a seal. Bring left and right corners together above the filling. Overlap the tips of these corners, moisten with water and press together. Continue until all wrappers are used.
For soup. Bring the chicken stock to a rolling boil. Drop wontons in, and cook for 5 minutes. Garnish with chopped green onion, and serve.
This soup was absolutely delicious as was concurred by my friend, Kathleen. I had 2 bowls. I am so impressed with myself.
Notes
I served with Turkey Lettuce Wraps.
Adapted from from a recipe on Allrecipes.com
Adapted from from a recipe on Allrecipes.com
Life. Food. Wine. http://lifefoodwine.com/