If you have ever read my blog, you will know how much I love duck. If it's on the menu all the other menu items tend to blur completely away and all I see is Duck! So, you can imagine my excitement when Maple Leaf Farms in conjunction with Boston Wine Expo 2015 asked me to do a Twitter tasting for them with not one but three types of duck. While the actual Twitter tasting is not until Monday evening we were allowed to play around with recipes beforehand.
After digging my car out from under more snow storm, I just couldn't bear the thought of going out on Saturday night. My movie choice was set with Guardians of the Galaxy – awesome movie, but I didn't know what to make for dinner. I want to make the roast duck or duck breast on Sunday evening as I feel it is more Grammy worthy, so that left me with duck bacon. I have never had duck bacon but I knew even before I tasted it, it was going to fantastic. How could it not be?
I decided to make a very simple sandwich with a twist on the classic BLT.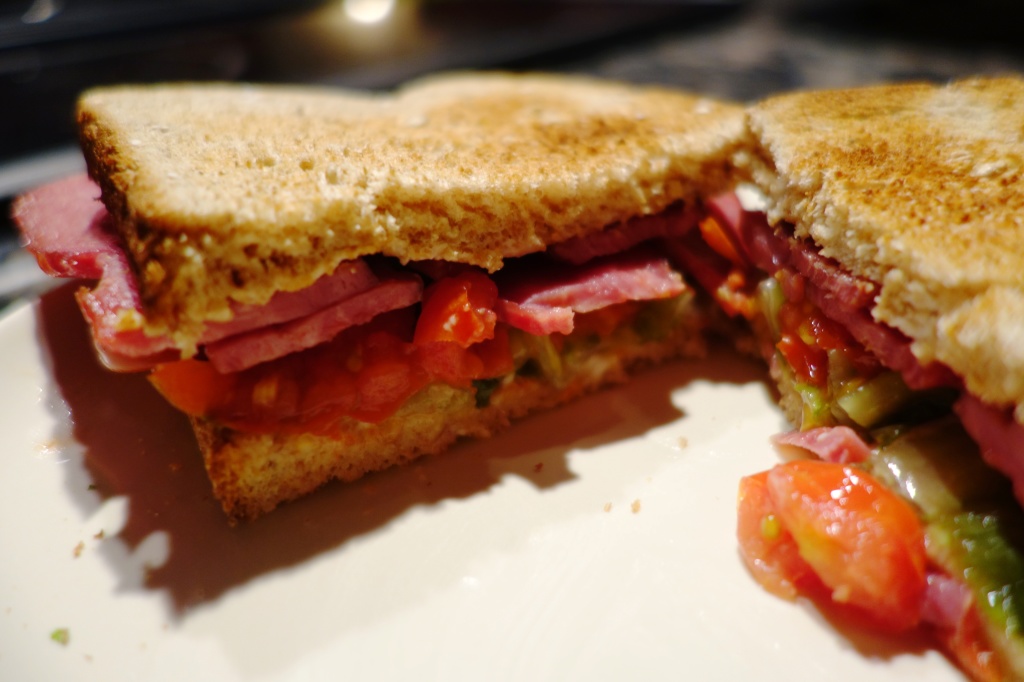 Duck Bacon BLT
2015-02-07 18:20:42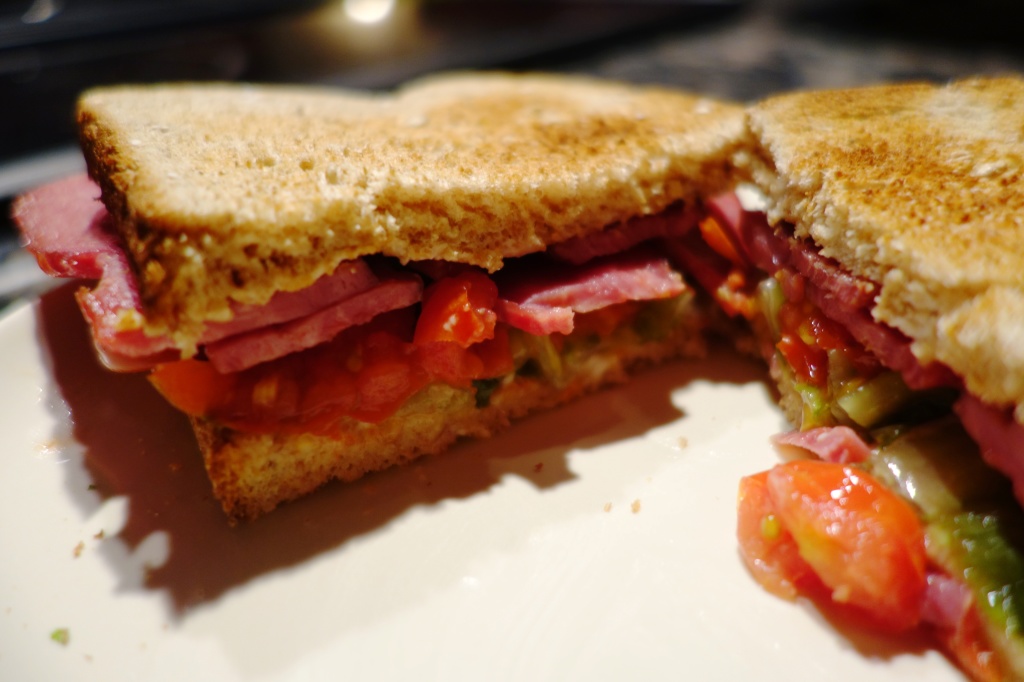 Serves 2
An awesome twist with tasty duck bacon on the classic BLT
Ingredients
5 -6 strips Duck Bacon
Romaine Lettuce
Sliced Cherry Tomatoes
Whole wheat bread (or any type of bread you prefer)
Mayonnaise
Instructions
Broil the duck bacon to your liking. I made to just sizzling. The great thing about duck bacon is you can have it medium rare if that is your preference. I wanted a little more cooked for this sandwich.
When the bacon is close to being cooked, add the sliced cherry tomatoes and romaine lettuce to the broiler for few minutes. I love broiled/grilled romaine!
Lay cooked bacon on paper towels to let some of the fat drain off. Of course, duck fat is fantastic but you don't want your sandwich too soggy.
Meanwhile, toast your bread and add mayonnaise.
Layer up your BLT and thoroughly enjoy. I know I did and in fact stood at my kitchen counter eating the left over duck bacon! So good.
Notes
I paired my BLT with a Chateau St. Jean Cabernet.
Life. Food. Wine. http://lifefoodwine.com/
Oh and don't forget, only one more week to go for the Boston Wine Expo. Remember to use this
link
for a $10 discount when purchasing your tickets. See you there!