Its award season and this past Sunday was one of my favorites to watch… The Golden Globes, hosted for the third time by very talented Tina Fey and Amy Poehler.
I love to hang out with friends, gossip about the dresses and comment on how I have not even heard of half the films being nominated and I actually consider myself a bit of a movie fantastic!!! I loved what Jennifer Aniston was wearing and really could not say anything good whatsoever about what Keira Knightly was wearing – what was that anyway – a doily?
While I did enjoy the awards overall, I thought some things went a bit too far this year. Some jokes could have been quick and done, instead of dreadfully drawn out and painful such as Bill Cosby and Margaret Cho portraying Kim Jung Il. Some of it was just in poor taste for a show that in opinion should be entertaining at its core. This is of course just my opinion.
Ultimately, the Globes are about recognizing talent, whether it be in the movie or TV industry and you get the chance to see some (unsung) outstanding talent winning an award that will stay with them throughout their career. Matt Bomer for The Normal Heart comes to mind. If you haven't seen it I highly recommend checking out this HBO movie.
So, what can you make for dinner that's easy, tasty and can be eaten throughout the evening so you can keep your eye on the TV and not on prepping and serving? Easy, a pasta dish that tastes amazing served hot or cold and can be made hours in advance.
I have made this dish many times before and have done a recipe post in the past; however, I wanted to bring it back to the forefront of my blog as an absolute winner of this particular evening.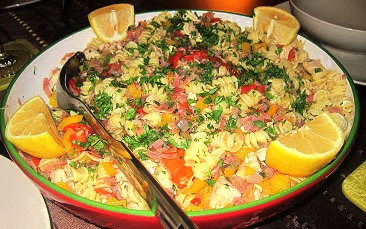 Pasta with Chicken, Prosciutto, Peppers & Herbs
2015-01-13 08:26:35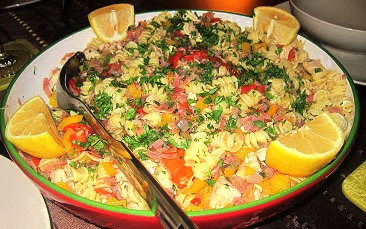 Serves 6
Ingredients
4 Chicken breasts cut into cubes
2 small red onion, chopped fine
2 yellow bell pepper, chopped fine
5 tablespoons extra-virgin olive oil
½ cup of white wine
A 12-ounce jar roasted red peppers, drained and chopped
2 cup finely chopped prosciutto
1 box of Rotini (spiral pasta)
1 cup of herbs - basil, mint, and parsley leaves, chopped fine
¼ cup of balsamic vinegar
4 lemon wedges as an accompaniment
Freshly grated Parmesan cheese as an accompaniment
Instructions
In a large skillet cook cubed chicken in 2 tablespoons of olive oil until no longer pink.
Add onion and yellow pepper in an extra 1 tablespoon of olive oil over moderately low heat, add wine and keep stirring until softened and onion has become translucent. Stir in red peppers and prosciutto. Leave on low heat for about 10-15 minutes stirring occasionally.
In a large pan of salted boiling water cook pasta until al dente and drain well. In a bowl toss pasta with pepper mixture, remaining 2 tablespoons oil, balsamic, herbs, and salt and pepper to taste.
Sprinkle with parsley and serve pasta with lemon and Parmesan.
Notes
This dish is always a crowd pleaser. Hearty, somewhat healthy, full of super colors and great texture and it is ridiculously tasty. Its also great as leftovers for the week.
Life. Food. Wine. http://lifefoodwine.com/
Lots of leftovers for the week!!