My friend Lauren, her husband and gorgeous baby are currently visiting me in Boston and staying at my place. Things change when babies are involved as everything needs to revolve around them with regards to nap/sleep time and dining out. This created a super opportunity for me to host my first dinner party at my new condo. With seven for dinner, I had to think about what to make and paella came to mind. It has been so long since I have made this dish, I had search around for where on earth I put my paella pan after I moved house. It was located for some bizarre reason at the side of my fridge. I am still trying to navigate where I put everything in my new place. Trying to find gloves for when it snowed last weekend was a nightmare so I just gave up and bought a new pair :).
Anyway, while my guests snacked on cheese and crackers and olives, I went to work on making our feast with a little help from my friends.
I absolutely LOVE how incredibly tasty this dish is given how surprisingly easy it is to make. This was a winner with all my dinner guests. Watching them going back for second helpings was so very gratifying for me.
To celebrate my new condo and of course my friends' visit I also opened a prized bottle of Opus One's Overture, which transported me back to Napa Valley and the joy the place always brings to me.
Dinner a success. Check!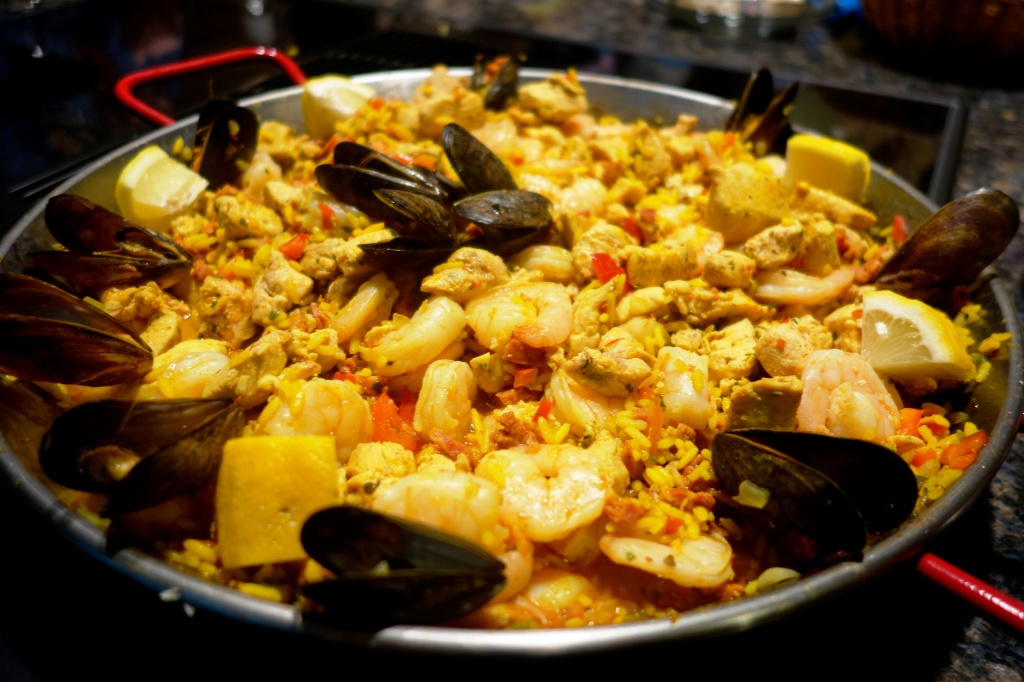 Seafood Paella
2014-11-10 13:47:32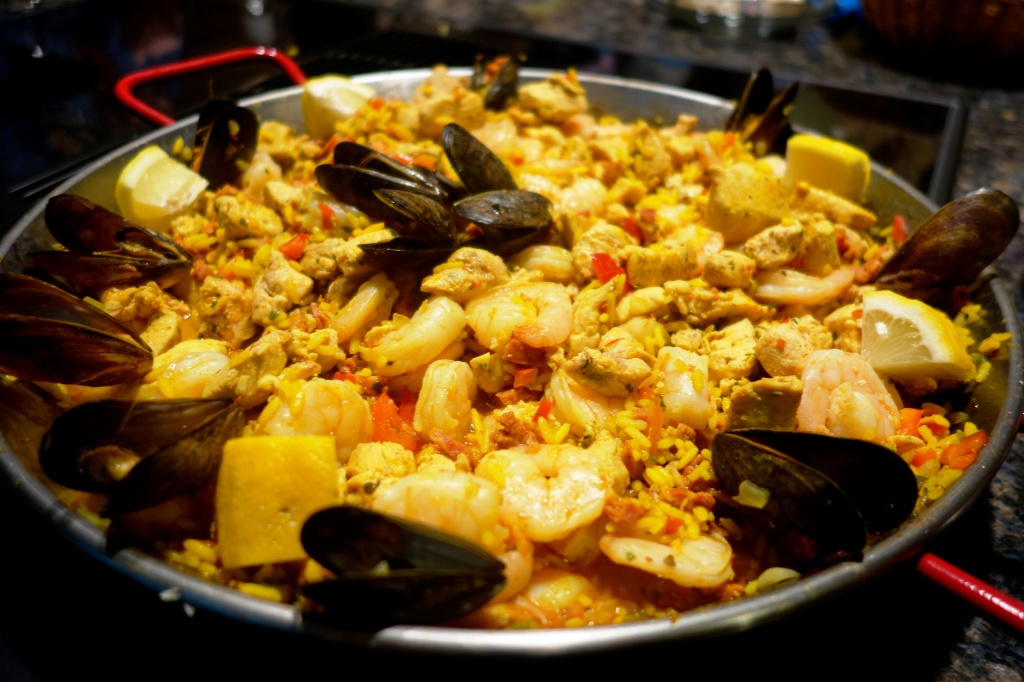 Serves 8
Ingredients
2 tablespoons olive oil
1 tablespoon paprika
2 teaspoons dried oregano
Salt and black pepper to taste
2 pounds skinless, boneless chicken breasts, cut into 2 inch pieces
2 tablespoons olive oil, divided
3 cloves garlic, crushed
1 teaspoon crushed red pepper flakes
2 cups uncooked yellow Spanish rice
1 pinch saffron threads
1 bay leaf
1/2 bunch Italian flat leaf parsley, chopped
1 quart chicken stock
2 lemons, zested
2 tablespoons olive oil
1 Spanish onion, chopped
1 red bell pepper, coarsely chopped
1 pound chorizo sausage, casings removed and crumbled
1 pound shrimp, peeled and deveined
Instructions
In a medium bowl, mix together 2 tablespoons olive oil, paprika, oregano, and salt and pepper. Stir in chicken pieces to coat. Cover, and refrigerate.
Heat 2 tablespoons olive oil in a large skillet or paella pan over medium heat. Stir in garlic, red pepper flakes, and rice. Cook, stirring, to coat rice with oil, about 3 minutes. Stir in saffron threads, bay leaf, parsley, chicken stock, and lemon zest. Bring to a boil, cover, and reduce heat to medium low. Simmer 20 minutes.
Meanwhile, heat 2 tablespoons olive oil in a separate skillet over medium heat. Stir in marinated chicken and onion; cook 5 minutes. Stir in bell pepper and sausage; cook 5 minutes. Stir in shrimp; cook, turning the shrimp, until both sides are pink.
Mix all ingredients together in paella pan.
Notes
I also made some insanely good mussels, which most of us added to our dish. I will share this recipe later this week. They were fantastic and I truly believe champagne may have been the reason why.
Life. Food. Wine. http://lifefoodwine.com/