Saturday was a miserable rainy day packed with errands. I had to take my car for a service, which we all know is a boring pain as you sit around waiting for them to do their job and hope nothing is wrong. Unfortunately for me I have an expensive part that needs to replaced :(. Next stop the dry cleaners followed by a big Target shop and finally to the grocery store. I am out so much this upcoming week with social events, there was no point in buying too much food but I knew I wanted something warming and probably not good for me as my plan was to stay and watch movies that night.
That brought me to the question of what could better than tomato soup and grilled cheese on a cold rainy day? Nothing much actually, unless you make it with fresh sweet tomatoes and the cheese is gooey brie on artisan crusty bread. Small grocery list taken care of, I finally went home and looked for some tomato soup recipes.
I adapted this deliciously good and very easy recipe from a recipe I found on my favorite site… allrecipes.com.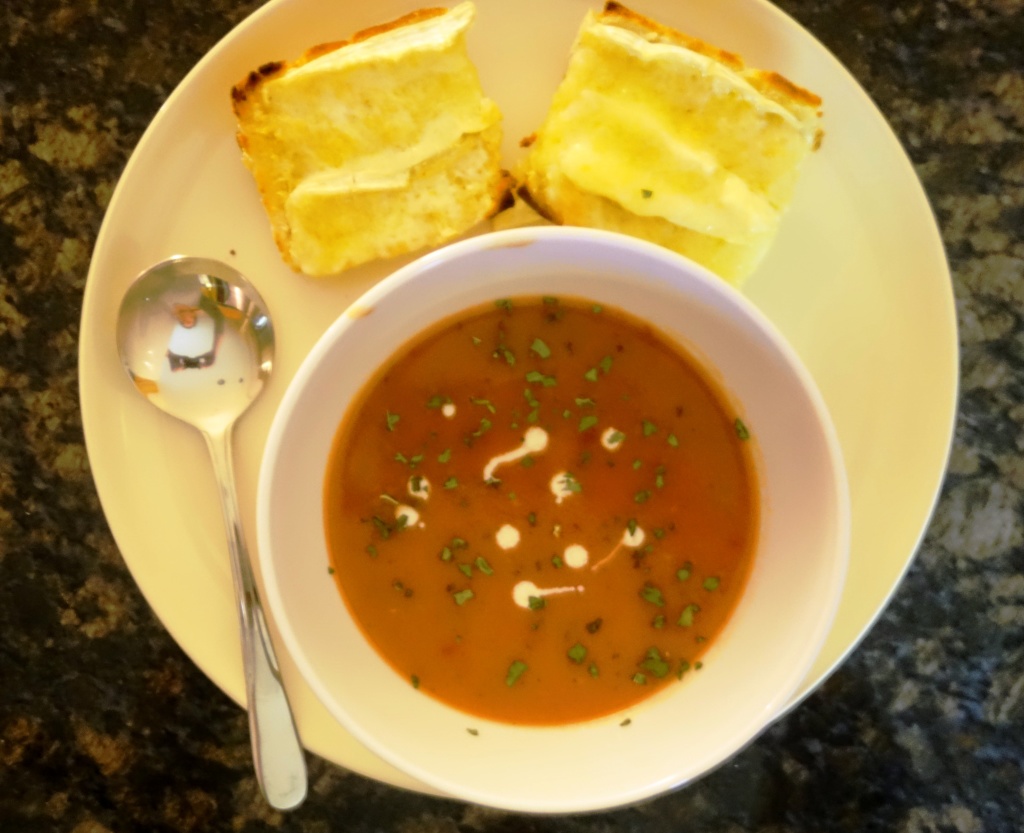 Fresh Tomato Soup with Grilled Brie
2015-01-13 07:31:26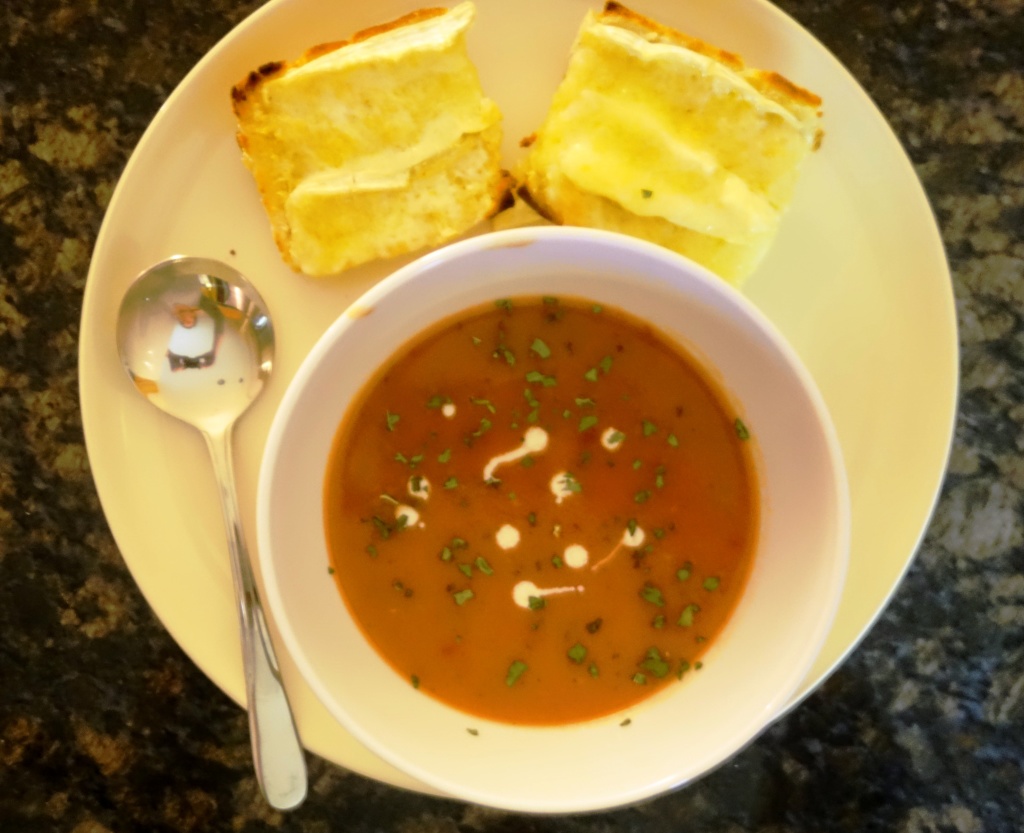 Serves 2
The perfect soup for a cold Boston day!
Ingredients
4 cups chopped and seeded fresh tomatoes
1/4 onion, chopped
1 teaspoons finely chopped garlic
2 cups chicken broth
2 tablespoons butter
2 tablespoons all-purpose flour
2 teaspoons of tomato paste
1/4 cup half & half
1 tablespoon finely chopped basil
1 teaspoon salt
2 teaspoons white sugar, or to taste
Instructions
In a stockpot, over medium heat, combine the tomatoes, onion, cloves and chicken broth. Bring to a boil, and gently boil for about 20 minutes to blend all of the flavors. Remove from heat and run the mixture through a sieve into a large bowl, or pan. Discard any stuff left over in the food mill.
In the now empty stockpot, melt the butter over medium heat. Stir in the flour to make a roux, cooking until the roux is a medium brown. Gradually whisk in a bit of the tomato mixture, so that no lumps form, then stir in the rest. Add the tomato paste and mix well. Add the half & half and basil. Simmer for another 5 minutes.
Season with sugar and salt, and adjust to taste.
Notes
Serve with brie toasted on crusty bread
Life. Food. Wine. http://lifefoodwine.com/
This is type of meal that just simply makes you happy.
Try it, I am sure you will like it.