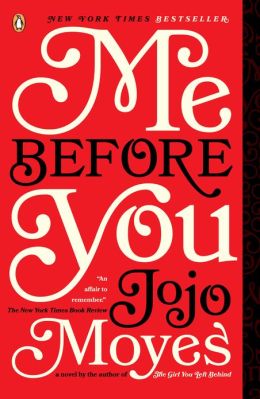 It has been a really long time since I have done a book review. It's not because I haven't read any books, it's more because I haven't read a book I loved so much I felt compelled to write about it. The last book I honestly could not wait to share with you was Gone Girl, a brilliantly written book about truly horrible people.
Well, I have a wonderful book to share, which was given to me and a group of other friends as a gift. Me Before You is written by British Author, Jojo Moyers. I would not be surprised if a lot of you have already read it as it hit the book club scene about a year or so ago.
Me Before You is a modern day love story, which deals with raw and hard questions about life and how we choose to live it. This question is a pivotal part of the book and affects all of the characters. A book which made me laugh without caring who heard and cry without restraint. I did not want it to end.
Louisa Clark is an ordinary, unambitious 26 year old who lives at home with her parents, sister and her sister's son, Thomas. She has been dating her boyfriend, Patrick for six years and has no idea whether she is in love with him. They live in a small tourist town in England, where jobs are scarce and the place dies down to a snail's pace in the winter months. She can't leave home because she is the sole earner for the family so when she loses her job at the Buttered Bun café, she has no choice but to search for alternative employment.
Even though Louisa has no experience she finds a lucrative job as a caregiver for Will Trayner. Will was a rich, fast living London businessman who had a serious and devastating accident leaving him a quadriplegic and unable to do anything for himself. Will lived life to the full with extreme sports, beautiful women and lots of money. The wheelchair bound Will is bitter, sarcastic and difficult to be around.
The book follows the developing relationship of this unlikely pair and how they try and help each other with life. Louisa's perky, naturally outgoing personality works hard to get Will out of the house by planning sometimes bitterly funny adventures such as a day at the horse racing track where his wheelchair gets stuck in the mud and she lies to a bunch of drunken men in order to help get him out. He pushes her to find her ambition, which he knows she has but it has been pushed so far down, she lost sight of it.
Me Before You also explores the struggles of Will's estranged and distant parents trying to deal with what has happened to him. To his long-time professional caregiver and to Louisa's family life, boyfriend, Patrick and a bad experience that happened in her teenage years.
I don't want to spoil this book for anyone by sharing too much as it has the most wonderful, heart wrenching, sometimes hysterically laugh-out-loud gems, which move the story along beautifully. I just want you to read it and share your thoughts.
This is a fantastic book club read that will have you asking many moral questions. I simply LOVED this book.