I have a new kitchen toy and I am kind of in love with it!
I was talking with a colleague recently about dieting and how boring and truly dislikable it can be, especially for those like me who LOVE pasta. She mentioned a zucchini pasta maker, which is a tool that cuts zucchini and other vegetables in order for them to look like pasta. I googled it immediately and ordered the Paderno Spiral Vegetable Slicer a minute later. I really liked the idea of this little gadget.
While it is not pasta, I can honestly say the dish I made was fantastic. I added ingredients I would normally add to pasta and it worked. I was also really full after just one bowl.
I cant wait to try new ideas and ways of making healthy dish options with my new gadget and fooling myself into thinking I am eating lots of good pasta.
Here is the dish I made but honestly do whatever you want with anything you would pair with pasta. I think it will be great.
ZUCCHINI "PASTA" WITH BACON & MUSHROOMS
Serves 2 – Prep/Cook time: 30 minutes
Ingredients
1 medium/large zucchini
2-3 slices of lean bacon, cut up into small pieces
2 tablespoons of olive oil
½ onion, finely chopped
1 cup of mushrooms, sliced
1 cup of cherry tomatoes, halved
¼ cup white wine
¼ cup of chicken stock
Salt & pepper
1 teaspoon basil
1-2 tablespoons Fat free Feta cheese
Directions
Use the awesome spiral vegetable slicer to make the zucchini pasta. I made the largest thickness, which turned out perfect.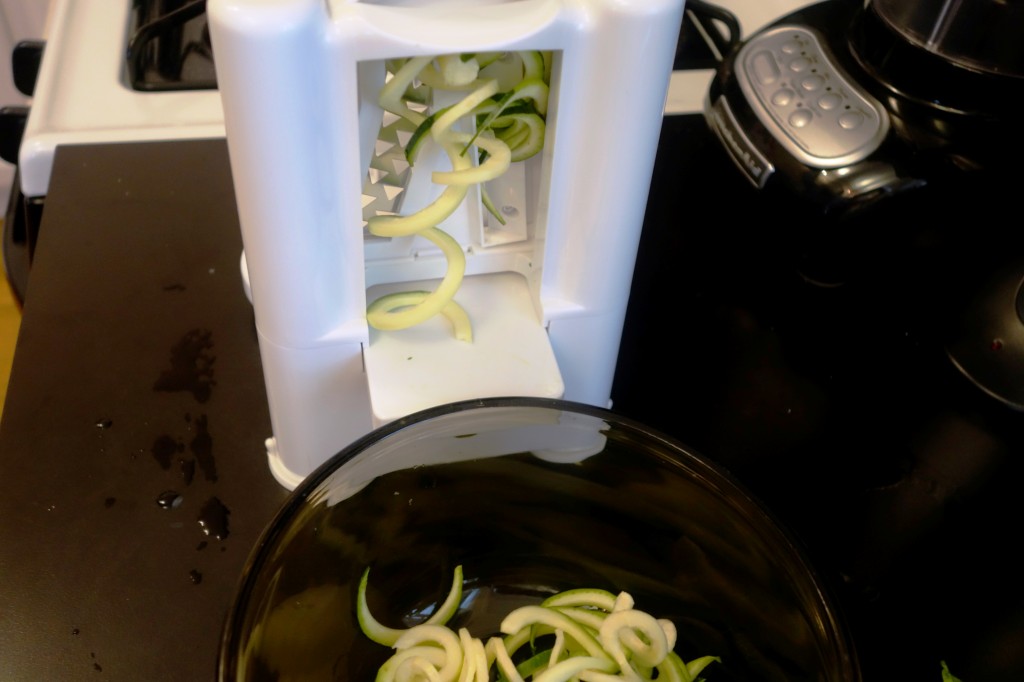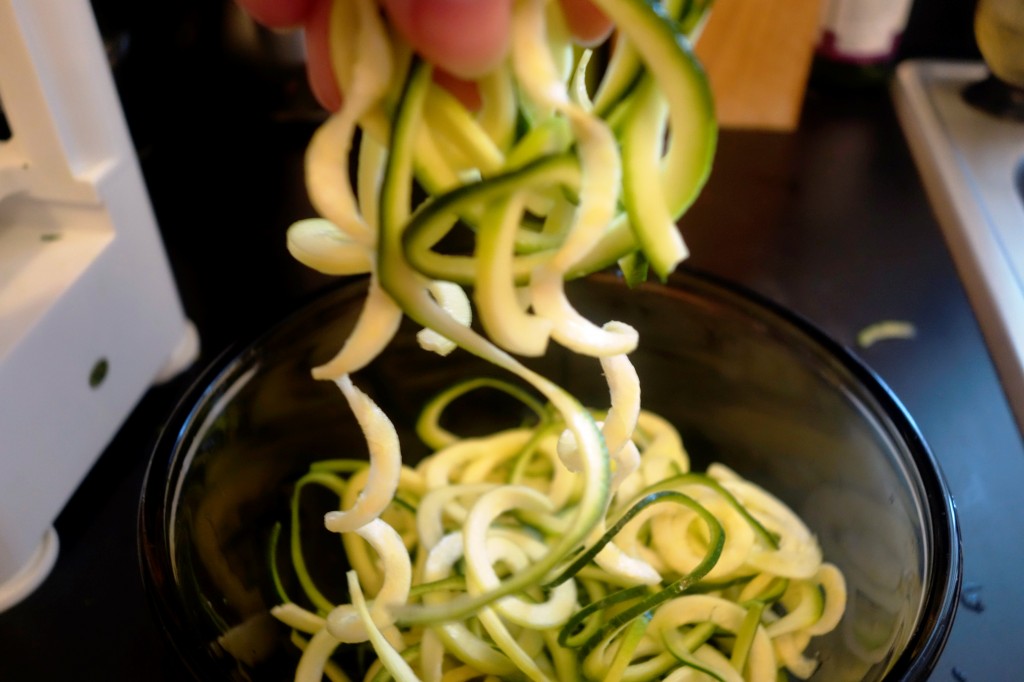 Broil bacon and set aside. Bacon really does make everything better and is a brilliant, salty addition to this dish.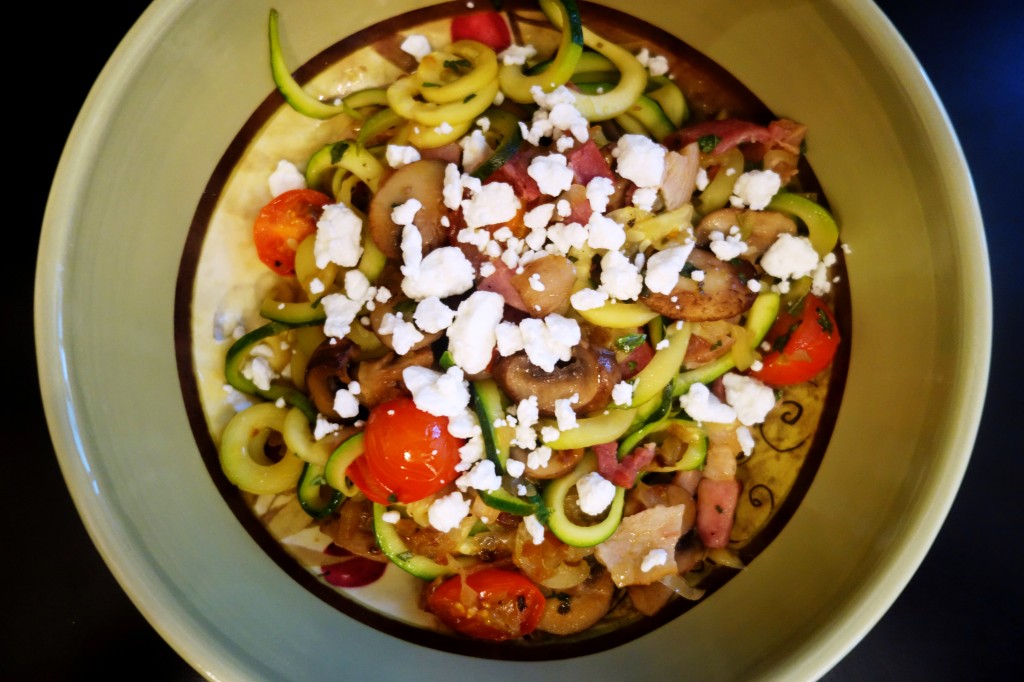 Sauté the onion in the olive oil until translucent, about 3-4 minutes. Add the mushrooms and cook for another 2 minutes. Add the tomatoes, white wine, chicken stock and salt & pepper and cook for about 5 minutes. Add the bacon and basil.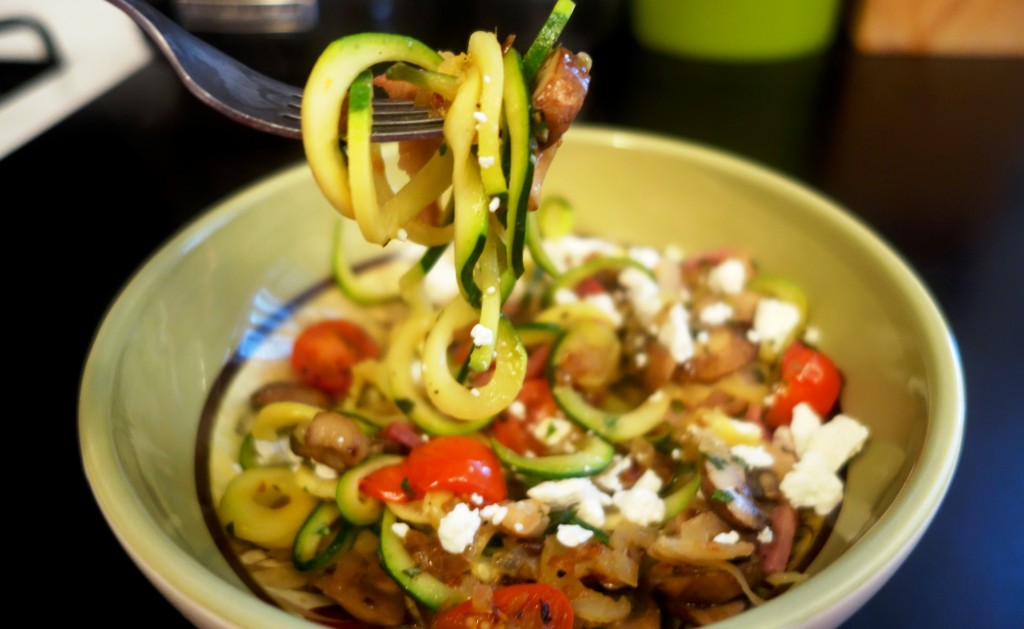 Place into a bowl and add the feta and serve warm.
Simply tasty fantastic!