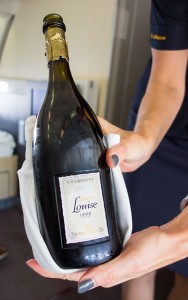 The first time I was on an airplane back in the 1970s I was made to wear my Sunday best. My parents insisted that one must always dress appropriately for flying and that was in the most uncomfortable but pleasing to the check-in clerks outfits. If we dressed up, then there was a chance you could get upgraded. Of course, it never happened.
First Class was always hidden from the economy class eye. In fact, on some airlines you boarded in the middle of the plane so that you didn't even get to gawk at who was already seated with a comfy blanket over their knees and the business section of the newspaper open wide enough to cover two economy seats. You didn't know what secrets went on behind that darkened curtain. Free flowing champagne and Chateau Briand along with the possibility of meeting the love of your life who would obviously be in the seat next to you and would tell you his life story with an ending of you being the girl of his dreams and how lucky he was to have found you in First Class. The First Class system lived on and the economy was kept in the dark.
These days' no-one dresses up for airline travel and why would they, the self-service check-in has no idea you put on your best outfit for them. I still find that I can't quite dress down completely, even when I am traveling for personal reasons. I just can't do the sweats and sneakers, carrying my own bed pillow under my arm. I am always a little more smartly attired and slightly uncomfortable than I probably should be for a four hour flight in economy.
The cost of first class is outrageous and I am not willing to pay for a slightly wider seat and coffee in an actual cup, which is what seems to be more on offer. We are lucky to even get a free cup of coffee in economy.
This all changed for me on a recent flight I boarded on a brand new plane. I walked through the six rows of first class, casually dressed passengers to one row behind them. I was staring as they were offered a drink of choice. Champagne poured from a Moet Chandon bottle into glass flutes, coats neatly hung by the attractive flight attendants and warm nuts served in a little crystal bowl. The sheer, grey curtain was shut aggressively on my watchful eye.
The curtain was sheer; it was not like I still could not see everything. I watched the fillet mignon being delivered as I flicked through the new iPad TV screen on the seat in front me searching for something more appetizing than a protein pack of cheese and crackers at a cost of $14. I didn't see anyone swipe their cards for viewing a movie while I was asked to pay to watch a TV show half way through as my "trial run" was over. I salivated over a dessert that looked so good I was going to rip the sheer curtain from its tenuous hooks as I chewed my Orbit gum. I swear if the woman who was sat in front of me met her future husband I might have had to take her down. My voyeurism into First Class had turned me into a raging jealous maniac. I felt like the economy class citizen I had paid to be.
I arrived at my destination and immediately went online and pooled all my frequent flyer points into a First Class ticket home. I was determined to enjoy the splendors of the front row elite.
My return flight didn't prove to be what I had expected. I dressed up a bit more than I needed to, which was unnecessary and uncomfortable. My seat was indeed wider and had more leg room but I am only five feet tall, what did I need more leg room for? No TV screen in the seat in front of me with free movies just released, just one for our six rows to share and old episodes of CSI. No champagne but a glass of Chardonnay, which thankfully was refilled without request. No fillet mignon but a green salad with limp and tepid looking chicken. No man of my dreams just business travelers glued to their laptops. Had I dreamed this nirvana behind the sheer curtain?
What I now know is that the miles I used to fly the four hour trip home to Boston could have been better served on a visit to a friend in another city or for part of my trip home to England. Not to indulge in the wanna be life of something I am not. A lesson learned.