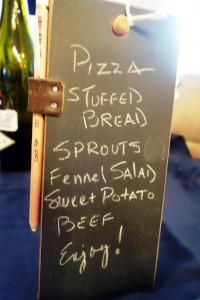 We do a raffle at our holiday party every year where our colleagues donate items and all the proceeds go to the Gift of Hope campaign. You can put in as many raffle tickets in each box as you wish with the hope of winning something fantastic. This year we had everything from a Partner's beach house for the week to a night on the town with our Undergrads. Of course I wanted the beach house but am way beyond enjoying a crazy night out with our 23 year olds. This 40-something gal just can't do it anymore.
I was lucky enough to win a hotel stay at the InterContinental with dinner and breakfast included and a cooking lesson with the Gatto's (a colleague and her husband). Both Terry and Joe hail from the food world having owned restaurants and absolutely love being in the kitchen. Every Monday we are treated to amazing baked goods, which Terry leaves in our office café for all of us to enjoy.
Last Saturday myself and three other colleagues arrived at Terry & Joe's condo armed with bottles of wine and an appetite. 2pm in the afternoon and we were on our first bottle of Pinot Noir. I won't tell what bottle we were on at 9pm when we were still hanging out with them!
Our menu was a list of foods that are easy to make and kept coming in a constant stream from oven to mouth throughout the whole day. All recipes are below.
Starting our day with a very simple margarita pizza using what the Gatto's claim to be the best pizza dough that they have found from Trader Joe's (just $1.19), Joe swiftly and efficiently threw together a super tasty thin crust pizza.
Moving on to a fresh and delightful, citrusy Fennel Salad.
Terry was up next with spicy crumble sausage stuffed bread. Loved this bread!
We also enjoyed two different types of Brussels sprouts. One dish baked with bacon, blue cheese and cranberries – tasty heaven. The other Joe shredded to a coleslaw like salad with garlic and parmesan. I particularly enjoyed the one with bacon.
Joe talked through tips and tricks of using a knife, foods and all while prepping, cooking and baking.
He then moved on to a huge tenderloin steak, which he said would last them for about 10 dinners. Cutting the steak he made garlic and espresso powder rubbed filet mignon. He then seared them in a pan and popped them in the oven to a medium rare. These were a huge hit with everyone.
For me (not being a red meat eater), he made his special pork ribs in an awesome, sticky barbeque marinade. I think I had a whole rack to myself.
We moved to the lounge area and enjoyed homemade, creamy Limoncello. Seriously good!
Watching Terry and Joe work in their little kitchen is wonderful to see. They work in harmony with each other laughing and joking the whole time. What a fabulously enjoyable rainy Saturday. Thanks guys!

RECIPES
Pizza
Ingredients
1 package prepared Pizza Dough – Trader Joe's is best
1 package makes 1 large pizza or 1 loaf of stuffed bread
Sauce: Pastene "kitchen ready" tomatoes, salt, black pepper, oregano, granulated garlic. Spice to taste and mix right in the can.
NOTE: if you like a "flavored" dough, you can add cracked black pepper, ground fennel, rosemary, fresh minced garlic or other spices of your choosing by kneading spice into the dough before rolling out.
Pizza: Place baking stone in oven and preheat to 425degrees
Directions: Margarita Pizza
Roll out dough on floured surface to size and shape desired for pizza. Pierce dough all over with a fork.
Prepare a pizza peel by sprinkling surface with corn meal. Place shaped dough on peel to continue preparation.
With a large spoon, spread prepared tomato sauce over dough within 1" of border (approx. 1 C depending on preference). Remaining sauce should be refrigerated or frozen for future use. Sprinkle with shredded mozzarella cheese. Add additional toppings as desired over the cheese layer.
Pizza toppings: Cooked sausage or meatballs (sliced or crumbled), thinly sliced pepperoni, sliced mushrooms, olives, peppers, onion, 4 cheese combination other toppings of your choice.
Slide onto the baking stone and bake for approximately 20 minutes or until bottom and curst are browned and cheese is bubbly.
Remove from oven and serve.
NOTE: After pizza is cooked, you can also sprinkle with arugula and drizzle with spicy olive oil.
Stuffed Bread
Ingredients
1 package prepared Pizza Dough – Trader Joe's is best. 1 package makes 1 loaf of stuffed bread.
NOTE: if you like a "flavored" dough, you can add cracked black pepper, ground fennel, rosemary, fresh minced garlic or other spices of your choosing by kneading spice/herbs into the dough before rolling out. Place baking stone in oven and preheat to 375 degrees.
Directions
Flour your work surface and rolling pin. Roll out dough into a 12″ x 18″ rectangle. Pierce dough with a fork. Add desired filling from the list below, leaving a ½ " border around the edge. Begin rolling dough from the long end. Pinch open ends together and fold under. Dab water along the longer edge to seal the dough and pinch together.
Whisk together 1 egg white and 1 tbsp water. Brush top of loaf with egg wash. If desired, sprinkle with your choice of coarse salt, fresh cracked black pepper, sesame seeds, fennel seeds, or poppy seeds or a combination of your choice.
Prepare a pizza peel by sprinkling with corn meal. Gently place bread on the peel and slide onto the pre-heated baking stone.
Cook for 30-40 minutes or until bread is lightly browned and sounds hollowwhen tapped with your finger.
Filling: Combine any one of these with your choice of cheese: spinach, broccoli, sausage, prosciutto: Blanch fresh broccoli tops (drained dry and cut small), cook spinach and squeeze dry, 2 links cooked sausage meat (casing removed). 1 Cup mozzarella, asiago or provolone cheese (more or less) or a 4-cheese combination
Fennel Salad
Ingredients
1 Red Pepper
1 bunch Scallions
2 Fennel bulbs, trimmed (reserve fronds)
2 Lemons (juice and zest)
6 tbsp Olive Oil
3 – 4 tbsp fresh Parsley (snipped)
Coarse Salt and freshly ground Pepper (to taste)
Directions
Half the fennel bulbs. Core and thinly slice each bulb. Place in medium bowl. Set aside.
Coarsely chop some of the reserved fennel fronds (about ¼ C) and add to bowl.
Thinly slide pepper and scallions and add to bowl.
Zest and juice the lemons into a small bowl. Add olive oil, parsley, salt and pepper to taste. Pour dressing over fennel salad and toss lightly.
Serve immediately or chill
Makes 8 – 10 servings.
Joe's Famous BBQ Ribs
Ingredients
Baby Back Pork Ribs (keep racks whole)
Pam Cooking Spray
Sea Salt
Black Pepper (course ground)
Granulated Garlic
Sweet Baby Ray's Barbeque Sauce (or your favorite)
Directions
Preheat oven to 250 degrees
Wash and dry ribs with paper towel.
Sprinkle all sides of ribs liberally with salt, pepper and granulated garlic. Spray sheet tray with Pam. Place ribs on sheet tray and spray both sides of RIBS with Pam.
Bake at 2500 for 5 hours. At this point ribs can be portioned, packaged, and frozen for later use.
OR brush on barbeque sauce and bake in the oven at 4000 or grill on medium heat for an additional 20-30 minutes.
If you choose to freeze, defrost in the refrigerator overnight and then brush on BBQ sauce and bake or grill as shown above.
Serve hot.
Brussels Sprouts, Cranberries, Blue Cheese
Ingredients
1 lb. Brussel Sprouts
¼ C Dried Cranberries
¼ C Blue Cheese
¼ C Bacon (cooked)
2 tsp Pecans (chopped)
Olive Oil, Salt and Pepper to taste
Pam cooking spray
Directions
Pre-heat oven to 400 degrees
Wash brussel sprouts and cut in half lengthwise. Toss with olive oil to coat and add Salt and Pepper.
Spray a sheet tray with Pam and add sprouts in 1 layer.
Bake at 400 degrees for about 20-30 mins.
Remove sprouts from oven and place in a medium bowl.
If you prefer plain roasted sprouts, you could serve at this point . . . or
Crumble bacon and add to bowl along with cranberries, blue cheese and pecans. Toss until combined.
(Can also be refrigerated and eaten cold as a salad.)
Brussels Sprouts (shredded) with Parmesan Cheese
Ingredients
1 lb. Brussel Sprouts
2 tbsp Olive Oil
1 tbsp Garlic (minced)
½ C Chicken Stock
1/3 C Parmesan Cheese (grated)
Salt and Pepper to taste
Directions
Wash brussels sprouts and cut in half lengthwise then cut each half into shreds
Add olive oil to a large sauté pan over medium heat. Add garlic and toss until translucent (do not brown). Add sprouts to the pan and sauté 3-4 minutes until bright green.
Add chicken stock, salt and pepper to taste and cook until moist (about 3 – 4 minutes).
Remove to a serving dish and generously top with the grated Parmesan Cheese.
Serve immediately.
Beef Tenderloin
Ingredients
1 Whole Tenderloin (with silver skin removed) Wash and dry the tenderloin
Granulated Garlic
Salt and Pepper
Ground Coffee (optional)
Pam Cooking Spray
For drizzle or dipping sauce:
2 Tbsp Butter
1 Tbsp Balsamic Vinegar
1 Oven-proof pan
Directions
Pre-heat oven to 400 degrees
A whole tenderloin could be cut into Filet Mignon steaks (on the short end). The first piece on the thinner end could be butterflied. Cut steaks to your desired thickness.
The end of the steak could be used as a small roast, with smaller side pieces cut into steak tips (bite-sized pieces).
To cook Filet Mignon:
To prepare the steaks, coat 1 side with salt, pepper, granulated garlic (or ground coffee). Spray with Pam cooking spray.
Heat the dry oven-proof pan on the stove top until HOT.
Put the Filets, prepared side down, into the pan to seer. While that side is cooking, add salt, pepper, granulated garlic (or ground coffee) and Pam to the top side of the Filet. Turn to seer top side. (2 mins each side). Once that is complete, put the pan directly into the oven and continue to cook to desired doneness. (Approx. 10 mins for medium rare depending on thickness of steak.)
Be sure to use an oven mit when removing the pan from the oven. The handle will be extremely hot.
Place the pan on the stove top, but do not heat. Remove steak to a serving plate.
If you want to make a drizzle or dipping sauce, add butter and balsamic vinegar to the pan and whisk together with the pan drippings until butter is melted and ingredients are combined. Pour directly over steaks or into a separate dipping bowl.
Serve immediately.