Do you remember how I ridiculously excited I was when I found the Anomaly (white) Pinot Noir wine produced by Anthony Nappa last year? Well, if you don't remember, let me tell you I was ridiculously excited. Well, I am once again excited about another wine I have discovered. The Captûre 2011 Sauvignon Blanc Les Pionnieres.
I was introduced to Captûre Wines at the Boston Wine Expo this year where I got the chance to taste their superb 2010 Révélation Cabernet Sauvignon and the Sauvignon Blanc Les Pionnieres.
I wanted to purchase both wines but sadly they were out of the Cab so I settled for ordering three bottles of the Sauvignon Blanc and now I so wished as I had ordered a whole case as it is now out of stock.
Located in Sonoma County the vineyards reside above the Alexandar Valley. Captûre Wines was launched in 2008 with the mission of creating wines in the Bordeaux-style.
The 2012 Sauvignon Blanc Les Pionnieres is 100% Sauvignon Blanc and has been aged in stainless steel for five months. Pale gold in color, the aroma is thick and heady at first but that quickly goes away and in comes aromas of honeydew melon, apricot and lemon. On the palate it tickles the tongue a little with zesty citrus fruits of lemon, grapefruit and soft pear. The finish is smooth, luscious and tempting.
This wine is just simply fantastic and paired incredibly well a bowl of Quinoa with Chicken & Zucchini.
If you like vibrant, crisp clean Sauvignon Blancs this one is for you.
My rating…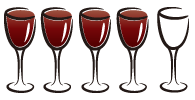 WANT TO SHARE THIS POST, HERE ARE SOME READY MADE TWEETS
Click to Tweet: #WineReview: @capturewines Sauvignon Blanc Les Pionnieres 2011 Simply fantastic! Read more… http://ctt.ec/dL608+ http://ctt.ec/vp0a3+
Click to Tweet: #WineReview: @capturewines Sauvignon Blanc Les Pionnieres 2011- tickles the tongue a little with zesty citrus fruits http://ctt.ec/Nbucd+