Each year I host a Boxing Day dinner party. This is a get together of close friends, which I have been doing for many years now. Over the years I have come up with a number of themes from French to English to Mexican and Italian and many more. This year I thought I would create a more broader menu and came up with a selection of Mediterranean dishes. I also asked everyone to wear white, which was fun in itself, although my friends did rebel just a little.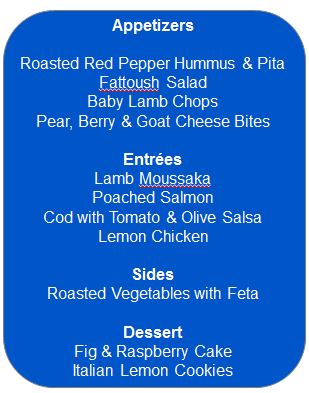 This was quite a feat and a feast and I may have gone a little over the top. Nevertheless, it was a fabulously fun night of great food, lots of laughs a ridiculous Yankee Swap, where I did win an Iron Man mask that lights up and game called Cards Against Humanity, which quotes itself as a card game for horrible people It is absolutely hysterical.
While I will be sharing lots of my recipes with you over the next few weeks, I am going to share the Raspberry & Fig Cake with you now. It's always good to start with dessert.
Raspberry and Fig Cake
Recipe from my favorite Food & Wine Magazine
Total prep and bake time – 1.30 hours
Ingredients
Dry bread crumbs, for dusting
1 1/2 cup(s) granulated sugar
3 large eggs
1 stick(s) unsalted butter, melted
Finely grated zest of 3 limes
1 1/2 cup(s) all-purpose flour
Juice of 1 lime
1/2 pint(s) raspberries
4 figs, cut into eighths
Confectioners' sugar, for dusting
Directions
Preheat the oven to 350 degrees F. Butter a 9-inch spring form pan and coat with bread crumbs. In a bowl, using a handheld mixer beat the granulated sugar and eggs at high speed until fluffy, 2 minutes. Beat in the butter and two-thirds of the zest. At low speed, alternately beat in the flour and lime juice until almost incorporated. Using a rubber spatula, gently fold the batter until smooth.
Scrape the batter into the prepared pan and smooth the surface. Gently press in the raspberries and figs. Bake the cake on the bottom third of the oven for 40 minutes. Transfer to the upper third of the oven and continue baking for 35 minutes longer, until a cake tester inserted in the center comes out clean with a few crumbs attached.
Transfer the cake to a rack to cool. Run a thin knife around the edge and release the spring form. Dust the cake with confectioners' sugar. Sprinkle with the remaining lime zest, cut into wedges, and serve.
This is a sweet, delicious treat that tastes really good with vanilla ice cream.