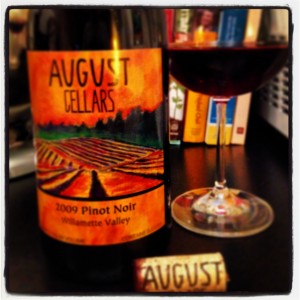 I have been less inclined to move over to reds this fall as I have been thoroughly enjoying my summer whites and rosés. The longer I hang on to them the longer summer with last right?
Having almost run out of some of my go to wines, I recently did a stock up to replenish my little wine rack at Social Wines. There must be a wine drinking goblin in my apartment. It really is the only answer for the depleted wine stock 🙂
I know what I like so always purchase the familiar, but I also do a walk around and ask for thoughts on favorites of the staff and owners. Based on what they say and my palate I tend to say let's go for it. It's not a tough twist of the arm for anyone suggesting wines to me.
I always find it difficult to pick a good Pinot Noir. The last one I loved, in fact raved about was the Masut. However, I think I have found another lovely Pinot so let's kick off the fall season with a fun August Cellars Pinot Noir. Although typical of a Pinot with a lighter ruby color, not everything about this Pinot is typical. Smoky and earthy on the nose with hints of tobacco. More robust on the palate than I expected from a Pinot with tastes of sweet, just about to fully ripen cherries and black fruits with spice notes. This is a lovely smooth Pinot that opens up more over time with sweet, dark fruits but also has a dryness to it. It has a slight, nice finish.
This wine was enjoyed with a very disturbing The Blacklist – my new favorite show but I do think it would pair lovely with a bowl of Turkey Chili.
August Cellars is a family owned winery in Oregon, a great place for finding good Pinot Noir. If you are an experimenter with Pinots this is a good one to try and likely go back for more to share with friends. It is also a super price at just $18.
My rating…