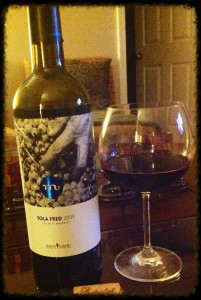 Another quite recent and very lovely find. The Solà Fred 2009 is a wine from the Celler El Masroig in Priorat Country Spain.
The winery was founded in 1917 and has continued to be run by family members for almost a thousand years. The family have continued to develop techniques in wine making to meet the demands of their 21st century customers.
The Solà Fred 2009 has the color of tawny light red. There is a sharpness on the nose with peppery kick. It has intense aromas of sweet cherries and overripe fruit. On the palate the taste is immediately milder and sweeter than I expected, however it rounds out very nicely into a slightly fuller bodied wine. There is bit of sweet linger with a smooth finish. Really quite a nice and very drinkable wine. If you like a lighter red this will be perfect for you.
I would pair with friends and easy gossip conversation.
My rating…