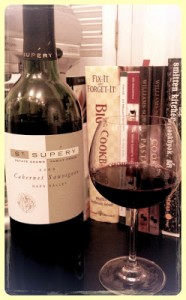 I was doing a stock up of my favorite wines as well as ones I haven't tried before. I always like to add a few to the list each trip. As the fab folks at Social Wines were walking me around the store talking about what's hot this summer, I caught a glimpse of a familiar label… the St.Supéry. Their Sauvignon Blanc was a frequent visitor to my old South End apartment, where we, myself and former roommate, Lauren would enjoy many an occasional Friday night at home with movies and brie.
Although I was not looking at Cabs on this particular trip, I could not help but buy their Cabernet Sauvignon 2009, which I was informed was a big red. I love big reds.
This Cab is deep dark and vibrant. It has immediate intense aromas of sweet juicy black cherries and bitter chocolate with a slight peppery slap on the nose. On the palate it explodes with fruits of overripe berries and plum. There is a mild sweetness that lingers with a fullness that never wants to end. This wine is rich and wonderfully moreish. A big red with a big bite – loved it – my type of Cab.
For me this is absolutely a winter wine but I fully enjoyed in the summer. It will be on my list going forward.
How good would this wine be paired with Wild Mushroom & Goat Cheese Bruschetta? So good I think!
My rating…