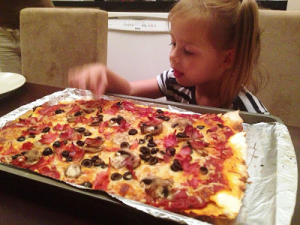 My sister and niece are in town visiting me from England for a few weeks. It has already been a blast with a super fun trip to Ogunquit, Maine this past weekend and lots special little trips planned for the next few weeks. I absolutely love having both of them here staying with me, but Ava, my four year old niece, she is something so special who makes me laugh and smile from the second she wakes up. Lots of hugs and kisses for Auntie Tracey to come.
On Friday, I asked Ava what she wanted for dinner. She responded with "I want pizza and I want to make it with you!" I love it – pizza bakers extraordinaire. We put our aprons on, found all our ingredients and got ready to make a delicious pizza.
Homemade Ham, Olive & Mushroom Pizza
Serves 4-6
Ingredients:
Pizza Crust
2 cups all-purpose flour
1 tbsp baking powder
1/4 tsp salt
2/3 cup water
1 tbsp cooking oil
Topping:
Tomato Sauce (I used Classico tomato and basil)
Shredded Mozzarella
Parmesan
Black Forest Ham
Sliced Black Olives
Sliced Mushrooms
Fresh Basil
Directions
Preheat oven to 400 degrees. Prepare pizza pan by spraying with non-stick cooking spray. Combine dry ingredients in mixing bowl. Add liquids and stir to incorporate dry ingredients. Knead dough by hand 6-8 times on a lightly floured surface. Roll dough thinly. I trimmed the dough to make a larger square pizza.
Place rolled dough onto prepared pizza pan, Spoon on the tomato sauce, sprinkle with cheese, and add, ham, olives and mushrooms. Use as much of each ingredients as wish. We added lots of ham, per Ava's instruction. Sprinkle with Parmesan and Basil. Bake at 400 degrees for 18-20 minutes, depending on crust thickness.