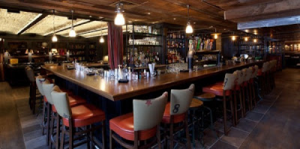 I know I rave about the exploding restaurant scene in South Boston; however, there is another scene just across the river, which is also booming with culinary delights. I speak of Cambridge, a place I am venturing to more and more these days and I am actually going with with much excitement for new experiences rather than with pressure from friends who live over that way. I am now a fan Catalyst, Area Four, Russell House Tavern and The Sinclair Kitchen to name a few.
My latest trip to Cambridge was to try PARK Restaurant & Bar located in the old Red Line space at Charles Square. We had tickets to see The Glass Menagerie at the A.R.T.so we booked a very early dinner reservation for 5.30pm.
PARK reminds me an old Harvard library with its old books, dark wood and leather sofas and chairs. It could be stuffy and awkward like an old men's club but with its contemporary paintings and objet d'art, it nicely pulls off warmth and comfort with a welcoming, kitschy feel. There are a number of rooms from a large dining room to multiple small rooms all circling a square center bar. We were seated in the small Back Room. Surprisingly even at 5.30pm on a Thursday, PARK was very busy with patrons.
Chef Mark Goldberg's menu has a fun flair with intriguing offerings like bacon 3-ways for appetizers and Meat Pie of the Day (apparently pies are the new cupcakes) as well as lots of other comfort foods from slow roasted brisket, pork chops, lamb belly and patty melts. My mouth was watering just reading the menu.
My friend, Stacey had been to PARK a number of times in the past and suggested the tasting of toasts and bacon 3-ways for our appetizers.
While not all of them were to my liking, some too sweet for me, I loved the idea of all of these flavor tasting bites to try out. I absolutely adored the duck pastrami and chilled crab and cucumber.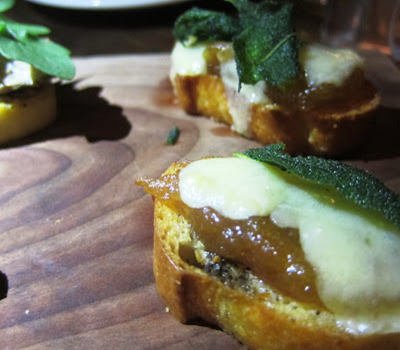 After what felt like a tortuous amount of time to decide on my entrée – I wanted so many things, I ended up ordering the pan seared Scottish salmon. Perfectly cooked and melt in your mouth flaky, strong fish with a wonderful crispy skin. A uniquely different side of grilled avocado is wonderful.
One of us absolutely had to order the Meat Pie of the Day, which on this particular day was with lamb, Madeira soaked prunes and potatoes, in a sauce. Stacey commented that "it had an amazing, flaky crust, with the warm filling coming out – lovely. It was also a huge portion." I have to say I loved my dish but was obsessed with Stacey's mushy peas. They were awesome and reminded me of home.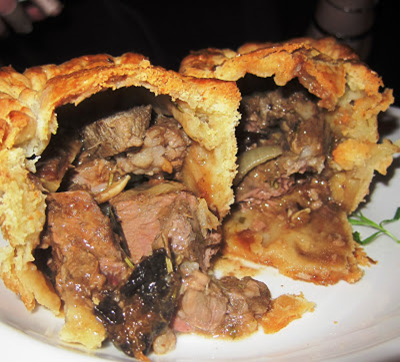 Bruce, our other dining friend, also decided on the comfort food route with the "Slow Roasted Brisket." He commented that it was "perfectly done and had a nice flavor, true to any slow roasted brisket I have had in my home state of Texas, which is known for its beef brisket. The "Caramelized Vegetables" were a rich and sweet compliment to the brisket. The "White Bean Cassoulet" was very tasty and I especially liked the crumb topping, which added an interesting crunch. The beans were a tad undercooked for me, but that didn't take away from the flavor."
PARK is a nice addition to Harvard Square rivaling its sister restaurant, The Russell House with comfort food fare. If I am ever craving a meat pie, it will be top of mind.
Cheers to Cambridge.