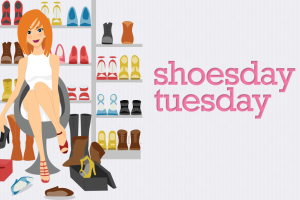 After spending last week in flip flops and Sandals in gorgeous Cabo, Mexico, I just did not want to think about digging through my shoes for something new to wear for the cold weather. I do want to continue my weekly Shoesday Tuesday posts so thought I would add a little fun to it as well as continuing to feature some of my own shoes in 2013. Trust me I still have many many many more to showcase.My good friend, BosGuy sent me a link to a very unusual shoe design, which gave me an idea to Google some ugly and funny shoes and boy are there some humdingers out there.
These are the ones BosGuy sent to me. I actually don't hate them but cant imagine what they would be like to wear. These shoes are designed by Mojito and made from a single spiraling strip.
I cant seem to find out who made these shoes but I find them absolutely terrifying to look at. Do you think they are real tongues :).
How about these, something for Lady Gaga fans perhaps? They have just gotta hurt.
Okay, I have no words for these. Designed by artist Leanie van der Vyver and Dutch shoe designer René van den Berg. According to to the blog Din's Fashion, they wanted to make a point about today's impossible standards of fashion and beauty. That poor model having to pose in them.

These ones are just bananas!

And finally, I would have absolutely worn these last week in Mexico . . .
I may still be featuring some of own "what was I thinking shoes" in future Shoesday Tuesday posts. You never know what I am going to find in the dark depths of my closet.