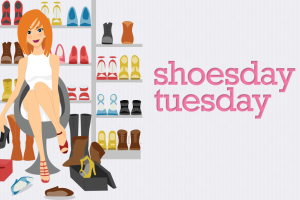 Let me tell you a quick story. This past Saturday night was my work's holiday party. I wore some seriously inappropriately high fabulous shoes. I stupidly had high boots on all day so my feet were already aching. As the evening wore on the champagne was flowing and dancing with the 20-something highly energetic crowd seemed absolutely the right thing to do. I paid no mind to my aching feet. As it got even later into the evening, my feet pain was increasing to a point of real excruciating, felt like feet deforming pain. I still chose to ignore it.
The end of the night came and I hobbled to the coat check to pick up my coat only to realize I was a sensible person after all. I had put some fold-up shoes into the pocket of my coat on the insistence of my friend, Lauren. The not so sensible part of the evening was that I had forgotten I had done this. Why did I not remember them earlier? Still, I put them on and then saved my feet any more pain while we waited 30 minutes for a cab. I really wanted to throw my fabulous shoes in the trash because they had caused me so much pain. Thank you to my little foldies for at least the end of the evening.

This brings me to talking about the absolute genius idea of the folding shoes. What shoe-god came up with this idea? I mean, it had to be a woman right? I googled and googled and found a couple of things. The one I do believe is that they were invented in England by Cocorose London. Of course it was a genius British person 😉
My little Capelli ballet flat folding shoes are so cute with their little sparkly toes and easy on the feet as they are made of soft material. They are also sturdy enough to be worn outdoors with their rubber soles and can be carried around in its own little bag. Genius idea I tell you!
These shoes are absolute lifesavers for anyone who lives in high shoes, like me. And… what an awesome stocking stuffer or secret santa gift!