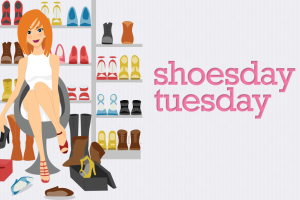 These lovely pair of Bandolino grey suede boots were purchased for no other reason other than they caught my eye and I thought I must have them. They remind me of Puss in Boots. To be honest, as with many of my shoes and boots, I forgot about them and then when I find them again, it is like getting a new pair of boots all over again. I found them again last night and thought… "Oh yes, they will do just nicely with my planned, somewhat casual outfit for Tuesday."
I tend to buy quite a few pairs of shoes and boots from Bandolino as they are always affordable and very wearable. In fact, I am often perusing the shoe sites looking at Bandolino shoes and have never been disappointed with any I have found and eventually purchased.
I did a little bit of research on this brand and found that Bandolino shoes used to be made in Italy and have been worn to formal events by personalities as illustrious as Michelle Obama. I do remember when they were very expensive shoes and never really questioned why they came down significantly in price. I now know Bandolino is owned by Nine West. Under the U.S. Shoe Corp., the cost of Bandolino's Italian manufacturing couldn't compete with Nine West's cheaper shoes (primarily made in Asia and Brazil). Nine West ended up purchasing Bandolino and discontinuing the Italian manufacture of these shoes – moving Bandolino's production to Brazil and Asia, along with the other shoe brands it owns. As commented on Squidoo.com, I wonder if it really is a symbol of the decline of craftsmanship and workers rights in the shoe industry? I have to say the affordability of them makes me want to continue to buy them, even though now I feel a little guilty. Source: Squidoo
Can I just share, it is extremely difficult to photograph floppy boots!!!