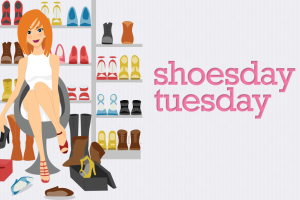 Do you know those days when you impulse buy? Well, I do as it happens and so much more than it should, so so much more.
These gorgeous, feel like soft butter, black leather high lace up pumps are the product of an impulse buy, a very expensive impulse buy.
I remember being in Bally in the Copley Mall a few years ago. I am not sure why as it isn't a store I go in; I was just drawn to it for some reason or perhaps I was dragged in by my friend… I actually think that is really what happened. I looked to the sale rack and noticed these shoes, not everyone's cup of tea but I loved them instantly. They were a staggering amount of money; I just cannot share the amount. The sales assistant told me they had 40% off and for some reason I said "I want to try them on." I knew I was a goner once they were on my feet. I absolutely had to have them, even though they were still quite expensive.
Bally is a store I always wanted to shop in when I lived in the UK but it was always out of my financial reach; still is if I am honest, but I work hard and like to treat myself every now and again. Established in 1854 as a small shoe factory in Switzerland by a Fritz Bally. He soon after left and Carl Franz Bally carried on the company under the name C.F. Bally. The company started small and a few decades later became an internationally renowned designer of high quality shoes that grew across Europe, South America and the US.
I thought for so long afterwards that I would return them so they remained in the box untouched and unworn. It was a while after when I realized I had no intention of returning them and then I wore them and have since worn them many many more times.
I have to say these are keepers. They make me smile.