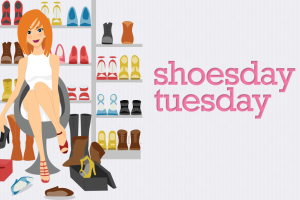 So, apparently I have become a cougar and I didn't even know it. I appeared to have happened slowly over a number of years. Leopard and snake print shoes, belts, scarves but thank goodness no bags or purses. Or maybe there is and I have just not found them yet. That is actually a very strong possibility. Who doesn't love a little bit of animal print? Hmm, what do we have here? Via Spiga, Nine West, Michael Kors and "The Artists Selection" Franco Sarto – my little friend.
Via Spiga… purchased about seven years ago, hardly worn but I like them as they have the cutest little heel. They are just a little too low heeled for me. I feel very short and need some sort of height advantage. I will keep them though.
Nine West… purchased about four years ago and worn once – they are too big. I do like them but even with tissue stuffed into the toe, heal grips and insoles, they still didn't work so have remained lonely, but not alone, on my shelf. I need to donate.
My Michael Kors… worn the hell out of them. They are fabulous but now a little bit shabby, but I can't give them up… they can stay for a while.
Finally, Mr. Sarto. Kind of my favorites these days and I am wearing them today. LOVE. Keepers.
I obviously like cougar-friendly shoes but given my age of 40-something, I think I can get away with it.