I received a comment a while ago about my conservativeness with my wine ratings, given my sometimes effusive blogs describing the wine. I thought this would be an apt time (now that I have fun new graphics) to share with you what my ratings mean.
If you read my post on My Philosophy on Writing the Negative Review I point out that I do not like to write incredibly negative restaurant reviews, that is not what I am about. This also goes for wine. If a wine is awful and I will never buy it again I will just not write about it. With that said, I have no 1 Glass or 1.5 Glass ratings. My wines ratings start at 2 Glasses…
2 Glass Rating
An okay everyday table wine – good for the price. I would drink it if there was nothing else and if I spent more than $10 on it I may be a little dissapointed.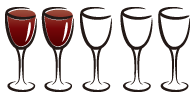 2.5 Glass Rating
A good wine that I would spend about $10-$15 on and be satisfied and not embarrassed about opening a bottle at home with friends.
3 Glass Rating
A very good wine that I would not be embarrassed about bringing to a friend's house for dinner.
3.5 Glass Rating
A great wine that I am quite excited about and would consider buying more of and would definitely go to a higher pricing point of $20-30.
4 Glass Rating
Truly up there with being a distinctive wine. A wine I would rave about to everyone and also try to buy more to stock up on.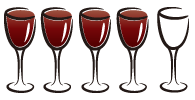 4.5 Glass Rating
A fantastic wine, which I would pay a lot of money for and thoroughly enjoy whether on my own or with friends. I would selfishly want to keep to myself though.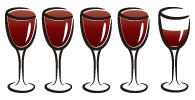 5 Glass Rating
Woohoo (a wine technical term)… this is it, this is as good as it gets with regards to wine. Think Opus One and you will get my meaning if you have ever tried it. If you haven't, save up $200 for the bottle and taste it. Or just get someone to buy it for you. I will probably never spend that much on wine out of my own pocket but will happily drink it again if on offer.