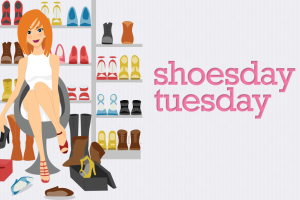 So, I know I was supposed to only be wearing shoes that are currently in my closet each Shoesday Tuesday, but I fear Kate Spade may have gotten in the way. In fact, she did.
I was in Kansas City this past weekend where on The Plaza they have the most gorgeous candy store Kate Spade location I think I have seen. Each time I visit my friend, Lauren, I ask her… "shall we just pop in for a quick look?" Which of course leads us to being in the store for more than hour and walking out with our credit cards in deep distress.
The bright colors of Kate Spade are like a spell on me. I have of late been buying Kate Spade bags and purses but have not until now ever purchased a pair of shoes. As with every other designer on the planet these days, they seem to be phasing out the size 5 – why I ask again? So, you can imagine my surprise when I walked casually over to the shoe area only to see a gorgeous pair of size 5, ridiculously high neutral color pumps. It was love at first site. I know the shoes felt the same.
To justify my spending I felt that I did need them for an upcoming wedding I am going to as they will complement my dress perfectly.
Today, I am just wearing them in a little bit to make sure they are going to be comfortable for the wedding. Of course they are not, they are almost 5 inches tall! I love them anyway.