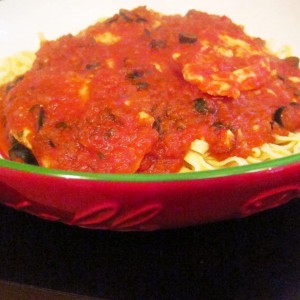 With little food in my cupboards I wondered what to do for dinner as I was also cooking for a friend. I knew I didn't want takeout and I didn't want to dine out again so I decided to concoct a little throw together of ingredients.
I always have chicken in the freezer so that was a good start. I noticed a jar or roasted red peppers and a small can of black olives. I love the sharp bitter taste olives can bring to a dish. With that I came up with an idea based on a dish I had prepared before found on Food.com.
And what a great idea it became.
Chicken with Roasted Red Peppers over Linguine
Serves 4
Ingredients
2 teaspoons of extra virgin olive oil
1 small onion, finely chopped
4 cloves minced garlic
4 boneless skinless chicken breast halves
1/2 teaspoon salt
1/4 teaspoon pepper
1 12oz jar roasted red peppers with juice
1/2 cup sliced black olives
1/4 cup white wine
1/4 cup chicken stock
1 6oz can of tomato paste
1 teaspoon white vinegar
1 teaspoon of dried parsley
Directions
In a large skillet sauté the garlic and onion in olive oil until soft.
Season chicken with salt and pepper, both sides and add to skillet. Cook until browned on both sides.
Put the peppers with juice in a blender and set to chop until blended well, about 20 seconds.
Add peppers and all other ingredients to the skillet, cover and simmer until hot for about 20 minutes.
Serve with pasta or rice and of course lots of parmesan. I served over lightly buttered Fettucine.
Occasionally, I can impress myself. This dish did exactly that and also impressed my friend. A super combination of ingredients that worked so well together and blended red pepper made for a fantastic sauce.