This is a fun Shoesday Tuesday. As I don't have to be in the office today, I took a look through my shoe collection and stopped at a pair of Burberry espadrilles to wear to my dermatology appointment. I feel my doctor will like them :).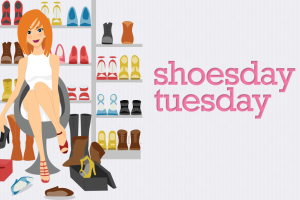 I purchased these cuties on
Zappos
(less expensive than Burberry I might add) when I was looking for some new black wedges. I ended up not finding any all black wedges I wanted, well not in a size 5, but I did buy these Burberry's, a pair of Red Ann Klein wedges and a pair of tan Charles David wedges. In my defence they were in my size and it is so difficult to find shoes in my size. I promised myself that I would return at last one pair once I tried them on. That was last summer… woops. I have a problem.
They are really adorable on and I am sure I will wear them a lot this summer. I am absolutely sure of it as they don't hurt, well, just a little bit, but not a lot. Really.