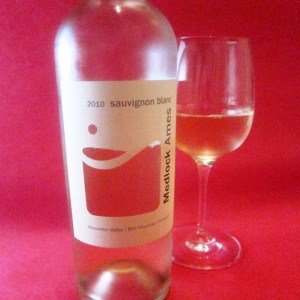 My friend bought me a bottle of wine for my birthday. I love friends who buy me wine. Not knowing much about wines he apparently popped in to Brix and asked them to find something for me. They picked this delightful Sauvignon Blanc and I have to say "excellent choice my friends at Brix!"
Having not heard of Medlock Ames before I did a bit of googling. Here is what they had to say… "As we usually do with our Sauvignon blanc, we crushed the fruit and let it sit in contact with the skins for 12 hours before pressing. This skin time, somewhat unusual for white wine production, gives the Sauvignon blanc texture, and extracts the intense aromatic character which we love. As much as we like to stick with what works, we also love to experiment in order to continue to developing our style. This year we tried a new experiment of even more skin contact and barrel fermentation on a tiny portion of the Sauvignon blanc. We were very pleased with the outcome. The rest of the wine fermented very cold in stainless steel tanks to keep all of the delicate, lemon-y aromas. Before bottling we stirred the lees frequently, a technique known as bâttonage that we find adds a wonderful creamy dimension. You wouldn't know it from tasting this wine, but 2010 was the most challenging year we've ever experienced, viticulturally speaking. A cold spring, late summer heat spikes, and early fall rains forced us to work hard this year to coax the best out of our vines. We have spent so many years working with these vines that we know them well and almost have a sense for what they need – a drink of water here, a few less leaves there, one or two fewer clusters over there . That intimate knowledge of our vineyard really came in handy in 2010 and allowed us to anticipate and act quickly when needed during that crazy vintage.
The result is an elegant wine with wonderful varietal aroma and structure. At this juncture we find this vintage to be a bit more fruit forward and lighter on floral characteristics than our 2009 vintage – think gooseberry-spice, bright meyer lemon, kumquat, orange blossom and racy acidity."
My findings are interesting on this wonderful wine. The color is pale with a shade of green. On the nose it's very clean albeit a little musty with hints of pear and grapefruit – incredibly mild. A burst of taste on the palate, completely surprising given the aroma. Immediately sharp with tastes of citrus fruits, then sweet. This wine tastes slightly oaked with a buttery after taste. Such an interesting Sauvignon Blanc. If I didn't know better and this was a blind tasting, I would immediately guess Chardonnay. The finish is sharp then smooth then a lovely creamy sweet ending. I am a big fan of this wine and will be adding it my list of favorites for summer.
I was having poached salmon for dinner and this wine paired perfectly!
My rating…