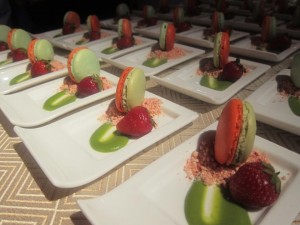 An evening of delight and decadence and focused solely on dessert. Can you think of anything better than that? With Some of Boston's top restaurants and most famed pastry chefs, this event promised to be nothing more than spectacular. The event was the first (hopefully annual) Boston Magazine's Top Dessert's Event at the Mandarin Hotel.
How could I say no to an invite? Once I read the list of restaurants and pastry chef's that were to be there I would have cancelled anything to make it… Shane Gray of Mistral, Charlene Smith of Sorellina, Jiho Kim of L'Espalier, Tiffani Faison of Sweet Cheeks, Maura Kilpatrick of Oleana and Sofra, Oliver Maillard of Deuxave, David Nevins of Nix's Mate, Katie Kimbal of Area Four, Jessica Pelletier of Russell House Tavern, Temple Bar, Grafton Street, and PARK Restaurant & Bar, as well as Lauren Kroesser of Eastern Standard, Island Creek Oyster Bar, and The Hawthorne.
Arriving at the Mandarin last Thursday evening, we were immediately greeted by friendly hosts and escorted to the main room, which offered pre-dessert breads and specialty cheeses and meats from Tuscan Kitchen and Whole Foods Market as well as novelty cocktails and sparkling wine, and for the lager drinkers among us, there was even Stella Artois. Along with my friends we were all having a good time mingling with other guests and getting excited about what was behind the ballroom doors.
As I really didn't want to wait, I asked one of the hosts if I could take a look at the main room before they officially opened so I could take photos and chat to some of the restaurant folks. They happily said yes – I felt very lucky. The place looked absolutely beautiful. Bathed in low light with bright, colorful and yummy creations of every kind of dessert you can think of. Even the table decorations of faux plants were edible. I was literally a kid in a candy store.
As the evening wore on and we were joined by more and more guests, we started to relax and enjoy everything "Top Desserts" had to offer from the decadent, indulgent and creative desserts to fun cocktails and the band playing music softly in the background. Everything about this event was elegant fun and something I hope they bring back next year and for many to come.