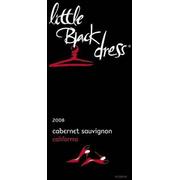 As my wine reviews show I have tried a few of the Little Black Dress wines and of course I am a fan of this lovely little reasonably priced wine. One of my favorites was the Cabernet 2007 so I was excited to try the 2008, which just showed up in my local store.
Much like the 2007 it is rich with fruits of ripe cherry and blackberry with a suggestion of spices, however it is a lot more subtle with hints of cream and less chocolate. I like how different vintages can be, it makes life and wine so interesting. On the palate I love the boldness of this wine, less spicy and more fruity than the 2007 I thought. The 2008 is abundant with ripe dark cherries and has longer finish. It really is quite lovely and a perfect choice for a nice weekend wine when you just need a glass of red while curled up on your sofa on a cold evening – even if it is supposed to be Spring! Of course, if you want to drink it with friends, it tastes just as good!
As I shared in an old review the Little Black Dress is apparently geared towards the female palate. Interesting right? Do we have a different palate to men? I believe that there has been research done on this and it has been found, but not proven, that women do have a more sensitive palate. Maybe that makes us better wine tasters? I do know I am a good wine taster… okay fine, a very good wine drinker, great in fact!
I love this very old article (1999) from Wine Spectator that literally asks the question "Are Women Better Wine Tasters then Men?" What do you think?
My Rating….