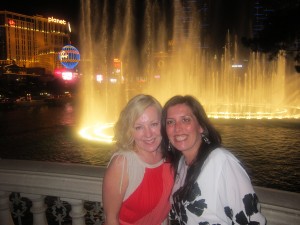 My sister was joining me in the 40-something stage of life and for that huge feat I wanted to make sure we celebrated in style. Being 40 is trauma enough; we needed some elegance and class to ease the pain. So, I booked a trip for the two of us to celebrate both our birthdays in Las Vegas. Yes, I know that does not sound like class but the Bellagio where we stayed is class and elegance all the way… at least the way we enjoyed it.
From the second you get out of your cab to getting to your room to every restaurant, bar and amenity its topnotch customer service. You are greeted with a smile and genuine friendly warmth by everyone that works there.
The enormous lobby has gorgeous mosaic tiled floors and a ceiling designed by the always creative Chihuly of colored glass that can take your breath away. A little courtyard of Holland is abundant with vibrant colors of flowers a windmill and brick pathways. Everything about the entrance to Bellagio screams opulence. Hallways lead every which way to something more exciting and thrilling.
As they days went by, a little too quickly, we fully explored the hotel bars, restaurants and high-end shopping.
Our room was a great size with two queen comfy beds and an enormous beautiful bathroom with two sinks and a separate shower and bath. Not the best view but we were very happy.
The Casino is vast and never ending. The slot machines are like a drug for me, especially the Wheel of Fortune machine. I can't help it, I love that slot machine as its so fun! It was also quite generous to us on this little trip. Lots of serious gamblers to watch in awe as they put down more money than you could imagine betting on a hand of cards. Thank goodness I don't know how to play! I did however, try my first game of Craps and Roulette and had a blast. I won and lost on both.
As Toni (my sister) travelled all the way from England and was on an 8-hour time difference we decided to eat early and be ready for the next four days of fun. Our location was Fix… casual and easy going contemporary cuisine that was fun and friendly. Our dinner was of Rock Shrimp with Chili sauce to share and mains of Baked Chicken and Dover Sole was very satisfying and everything was perfect for a first night. The whole restaurant is crafted from Costa Rican wood and has the most amazing ceiling.
Up early (jet lag) and breakfast at the Bellagio Café of the biggest cooked breakfast for Toni and of course my favorite the Eggs Benedict. A line runs down the corridor as people wait patiently at this 24-hour up-market version of a "café" that did not disappoint on breakfast.
For lunch one day we stayed at the pool and enjoyed burgers and club sandwiches at the Pool Café with quite possibly the friendliest waiter of the weekend. Food was again delicious and I loved this casual space. The absolute best French fries I think I have tasted as well as the biggest sandwich and burger, which was impossible to finish.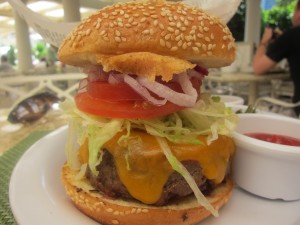 Our last night was a special treat for us at Todd English's Olives. A Bellagio restaurant located right in front of the fountains with a view to watch the show. A much higher-end Olives than our former Charlestown destination and definitely class and contemporary sophistication, which was what this trip was all about. Dinner started with martinis and ended with a decadent molten chocolate cake with a Happy Birthday for my sister followed by fun photos in front the fountain. A favorite of the weekend.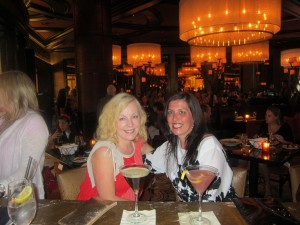 The newest bar at the Bellagio with a spectacular view of the famous Bellagio fountains – uber trendy. The Hyde is definitely for the pre-club crowd, which we are not but had fun drinking martinis anyway.
Trendy, sleek, dark and a bit of an in-crowd. Gorgeous white lilies are on all the tables. We felt we definitely needed bubbles in this bar. By the end of our three drinks I was signing a ridiculously large bill. The one thing I was miffed about at Lily was that they wouldn't serve me water. I had to buy a small Fiji for $8 – so silly. The waiter said she wasn't allowed! This, I would say is my only complaint of the whole weekend.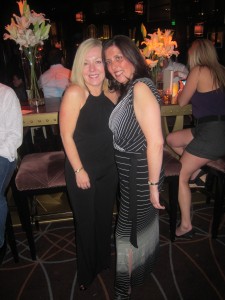 A place to go for a quiet moment and to enjoy a very nice glass of Cabernet. A bit more elegant with a more mature crowd and a place we ended up most evenings.
Gorgeous and welcoming with prices not for the faint-hearted. The second we walked in we were offered champagne. I had booked spa treatments at the Bellagio as an extra special treat for us. Two hours of pampering later we walked out with fresh manis and pedis and having enjoyed a delicious Green Tea (alcoholic) smoothie as well as the champagne upon arrival. A decadent and expensive treat but how often are you 40?
We also enjoyed time around the pools, which are stunning. Again, service is impeccable and faultless. We couldn't find two sun beds near the larger pool and no sooner had we mentioned this than they were on the walkie talkie getting an attendant to help us out with moving chairs around.
***
The Bellagio is absolutely one of my favorites on the strip for many reasons but mostly now because I will always remember this unbelievable vacation with my sister who I don't see as often as I would like.
If you are looking for class, sophistication and elegance with fun and of course light or heavy gambling I couldn't think of any place better.