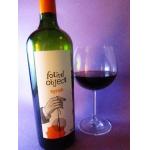 A found object, in an artistic sense, indicates the use of an object which has not been designed for an artistic purpose, but which exists for another purpose already. Found objects may exist either as utilitarian, manufactured items, or things which occur in nature. In both cases the objects are discovered by the artist or musician to be capable of being employed in an artistic way, and are designated as "found" to distinguish them from purposely created items used in the art forms" – Wikipedia
I admit it; I bought this wine because of the label and the name "Found Object." It just looked interesting and I am a fan of Chenin Blancs so I thought why not give it a go. Given the price, I didn't mind so much if it was a wine I wouldn't buy again.
The Found Object Chenin Blanc is a pale yellow with golden specs in color. If an aroma could be stingy this wine is it. Let me try and explain. It is like a mild anticipation of about to be stung. Weird right? I was trying to get more from the aroma but was not getting much. It was also a touch mothy with mild hints of citrus. A little biting on the palate with flavors of grapefruit and melon. Definitely interesting and rather agreeable. A sharp and final finish on the palate and a very fun, quite jolly wine. After a while the wine develops into a fuller, bolder taste. If a wine can be jolly this one is it! For those who like a slightly a dry and tart wine this is a good one.
Food Pairing: Grilled Shrimp over Warm Green Salad with Citrus Dressing.
"Chenin Blanc or Pineau de la Loire is the grape-variety which produces the best white wines of Anjou and Touraine. The variety gives all its fullness in the Loire Valley, elsewhere it did not acclimate. Chenin Blanc is used for dry and sweet wines. It is subject to noble rot and for that reason is harvested as late as possible, sometimes in November. Chenin Blanc wines such as Vouvray and Saumur age very well" – Terroir France
Oh and did I tell you this wine is only $6 from Trader Joe's. What an awesome find for me!
Rating…