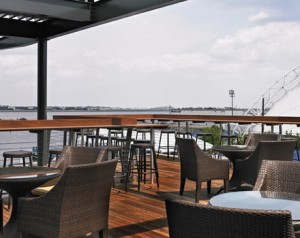 Last Wednesday, a gorgeous summer eve of a Wednesday at the start of Spring beckoned a group of us to dine outside – we just had to. Our destination was Legal's Harborside. With no reservation, we initially tried to check out their roof deck. At 6.30pm, the place was an absolute zoo with no free seats or indeed standing room in sight. It would seem the summer weather beckoned a lot more folks outdoors than just me and my friends.
We went back downstairs to the ground level and were fortunate enough to get a four seater table close to the open windows overlooking the Boston Harbor. The gigantic dining room was packed and a buzz with happy diners.
I did write about Legal's last summer when I stopped by for a light dinner with my friend Marcella. This time we decided on a full dinner and to enjoy more of what Legal's has to offer, so I felt it important to share more on this super addition to our waterfront restaurants. The main restaurant level is spacious and quite awe inspiring in design with a large round bar as the focal point off to the side and a place I have frequented many times. They have a large counter area that wraps around the kitchen for diners to watch the chefs at work. Legal's is gorgeous on a nice evening with glass doors/windows that completely opens up to the boardwalk. Last Wednesday all of the windows were open much to our happiness. Upstairs they have a more formal dining area with a different menu and quite an impressive price point… definitely a treat night or a work-paid dinner and of course the roof deck, which I am still to enjoy… perhaps this summer.
We sat down and ordered a favorite of the table, the Cakebread Sauvignon Blanc. I knew it would pair perfectly with oysters so that is where my mind was going for a starter. They have a superb selection of oysters to choose from. We decided on the Wellfleet – briny and tasted like the Atlantic Ocean, Naked Cowboy – meaty and fresh, Kunimoto – sweet and fishy – my favorite and finally, French Kiss – very buttery and creamy and almost like mussels. Great choices.
We also ordered the spreads with grilled pita bread. A sweet and really tasty Kalamata & Fig and my favorite and a creamy blended Sweet Pepper and a favorite of Tricia's.
Their menu is extensive and demands attention for seafood lovers. I already had in mind that I wanted the Lobster Roll. Our super friendly waiter who was also a bit of a joker and a lot fun told me I could "design" my lobster roll however I wanted. I settled on very light mayonnaise and extra celery. It was fantastic and might even rival my favorite at Neptune. Large, meaty chunks of lobster made perfect to my order. I didn't even really touch the roll as the lobster was quite enough. A side of fries was not necessary but of course who can resist them when they are just staring at you… no-one at the table could resist!
Tricia ordered the Sausage & Shrimp Orecchiette. It was such amazingly tasty pasta dish that all of us were stealing bites from.
Laura opted for the Fish in Foil of steamed haddock. Wrapped in tin foil and opened at the table by the waiter, the dish smelled amazing. Sadly, the taste just okay and a little bland.
Kathleen ordered the dish of Fedelini & Shrimp. A huge plate of linguine pasta with big slivers of garlic and sweet shrimp. Garlic lovers will cheer for this dish.
Our evening ended with desserts of Boston Cream Pie and a special from the "Taste of the Azores" menu of Gelado de Figo – (Fig Ice Cream). While the Boston cream pie was chocolate and vanilla cream excellence, the ice cream was outstanding. A rich vanilla cream flavor with a mild toffee sweetness of fig and a small pastry to smother in the delicious ice cream. Truly an excellent dessert to end our meal.
While I have always viewed Legal's as a place for tourists, the Harborside location is a mix of tourists, locals and groups looking for a good place to dine out and have fun. I am sure I will be a frequent visitor this summer.
A fabulous and spontaneous Wednesday with friends.